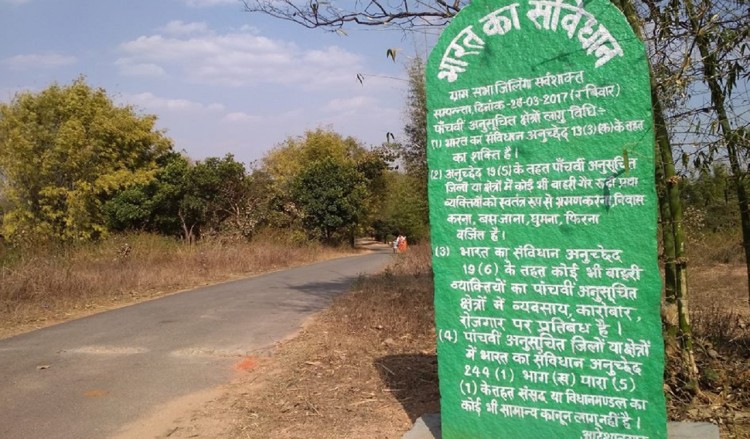 Pathalgadi Movement: Among the Protesting Voices
Documenting a popular movement often drags you into the movement practices and even if one doesn't want, the nature of movement makes it impossible for the researcher to remain impartial. However, if remaining impartial means remaining reactionless and numb, I do not want to assume that objective neutrality. Whenever I have studied the politics of popular movements in remote villages where the most marginal sections of society are the participants, I have learned a lot from them. Somehow, wittingly or unwittingly, I have, from researcher, become a participant in these movements; from Nandigram, and Lalgarh in West Bengal, Dhinkia-Nuagaon in Odisha, Godda in Jharkhand to Khunti. This article recapitulates the long and arduous battle of the adivasis of Jharkhand's Khunti and its adjoining districts
Article Details:
2020, Pathalgadi Movement: Among the Protesting Voices. Ground Xero, April, 1, 2020
Magazine Url: https://www.groundxero.in/2020/04/01/pathalgadi-movement-among-the-protesting-voices/
Author:
Subha Protim Roy Chowdhury
AAMRA ek Sachetan Prayas.
We know that Pathalgadi is a traditional practice of the Munda Adivasis of erecting stone slabs (pathals) in honour of their ancestors, to announce important decisions regarding their families and villages, or to simply mark the boundary of their villages. The Pathalgadi movement is a non-violent retort to specific policies of the anti-people Government; primarily, its attempts to dilute land acquisition laws, its failure to respect the worldview of the Adivasis, its implementation of schemes without the approval of the Gram Sabhas, the non-implementation of the Provisions of the Panchayat (Extension to the Scheduled Areas) Act, 1996 (PESA) and provisions for the Fifth Scheduled Areas, and finally its rampant violations of their human rights. While most of the interpretations of the Constitutional clauses written on the pathals may be legally unsound or too far-fetched, they are based on valid issues and the demands of the Adivasis and their basic idea about the supremacy of the Gram Sabha.
Since 2017, pathals scribbled with constitutional provisions for Adivasis, and judicial orders and their interpretations have been erected in several villages of Jharkhand. The villagers considers these provisions and orders to mean the following – (1) the supremacy of the powers of the traditional Gram Sabha and the traditional Adivasi governance systems, (2) the rights of Adivasis over land, (3) the restricted rights of non-adivasis and outsiders in the Scheduled Areas to settle down and work and (4) that Adivasis are the original inhabitants and owners of India.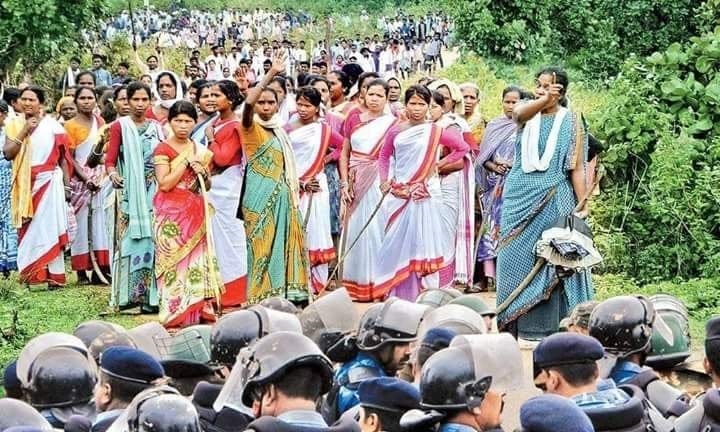 Adivasi women in the foerefront of Pathalgadi rebellion.
The Pathalgadi movement has gained momentum and has attracted social scientists and I am sure it will become an important issue in near future to those who will be studying the history of the Adivasis. When I reached Jharkhand to study the movement this year, the state had already seen a change in Government. The ruling Bharatiya Janata Party (BJP) government has been defeated by the Jharkhand Mukti Morcha (JMM) and Congress coalition. The alliance successfully channeled the wrath and disgust of the Adivasis against the BJP government. From Sahid Maidan to Ferilal Chawk, everywhere in Ranchi (the capital of Jharkhand), there was a mood for celebration of the victory. Everywhere it was colourful except for the places where the Pathalgadi movement was going on. There, the villages were silent, it was pale and painful.
The new Chief Minister Hemant Soren's cabinet, after taking the oath, has decided to drop all criminal charges levied on the participants by the previous government. Similarly, charges against those who were protesting the Chotanagpur Tenancy Act and the Santhal Pargana Tenancy Act have also been dropped.
As we know, the earlier Raghubar Das-led BJP government had amended the Tenancy Acts in 2016, which deeply impacted the tribal sentiment. This decision was taken without any discussion in the Jharkhand Assembly. The amendments to the acts made it possible for industrialists to acquire and start industrial projects on tribal land. This was not permissible before the amendments were made. A protest against such amendments by the Adivasis started to spread rapidly. The ruling class and the media projected it as a movement against 'development'— the narrative, however, failed to mention that this kind of development bulldozes Adivasi people, displace them and ultimately annihilates them. During the BJP's rule, the JMM has continuously protested against these amendments, both inside and outside the state assembly. So, it is natural that the defeat of BJP should make the protesting people in Khunti happy. Let us see, if that is the case.
On 17th January 2020, on behalf of AAMRA (Aamra Ek Sachetan Prayas Forum, Kolkata), we reached Aanedi, a village under the jurisdiction of the Saiko police station. I was accompanied by Kanhai Munda. Kanhai is a student of Ranchi University. His great grandfather was Birsha Munda. Kanhai was associated with the Pathalgadi movement. He is from the same district.
This district has given rise to two historical figures. The first is Birsha Munda, who led the protest against the British at only 25 years of age. He was arrested and sentenced to death. He was poisoned to death on the day before he was supposed to be hanged. Here it is important that we revert back to Mahasweta Debi's Aranyer Adhikar. She wrote:
Birsa Munda and the rebellion against the British that he led remain one of the most significant episodes in India's struggle for national liberation. The socio-political environment which led to his emergence, is not just an instance of a mere revolt against a group of foreign rulers and the oppression they unleashed, but it was also a rebellion against the feudal system of his times. Without taking into consideration such factors, it is impossible to evaluate Birsa Munda and the history of the rebellion he led.
Another important persona of this district is Jaypal Singh Munda, a.k.a. Pramod Pahan. He was an unparalleled politician, a fantastic writer, and famous hockey player. He was the captain of the team that won the gold medal in hockey in the 1928 Amsterdam Olympics. He was an Oxford graduate in Economics. He was always at the forefront of the fight to protect the interests of the Adivasi people. In 1939 he became the president of Adivasi Mahasabha. At the Congress session at Ramgarh, he initiated the issue of a separate Jharkhand state in front of Subhas Chandra Bose. After independence, this Adivasi Mahasabha became the Jharkhand Party. He was an important member of the Constituent Assembly which drafted the Constitution of India.
As we reached the Khunti district town, we noticed two statues, one was of Subhash Chandra Bose and the other was that of Bhagat Singh. Statues of Birsa Munda are a common feature in these areas. It was surprising to see the statues of polupar Indian revolutionaries. From Khunti we took an auto rickshaw, and reached Anedi at noon. We knew that the village Anedi under the police station of Saiko is in the news for police atrocities.
There, we met Daniram Pahan in the village. The village is adjacent to a state highway. He talked of last July (July 2019). Police had come in search of 'anti-nationals'. They entered his room and searched. The residents were mercilessly beaten up. Police ransacked their houses and also took away the money which they had earned by selling firewood. Daniram used to sell firewood which he used to collect from the forest. Daniram and many other men fled the village.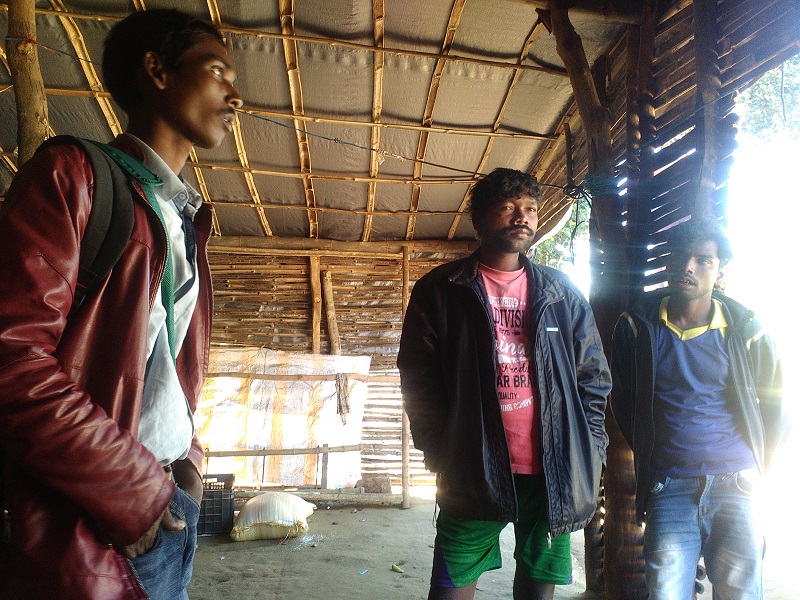 The author interacting with Dhaniram Pahan, Sama Munda and Kanhai Munda.
Conversation with Daniram Pahan:
Daniram: We were hiding under water, what to do?
AAMRA: How long did they continue such atrocities?
Daniram: About a month
AAMRA: Then?
Daniram: We protested and erected stone!
AAMRA: They stopped?
Daniram: No, they send the army (meaning the Central Reserve Police Forces). They marched through this road, we kept in vigil of the village
AAMRA: Do they come now?
Daniram: They come but now their movement has slowed down. We do not trust the government. They might send another company, if not this then someone else. They will snatch away land.
AAMRA: Why don't you trust the government? Now it's the JMM government. Sibu Soren's son is your Chief Minister.
Daniram: Everything is in the hand of diku (outsider), we trust no one.
AAMRA: So, you will continue to remain vigilant.
Daniram: yes vigilance, night guarding, shouting in the name of Birsa will continue.
Conversation with Sama Mundu
Sama Mundu is from the same village. He has a stationery shop beside the state highway. This young man initially hesitated to talk with us. He later confessed, 'spies are everywhere. How can we trust outsiders?'
AAMRA: What is the name of this village?
Sama: Aanedi. Police Station Saiko. It was earlier under Murud. District Khunti.
AAMRA: Can you tell us your role in the Pathalgadi movement?
Sama: I was not involved much but later on I became closely associated with the movement.
AAMRA: Tell us about that time
Sama: That was a dangerous time. The village was filled with Police and CRPF. Even though we were not directly associated with the movement, they lodged complaints against us. We were arrested by the police.
AAMRA: Under which section?
Sama: Section 107, disrupting peace and harmony. Police came whenever they wanted to and started arresting us. So many people fled the village. Many are still absconding. How can one live like this? How do we survive?
AAMRA: How many people are still absconding?
Sama: About 4 to 5 persons from this village.
AAMRA: Did they arrest you?
Sama: Yes, I am now out on bail. I have to go and visit the police station, every now and then.
AAMRA: So, the harassment and tension is still there!
Sama: Yes, it is yet not over. Even now police and CRPF are patrolling the village. Their number and frequency has reduced but they have not disappeared.
AAMRA: Did the government officials ever come to measure the land they wanted to acquire?
Sama: No, no one came. We had the news that some big industry will be set up here. That is why we protested and took to the streets. Since, we were on the streets no one dared to come. We have shed blood in this movement.
AAMRA: Yes, was there bloodshed in your village…
Sama: No. There is a village called Kochong, which also falls within this Police Station. Their two people were killed by the police.
AAMRA: Any FIR made? Anyone got any compensation?
Sama: As far as I know, no one got any compensation. See, the government was in support of the police force. They didn't take any complain from us. We were the one running away in fear. They keep on framing sedition charges against us.
Kanhai Munda
Kanhai Munda, who himself is an important character in this movement, was my companion in this fact-finding. I learnt a lot from him. Following is a discussion, I had with him.
Me : Johar and Hool …
Kanhai : Johar, I am Kanhai Munda from Aliyatu village. We are adivasis. For a thousand years or perhaps more than that, we are being exploited. Everyone wants to rule us. We are against it. We are organizing both armed and peaceful struggle against it. This Pathalgadi movement is inspired by Birsa Munda. This movement is a reminder to the government of the Indian constitution and to follow its own rule and law.
This Pathalgadi has been going on for generations. We erect stone in the memory of our predecessors. This tradition has now become part of our movement. We are erecting stones near the village entrance and have written the Panchayat rule over them. According to the rule, [the] Panchayat has sovereignty. 63 villages and their elected Panchayat have stopped the entrance of Corporate and Government puppet police forces into the villages. We did not allow any administrative officials to enter here. Even if someone was friendly, we didn't allow [it]. Our commitment was that we will look into our own affairs. We will arrange our own food.
Raghubar Das has tried repeatedly to crack down our peaceful protest. Within us there are some who are government supporters; they tried to weaken the protest from within. We were labeled as Naxals. Police and those supporters tried to corner and arrest us. Many people have lost their lives to police bullets. They even held us responsible for those murders by the police.
Pathalgadi was our tradition; it is now the symbol of our protest. Earlier people used to erect stone to demarcate their boundaries, now it is challenging the administration that 'from here on Adivasi area starts, stay away… just stay away!'
We met Karmi Munda, a 70 year old lady. She was in Ranchi for quite a long time. We were talking with her at a point that was not much away from a CRPF patrol van. She came near the CRPF van and started to shout: "Why are you still here? Why don't you go back to your place!" CRPF personnel remained silent. She started to talk to me.
"They are not guilty of anything. They are government servants. They are also sons of some one. We are not angry at them."
"But we are angry at the government, at the BJP. They first started the Hindu-Christian division and then brought the company."
"They have killed our sons at Kochong village and then framed us in false cases. We live with mountains and trees. Here there are stones everywhere. Whatever land we have in between the stones, we cultivate. We are happy with it. Why should we allow them to take it away from us?"
The tension has not ended. People are still on night-guard to protect their village, land, livelihood and life. BJP had alleged that in this village people who are for the industrialization and against the protesters were killed in 2019 January. Jharkhand's governor Ms. Draupadi Murmu went to visit Burugulikera village on 11/02/2020 and said,
"Supporters of Pathalgadi are running a parallel government. They are socially excluding and boycotting those who have taken help from the government… this thing will not be tolerated."
Villagers are worried. They apprehend that their 'success' in restricting government's 'development' policy may be jeopardized by the blueprints designed by the different stakeholders of the state. Unwilling to disclose their names, a group of people shared their anxiety in the adjoining village of Anedi.
"All Governments are pro-Industrialist. We are informed that former MP and industrialist Naveen Jindal met the CM and extended greetings to him. Though Jindal said that it was just a courtesy meet with the new CM but he also said that discussions on projects will take place later. We know that he is the chairman of Jindal Steel. We also know of his hobnobbing with Congress; he became an MP on their ticket. Hemant Soren formed the government with the support of the Congress. Our villages are again under threat. Adani, Ambani are in back gear but Jindals are now in the forefront."
Conclusion
People are still worried. Apart from our reports based on interactions with the villagers we also have added a report of our sister organization to share the recent updates. We think a joint form of activism from villagers and civil right groups is still needed.
With political, ethnic and environmental overtones, this multifaceted movement had already emerged with different concepts and ideologies. The people involved in this movement have not only generated a new wave of Adivasi identity around a customary practice, but have also questioned the very idea of governmentality and development. By stressing on an alternative form of village governance through the meaningful empowerment of the Gram Sabha, this movement brings to the forefront a new radical politics born from the grass root.
………………………….
1 Burugulikera Massacre and Involvement of Sati Pati cult of Gujrat
On 22-23 January 2020, local media reported the incident of beheading of seven people in Burugulikera village (Gudri block, West Singhbhum district, Jharkhand). Most of the media coverage held the Pathalgadi movement responsible for the killings. Villagers are outraged and deeply upset at the gross stigmatization of the movement by the media.
To understand in actuality and particularly, the role of Pathalgadi Movement in this incident, a team of activists, writers and journalists visited Burugulikera twice. The fact-finding team was organised by Jharkhand Janadhikar Mahasabha, an umbrella organisation of various groups and activists and the National Alliance of People's Movements.
Inquiry by the team revealed that facts are different. The beheading of seven residents in the said village was due to conflict between supporters of the AC Kutumb Parivar, also known as Sati-Pati cult, and those opposing it. The Sati Pati cult of Gujrat, though small in numbers, is presently spreading in Jharkhand. This cult has a different ideology. They have no faith in the constitution of India and Indian Government. They oppose Christianity, Hinduism and fervently believe in natural resources, such as Gujarat's forests and rivers. They claimed that those natural resources were gifted to their founder Keshri Singh by Queen Victoria. This interaction supposedly took place at some point during the 1930's.
In Khunti, this Sati-Pati cult asked villagers to undertake behavioral changes to adopt a "real Adivasi lifestyle". It was growing in the area over the past one year or so, the team members elaborated in their report. A huge Vishwa Adivasi Shanti Sammelan (World Indigenous Peace Conglomeration) was also organised by the followers of this cult at Gutibera village of Muthu block in Khunti district in October 2019 where tribals were told not to consume non-vegetarian food, not attend church, and wear white clothes, they said. The Sammelan also urged followers to give up government benefit schemes and surrender voter IDs, Aadhaar cards, ration cards and even khatiyan (ledger, land-related documents).
Around 100 of the 180 families of Burugulikera, a predominantly Munda Christian village, became followers of this cult while the rest opposed it and that caused a rift between the two groups of villagers, the fact-finding team opined. Here is the summarized report.
The fact-finding team found that more than half of the total number of families of the village was followers of the AC (anti-Christ) Satipati cult. The cult, led by Ranasi Budh and a few others, was accused of killing James Budh and six others of the village. The cult, active since the past year in the village, asked people to submit their ration card, Aadhaar card, voter card and stop use of all government schemes such Public Distribution System, social security pension, PM Awas Yojana, and so on. More than half of the families submitted the documents, while James and many others did not. The documents were not forcefully taken but people were sometimes told that they would not be considered Adivasis or be expelled from the village if they did not submit. People were asked to submit their khatiyan (land documents) too which many did not. James Budh, upmukhiya of the Gram Panchayat, used to get government schemes implemented and objected to the call for giving up schemes. Ranasi Budh's wife Mukta Horo was the ex-Mukhiya and they also used to get schemes implemented earlier. The satipati cult supporters also asked others not to go to Church or celebrate Sarna (Adivasi) festivals. These were also the causes of constant friction between the two factions.
On 16 January, a day after local Maghe Parv (an Adivasi festival), James Budh and his friends attacked the houses of Ranasi Budh and four others. They broke their cycles, motorbikes, television and ransacked their houses. They also allegedly took away two persons, Lodro Budh and Roshan Barjo, with them. According to the families whose houses were attacked, the attackers were also accompanied by armed members of the People's Liberation Front of India (PLFI) (a Maoist splinter group, known to have initially received state support). Some villagers shared that James Budh was close to a local PLFI leader, Mangra Lugun. On 19 January, Ranasi Budh and other satipati cult supporters brought the attackers from their homes to a meeting, to allegedly discuss the attack on their houses. The meeting was mainly attended by satipati supporters. From the testimonies of satipati supporters and family members of the victims, it emerged that the seven people were beaten to death in the meeting and then beheaded.
While several questions regarding the killings remain unanswered, the people's testimonies indicate that there were two factions in the village – the satipati cult supporters and non-supporters – and there was friction between the two because of the cult's call to give up cultural practices and government schemes. While the exact reason for the attack on houses of satipati supporters and killing of non-supporters is difficult to ascertain, the testimonies, possible involvement of PLFI, randomness of the violence and history of scheme implementation by Ranasi and James also indicate that this friction may not be the only reason for the killing. We hope that the Special Investigating Team (SIT) constituted for inquiring into the killings will be able to provide answers to these questions.
The incident also brings to light the growing influence of the Satipati cult in the Munda-Kolhan area of Jharkhand. There is a need to differentiate between the Pathalgadi movement and satipati. While the leadership of the Pathalgadi movement may have been influenced by satipati from the beginning, Adivasis did Pathalgadi based on their grievances, as discussed above, and traditional practices.
Sources used:
The Telegraph (Online Edition), 11.2.2020, https://www.telegraphindia.com/states/jharkhand/probe-by-a-a-fact-finding-team-confirms-gujarat-link-in-killings-of-seven-residents-of-burugulikera-village/cid/1744032
Durbar Bhabna (Bengali), Monthly Magazine, February, 2020
Acknowledgements:
Durbar Mahila Samanwaya Committee, Jharkhand Janadhikar Mahasabha (JJM), National Alliance of People's Movement (NAPM), Adivasi Adhikar Manch, AIPWA, HRLN, Jharkhand Munda Sabha, WSS, Adibasi Women's Network, Johar, Marxist Coordination Committee, Ulgulan Sena.
cover image courtesy by Wire.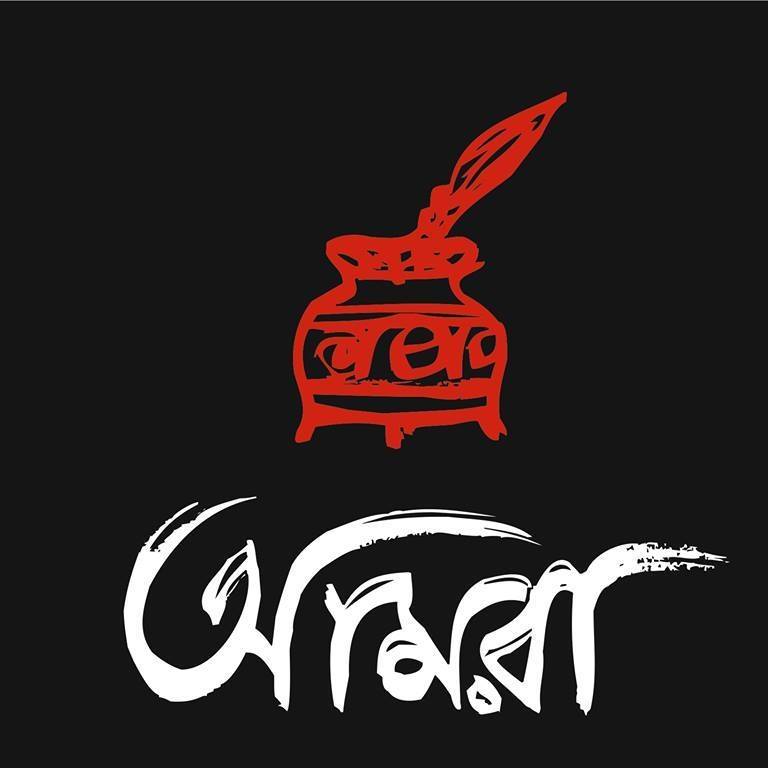 আমরা: এক সচেতন প্রয়াস
AAMRA is an amalgamation of multidisciplinary team of researchers and activists erstwhile worked as an assemblage of movement, research and activism. Popular abbreviation of AAMRA is, An Assemblage of Movement Research and Appraisal.