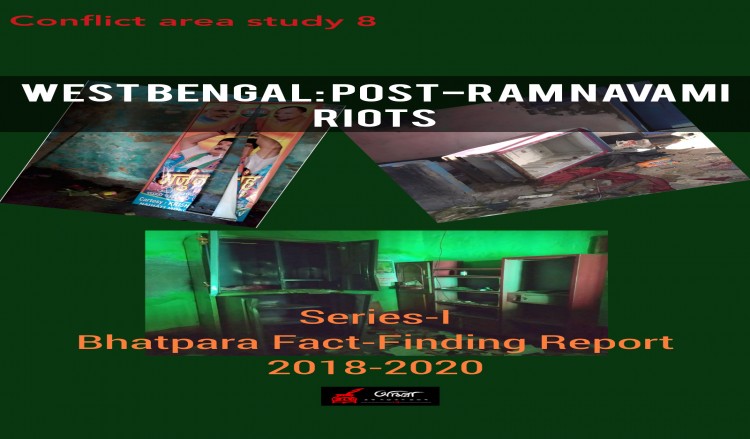 Bhatpara Fact-finding Report (2018-2020)
Bhatpara, is one of the most prominent names in the existing map of communal conflict in West Bengal. Over the years through various published and unpublished studies AAMRA has noted that Jute-mill led settlements along the river Hooghly is quite prone to communal polarisation and identity – led conflicts. This is a longitudinal study of exploring the identity consolidation in and around Bhatpara region through a series of fieldworks. This study unravels the complex politics-identity interface through intensive study of facts and artefacts. We have intentionally kept some of the raw nature of the data as there are more inconclusive questions than the answer to what happened in Bhatpara over the years. There are multiple narratives, perspectives and dimensions of each of the phenomena that have rocked the political and everyday spectrum of West Bengal.
Conflict Area Study -8
West Bengal: Post-Ramnavami Riots
Series - I
Bhatpara Fact-finding Report (2018-2020)
By AAMRA ek Sachetan Prayas Forum
Date of Publication- 1 August, 2020
Team Members-
Sushmita Roy Chowdhury, Shamindra Sarkar, Tutun Mukherjee, Mohit Ranadip, Faruque Ul Islam, Subha Protim Roy Chowdhury, Suman Nath, Amitava Sen Gupta, Akash Bhattacherya, Promod Gupta, Debasish Paul, Sandip Sinha Roy, Vijay Rajak
Photographed by
Faruque Ul Islam, Suman Nath
Edited by
Suman Nath, Subha Protim Roy Chowdhury
Published by
Mohit Ranadip
On behalf of AAMRA EK SACHETAN PRAYAS FORUM (AAMRA-An Assemblage of Movement Research and Appraisal), 41/1 N.C Banerjee Road, Hooghly-712222, West Bengal, India.
Phn no- 8697095776, 9433879158, 8820852054
Email- aamrasachetan@gmail.com, Blog- aamraeksachetanprayas.blogspot.com
Website- www.aamrabharatbarsha.com , Facebook- http://m.facebook.com/aamra.eksachetanprayas.3

Copyright disclaimer
© 2020 AAMRA EK SACHETAN PRAYAS FORUM
The right of AAMRA EK SACHETAN PRAYAS FORUM to be identified as author of this work has been asserted by it in accordance with sections 77 and 78 of the Copyright, Designs and Patents Act 1988.
All rights reserved. No part of this report may be reprinted or reproduced or utilised in any form or by any electronic, mechanical or other means, now known or hereafter invented, including photocopying and recording, or in any information storage or retrieval system, without permission in writing from AAMRA EK SACHETAN PRAYAS FORUM.
Declaration
This report has been prepared by using standard social-scientific methods. The editors and fieldworkers have tried their best to present raw data and show the mechanism of arriving to each of the conclusions. The primary aim of this report is to present facts and derive issues out of them. We have kept personal information secret in so far as we are being requested by the informants.
Bhatpara Fact-finding Report (2018-2020)
'Into that heaven of freedom, my Father, let my country awake'
The latest of the series of Bhatpara riots was started on 19th May 2019, immediately after the 17th Lok Sabha Election, 2019. The communal politics flourished here over the last few years. On behalf of AAMRA EK SACHETAN PRAYAS FORUM we went there several times for documentation before and after the 2019 riot. We documented different aspects of large-scale criminalization of politics and communal polarization. We had talked with the affected people. We visited the localities ravaged by rioters. Seven people have died so far, though the number is contentious. Causes of the death are also contentiously different as per claims and counter claims made by the victim's family, state and different political parties. People's death due to bombs hurled at them, police firing is a well-known and widely conversed fact in Bhatpara. Nevertheless, the reason for police firing is another part of a growing controversy. Arguments and counter arguments became part of Bhatpara violence. And perhaps the biggest of mysteries is whether the Bhatpara riot was a political conflict or a communal conflict or a combination of the two.
Our fact-finding was started in 2018 when the fire and ashes became part of their everyday life. We also conducted field surveys with the help of Bhatpara Nagarik Adhikar Rakkha Samiti in different times. After a year has gone as we are just reviewing the old narrations, an upsurge of conflict is slowly taking shape using the newly constructed phrase, ' Nizamuddin-Muslim-Corona'. 'Telinipara violence' nearby has also started pretty soon, which resulted in a transformation of both banks of River Hooghly into a communally tensed zone.
Backdrop- history and cultural geography of the region
Before the independence of India Bhatpara-Kankinara industrial area was famous for its Jute industry. There were eight Jute Mills; out of it four mills are now closed. One Cotton Mill and one Wool Mill used to function are also closed. Fine Yarn Company of Chapdani Industrial Group is still functional.
We restricted our study in the labor lines (worker's colony) of Kankinara Jute Mill (KJM). People here are migrants of UP, Bihar, Jharkhand. They have settled here before the Independence and have since then worked in the jute mills, especially in KJM. About 7000 people lived in these labour lines which has a capacity of 1400 quarters. Among them about 20% are no longer connected to the Jute mills, but have stayed back for generations. Roughly Hindus constitute 85% and Muslims about 15% of the population. Riot'2019 displaced 670 persons from 134 households and among them about 90% are Muslims. The displaced belongs to Darma Line, Tina Gudam, 4 Number Line, 6 Number Line, and 5 Number Railway Siding.
Clearly, Bhatpara is continuing in the news for all the wrong reasons. Political and communal clashes at Bhatpara in Barrackpore Lok Sabha constituency claimed lives and left more people critically injured. On 10 June, 2019, two Muslim persons were brutally killed by Hindu terrorists. It was Baruipara area, where series of bombing, burning of Muslim houses and open threatening became everyday feature since May, 2019.
Violence flared up again on 20 June, 2019, when the inauguration of Bhatpara Police Station was going on. According to statements of different eye witnesses, violence was started at Reliance Jute Mill connected area at morning 11.03 am. On 11 am after the ending of the morning shift, workers got a cessation. Three bombs were thrown on the top of the labor office beside Jute Mill. A police was there, workers called him to do something, but he told them, leave this place right away. Bombing was throwing rampantly. Violence erupted. Without taking any precautionary step after the 10 June incident, police started indiscriminate firing. One and half kilometer from Jute Mill area that was Kachari Road, where police fired by order of Ajay Singh Thakur, DC.
A total of 29 people have lost their work (job at Jute mill?) after the riot. Among them Muslims are 27 and two are Hindus. Seven people among them five are Hindus have lost their life in Riot and post-riot continuation of violence.
About 200 families residing at labor colonies like Tina Gudam, 4no, 6 no and 13 no line, Darma line, and House number are directly victimized. Numerous people have lost their livelihoods. Almost everyone has lost their assets.

Our team attempted to reach all conflict areas and tried to talk with all stakeholders. Our repeated request to talk to the Police, local administration was refused. We also made attempts to talk to political heads, but no response came from their end.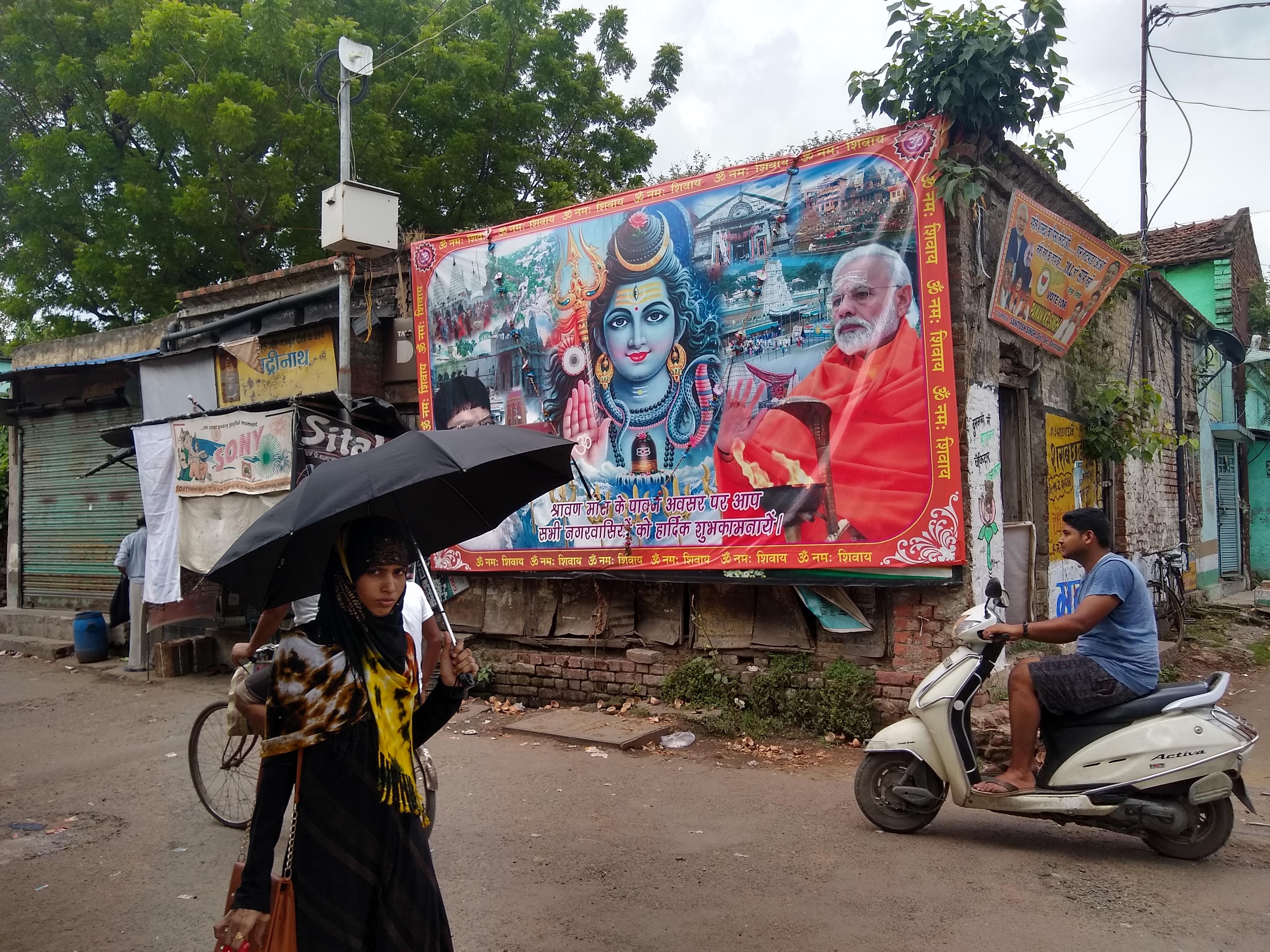 A glimpse of everyday life in Bhatpara
The sandwiched space: conflicts and co-existence
What does the 'line' stand for? If you are not accustomed with the word 'line' like 'kuli line', 'shramik line' you need to understand the dimension of the line. Lines are supposedly linear settlements of 'outsiders' who have historically settled down in the region to earn a livelihood from the nearby jute mills. Although today one cannot trace such linear settlement over generations these people have spread through shanty-like construction to make these places a cluster of settlements. The names however, remained. Therefore, you can find Darba Line, Tina Gudam, Sadar Line, 4 number line, 6 number line, 15 number line and 5 number line railway sidings. If you ask them about their places of origin you will get a prompt reply that they belong to West Bengal as most of them are born and brought up in Bhatpara, West Bengal. This is also a strategic response to deny the self-inflicting tag of 'outsiders' are being put on them. The question one might like to know about the settings of these so called lines. First of all, it requires an extreme form of mutual tolerance to live in a place which shares a thin wall with the neighbours. We have seen people belonging to different faiths living adjacent, sharing the same source of water, the same community bathing space, and the same large community toilet. The community toilet is an interesting construction. It looks like some old and abandoned building with about 24-30 feet high platform. The size of one such community toilet can be approximately 25 square feet. Though one cannot see anything from the outside, we were told that inside there is no privacy and one can actually see the human excreta floating all around. During a rain people face a similar situation in their narrow alleyways and if the rain is strong, stinking dirty water enters into their small rooms. Understandably, without much cooperation these people could not have survived since the colonial period. We have seen the same common place being used by the Hindus to keep their Idol and Tazia of Muharram. However, we have also seen bloodshed, mutual hatred and avoidance.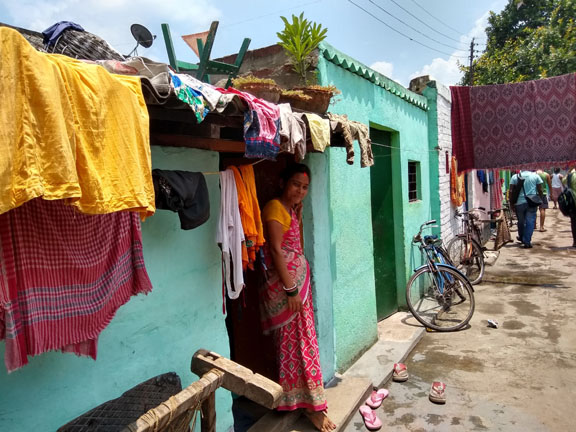 Linear settlement in Bhatpara
(You can see more about this place at AAMRA blog, here: http://aamraeksachetanprayas.blogspot.com/2019/08/exploring-kankinara-bhantpara-of-late.html)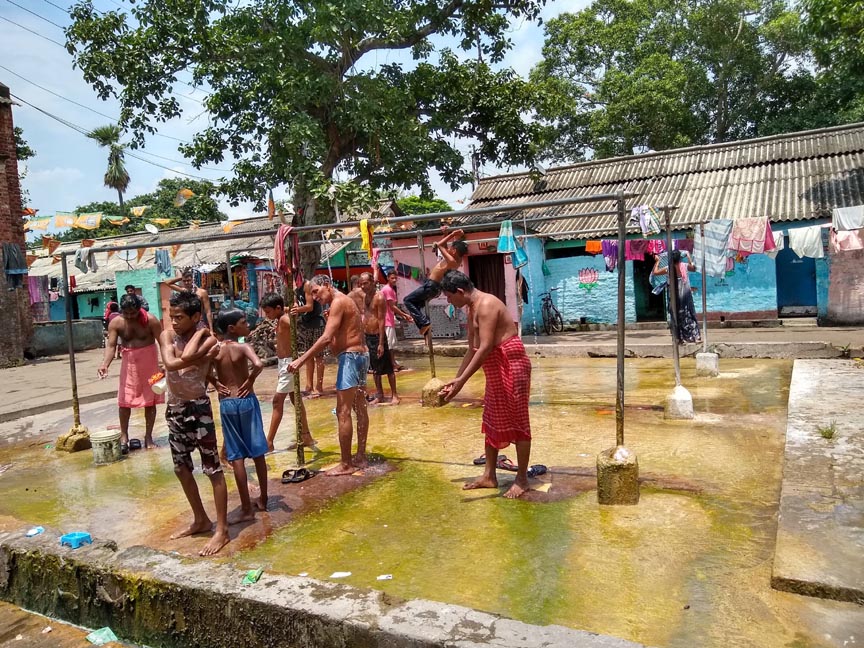 People taking bath at the public bathing place near the Jutemil 
Kankinara Communal Violence, 2018
It was 18 July, 2018, before Bhatpara captured national and international news coverage; AAMRA began its field study in this area. We have made repeated visits to know the details of violence. When our team entered ward number 8, the area was already tensed. We talked to Maqsud Alam, the councillor , family members of the deceased person and also talked with others. Arjun Singhh, the then Member of Legislative Assembly (MLA) of Bhatpara constituency was one of the muscle men of the ruling Party, the Trinamool Congress (TMC). He was the fulcrum of the power politics The communal violence of 2018 showed his role as the 'man behind the fire'. Our interaction with Maqsud Alam disclosed some of the trends of politics and the mechanisms of communal politics working in the region. It became clear that Mr. Arjun Singhh the MLA of TMC, a precious 'asset' for Chief Minister and TMC Supremo, Mamata Banerjee was fuelling communal politics in the region.
Conversation with Counsellor Md Maqsud Alam
Maqsud Alam: For the last couple of years Ram Navami rally has been organized. Before that we remember only once about 15 years back there was a rally. In 2017 there was a conflict initiated from the rally. Consequently, this year from the very beginning TMC took the responsibility of organizing the rally. Arjun Singh gave the responsibility to Priyangu Pandey to undertake and to organize the entire programme. Local Muslims were ready to distribute water to the rally. The rally was progressing peacefully, but eventually a few people entered into the rally at the back side and started teasing people. They were playing a song which centers around the core theme that "if you want to stay in this country you have to put your feet down." This song resulted in a strong repercussion among the Muslims. Where the rally was supposed to be ended Muslim started hurling bricks and water bottles. But, there was a party office nearby and Arjun Singh was also present. Consequently the conflict could not take much of a bad shape. The situation was managed within a year.
AAMRA: Rally was organized by your Party, TMC?
Maqsud Alam: Rally doesn't only have TMC cadres; rather, several partners of Priyangshu were there, they are BJP cadres. They had a plan to create the mess.
AAMRA: Yes others are there, but your party was the organizer, is it?
Maqsud Alam: Yes
AAMRA: Why Ram Navami rally? Why will a religious rally be your curriculum?
Maqsud Alam: I can't reply; decision was taken from party's higher level.
AAMRA: It means Mamata Banerjee, Arjun Singh. Is it?
Maqsud Alam: She is our supreme leader and he is our boss.
Although the conflict was momentarily solved, people from both the sides were angry with each other. Local administration tried to bring back peace between the two communities, Mr. Alam stated to us. He also mentioned that on that very day there was another conflict started at Kantapukur area. A person was murdered and Priyangu was one of the accused. Priyangu suddenly disappeared. He doesn't keep any contact with TMC. People have tried contact but failed. There is hidden news that Priyangshu is establishing a contact with BJP, rather with Mukul Ray – the BJP leader. But the role of Arjun Singhh, who recruited Priyangu for the rally was not cleared. We asked him repeatedly, but Mr. Alam remained silent.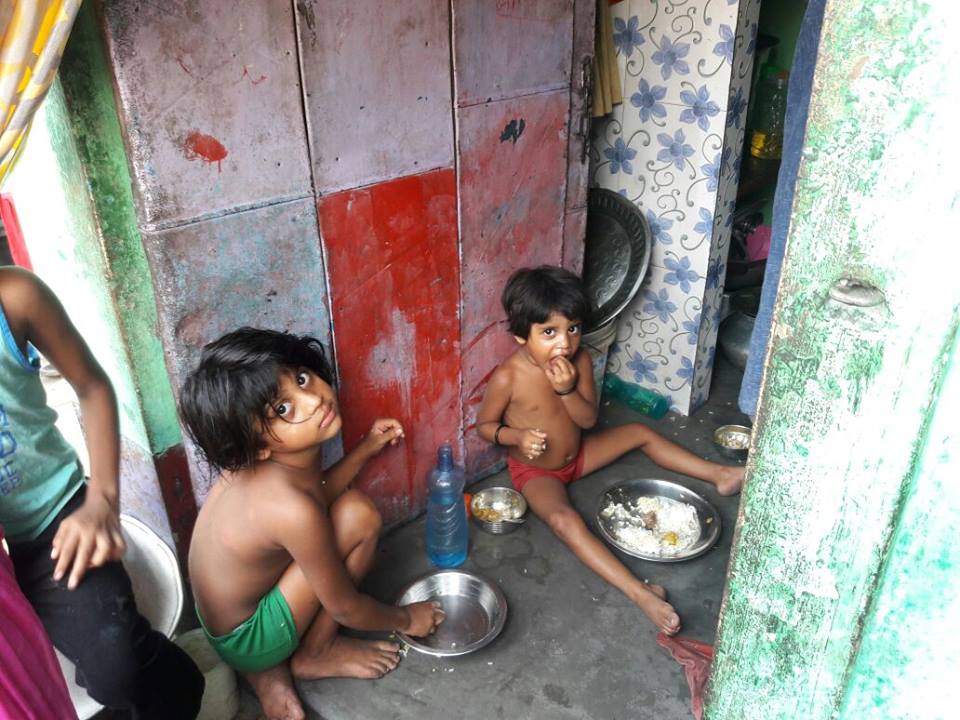 Children of the Kankinara victim
Conversation at Kantapukur
Kankinara, Ward Number- 15(Hindu 60% and Muslims 40%)
We were having a group discussion at local club inside a Muslim dominated area. We could feel they were still afraid. Till date no media has come to talk to them. They showed that there is a large pond and at one side its Muslim settlement and Hindus reside on the other side of the pond. They have never encountered a problem like this. Previously they used to have tea together, talk with each other for hours. Now they are mutually avoiding each other.
Regarding the Ram Navami incident they argue that before the rally ended the problem started. Bottle and brick hurling was notable. Priyangu's team has done it. TMC resolved it, and Priyangu along with his team took another route. They broke down the statue of Maulana Abul Kalam Azad near the bridge. They continued the ransacking there and finally came to Kantapukur. They have fired about 100 to 150 rounds of bullets. It was about to get dark. Three people had bullet injury and a horse was also shot. One person died. It happened on the road and in front of everyone. Everyone here is working people. We work, earn and live our life. The person who died was a balloon seller.
They were of the opinion that many TMC workers are actually BJP supporters inside. Priyangshu belongs to TMC only officially. He has good contact with BJP and it was clear on that day itself. They have come to know that Priyangshu has taken shelter under BJP. Local Muslims are suffering from lack of security.
Conversation at Late Kuddus Khan's house
Kuddus Khan used to stay with his in-laws at Kantapukur Club road. He used to stay in a tiny shanty. He was 35 years old. He has left his wife and three daughters. He used to sell Balloon. Understandably their earning is miniscule and the family lives in an extreme poverty. He never worked for any political party. He was a known peace-loving person in the locality. He knew that there was a riot going on, but he didn't expect them to be coming to that direction. He went out in the evening to bring back her daughter and suddenly he was struck by a flying bullet. He fell on the street and died immediately. When the news reached, Kuddus's eldest brother-in-law ran to see but police took the body.
We wanted to know if they had lodged any complaint, if any FIR had been done. They showed a piece of paper which is not an FIR. It was a complaint letter which neither bore any signature nor any receipt copy. However, they are happy with the initiative by the administration as they have got Rs. 10 Lakh and Kuddus's wife Chandra Khatun was given a permanent job in the Municipality.
Visit to the Hindus reside on other side of the Kantapukur:
We tried to talk to one of the houses immediately after entering the locality. They refused to talk saying they don't know anything. It was already noon and there was no one on the road. We talked to a couple of young boys. Firstly they said they didn't know of any murder. They said there was a Ram Navami Rally and there was a conflict near the temple, but they refused to say anything more. When we mentioned about the murder they accepted. Their body language was as if "a Muslim has died and it doesn't matter." It was evident that the conflict which started from the Ram Navami rally didn't leave any impact in their mind. They simply said "Muslims should move about keeping their fez down" Their anti-Muslim mindset was quite clear. They clearly stated that they do not belong to any particular political party; however, there was a clear inclination towards BJP's activities.
Officer-in-Charge, Bhatpara Police Station:
An officer of Bhatpara Police Station, clearly declares that he cannot talk to us regarding this. As per rule he should not say. We requested him repeatedly to brief us about the present situation and urged him to restore peace, but he refused every time. Our finding discloses following information. The FIR which was lodged from the deceased family has a reference no. of 336. So far 9 people are arrested and are given charge sheets. The case is in the process of hearing at Barrackpore court. Trial has started. The chief accused are Priyangshu Pandey, Bikram Shau and others.
According to him the problem started with the song being played in the rally. Muslims were becoming restless with the song being played. Hindus were also ready. Before the rally ended it was the Muslims who launched the attack first. Hindus were waiting for that opportunity and immediately attacked the Muslims with bottles, stones and bricks. It could have become much worse has there not been a party office and police sub-station nearby.
Later on, Muslims hurled a bomb near Priyangu's house and in response he went to Kantapukur and fired and killed one.
At Jagaddal Police Station:
We waited there for about 45 minutes and then the Officer-in-Charge, Sanjib Chakrabarti came. We wanted to talk to him. He refused to talk and even told us that we don't have a legal right to do this fact finding. When we told him that we have been doing such work for a long time and we are a group of Human Rights activists and researchers working on Conflict and coexistence, he said we are breaking rules from the very beginning. We didn't engage in any debate with him and left, frankly we had nothing new to know from him.
Priyangu Pandey is now moving in the open day light. In the lockdown period he distributed relief to strengthen his 'popularity'. He is now BJP, 'officially' and also the face of RSS.
Crowd and Crows
We were talking in front of Md. Halim's home. At first we meet Md. Kamruddin, nephew of deceased Md. Halim. He didn't want to talk to us. He wanted to be sure about our identity. When we told him our aim, someone said "it's been two months, what is the point of talking?" We clarified our objects and after that discussion was started.
Kamruddin: On 3rd June here three households have lost everything. They set fire in Akbar Ali and Taher Hussain's house. After that the bombing became a regular incident. People used to come by motorcycle, on toto or on foot. All are unknown faces.
From 5th to 7th nothing happened. We thought that the problem is over now. My Uncle, Md. Halim, a retired Jute mill worker, was seated here (showing the porch/verandah of their house). Suddenly a huge noise was noticed. Smoke had engulfed everywhere. They charged a couple of bombs, one on my uncle's head and second one on Md. Mustak whose home is nearby. My uncle's skull was cracked. He died on spot. My aunty was admitted to Apollo hospital and now she has come back. Nearly 3.5 lakhs was spent, West Bengal Government has borne the treatment cost. Uncle's younger son, Tabrej lost his eyesight (details of Tabrez and his sibling and their mother will be covered in the part of 'victim's testimony' of this report). He went to Disha Eye Hospital at Barrackpore for treatment. He is ok now. Uncle's elder son Parvez (22) has been given a job by the State Government. He joined last month and has drawn the salary.
AAMRA: Role of Police?
Kamaruddin: Now police posting is here. They are armed. But even then there were incidents of bombing.
AAMRA: Didn't they arrest them?
Kamaruddin: Out of 6 police personnel, 4 were patrolling, 1 was sleeping and what could that single person do?
AAMRA: How were the bombers informed that police are patrolling outside, only one is practically on duty?
This time Kamaruddin remained speechless. In the meantime his neighbours gathered, practically our discussion was converted to a group discussion. It seemed that at that time people were satisfied with police action.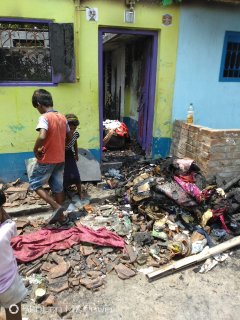 Charred remains of a house in Bhatpara after attack
Group discussion
A group discussion was held, about 12-14 persons were there with different age groups. Basically 3-4 people took part in this discussion. Initially few among them were unwilling to have the conversation. They were ranting on the fact that there are many people coming but the situation is remaining the same. Till then bombing was going on.
Kamaruddin: They set fire to the corner room on the 23rd. It was around 10 in the night. The only reason is to drive off people. Those who set fire were thinking themselves as heroes.
Some one: Don't take photos!
AAMRA: No, no, we won't take photos, don't worry.
Kamaruddin: In three adjacent rooms they have set fire and all three are burned down. All the belongings are wasted.
AAMRA: What was his name?
Another person: His name was Akbar Ali. He was the head of the family. The room at the back belonged to Taher Hussain, they have burned it down as well. The two families had at least 15 members.
Kamaruddin: After 23rd they were hurling at least a couple of bombs here every day. We don't know them. They come by walking, sometimes on a bike, sometimes by a toto. They said "All the Miyans (Meant the Muslims) must leave this place, abandon their homes. We will not let any one of you to stay here." Sometimes in broad daylight at 11am, sometimes at night. They don't even wear a mask, but all are unknown faces. Three boys came, unknown, we thought they were joking. But this was continuing for quite some time now. Sometimes they stopped for a day or two. You can find the actual report at the police station. It is there because sometimes police raided them. If police have taken them away 7 times, they have hurled 94(meant 93) times. Sometimes two will come, sometimes three.
AAMRA: How can they have such notoriousness? Only three people hurling bombs!
Kamaruddin: Who will do a thing to them? Local leader is supporting them. There are many illiterate people. They get the money and do it. Someone with education will not do that. "Our leader told me, so I have to do that, my leader is god to me!" This is how it continued. But sometimes there is a gap of a week. Since June 2nd everything has stopped. People became careless. Everyone was sitting here and there… talking with each other. On 10th June, here were 4-5 people sitting and here (a little away) another 4 to 5 people were sitting. In front of him, his child was also there. I was sitting here, Mustaq was there. I was looking at the front, no one was there. Suddenly there was a huge sound. A bomb was hurled and smoke engulfed us. I quickly went inside the room. The sound was so loud that I felt at least ten bombs might have been blasted. I could not listen to anything for at least 1.5 hrs. When I came outside, I find that my aunty was holding my uncle's body like this (showing a pose), on her lap. His skull was broken.
There were two sounds, which meant that two bombs were hurled within a second. Akhbar e Mashriq, (an Urdu newspaper) has covered the story. After this incident the entire area became riotic. On 23rd June, 40 shops in Kankinara bazaar were burned down.
AAMRA: Whose shops? Everyone's or the Muslim's?
Kamaruddin: Everyone's. Hindu and Muslim both, sufferer are common people.
AAMRA: You are talking about god, who is he?
Kamaruddin: Guess who?
Now everybody: Here everybody knows who the culprit is. Lok Sabha poll, change of party became crucial factor.
Someone: 'Bap-bete ne jina haram kar diya'(Father-son jeopardize our life). (Someone in whispering voice)
AAMRA: Yes it is the problem. But once he was popular.
Aged Person-1: Popular for the anti-social from both communities. Not for common Hindu-Muslim. Now we are depending on the police. They became our protector.
AAMRA: Police are deployed here.
Almost everybody: State police have posted armed forces here. We have given them a place to stay. The bombing was done in front of them… just go and ask them. Only two people are here, what will they do?
Another aged person-1: We know that the person hurling bombs are the labourers. They are doing it for money. I am sure the person making the bomb or funding it is someone else. These labourers do not have any ideological intention to hurl bombs.
AAMRA: Anyone came for compensation?
Someone: Yes, it happened on 10th, on 11th Madan Mitra came along with Jyotipriyo Mallik from TMC.
AAMRA: Anyone from BJP came?
Almost everybody: Till date no one came, except the TMC.
Kamaruddin: We had to spend Rs. 80000/- for treating Tabrej's eyes, Tabrej is my cousin. My aunty had to undergo a surgery which costed around 3 lakhs and 50 thousand (Some debate with another youth regarding the amount, he differs)
AAMRA: Who bore the cost?
Kamaruddin: State government.
AAMRA: Do you remember any conflict of this magnitude before?
Kamaruddin: Never. I came here in half pants in the year 1984. We rented a house and stayed and then got our own home. I am 42, and I have never seen this before. Here you will find 4 Hindu households in every 10 households… we stay together.
A teenage boy: Say if I hurl a bomb on you, there are ways to identify who I am from how do I look, for example look at this uncle, just by looking at him you can say he is Muslim.
Kamaruddin: Exactly. For me or for you no one can say whether we are Hindu or Muslim.
AAMRA: Who is local then? What is the stand of neighbouring Hindus?
Two people: There are locals. See that house (showing a local Hindu household), they do not stay at home in the night.
AAMRA: They are afraid?
Almost all: No, no. Whenever they are not here, there will be bombing. If they are staying there is no bombing.
AAMRA: They are involved?
(No reply for two-three seconds, then)
Reply came from a person: Yes, of course
AAMRA: Did you people talk to each other after this incident?
That person: They have left this place since that day. They are not coming back.
AAMRA: Till now?
Kamaruddin: Yes, till now. After the fire at our place, everyone wants to talk to them. There is another Hindu household here, belonging to that of Kinar Singh, once he was a zamindar (landlord).
AAMRA: You mean Hindu houses have also been burned down?
Aged person-2: No, only the Muslims. There were three Hindu houses and others were Muslims. There is one Dharmendra Singh of that landlord family. We went to talk to him. He replied that he will talk to their leader, if the leader permits then only he can talk. On the 23rd we first went to him with the intention that the local leader should have intervened. He said that he needs permission from his leader to be able to talk. He is a loyalist of Arjun Singhh.
AAMRA: Any conversation after that?
Aged Person-2: Not at all.
(We stood up to visit adjoining Hindu households. Some of them (the group) were with us. All the doors were locked from outside. We halted in front of a Hindu building, looked like abandon)
Kamaruddin: They didn't come back. When police finally came under the state government then only we could see them. Police have tried their best. They came around 1 am, then after 40 mins they came back then they came back again after 1 hour.
It's because of the police we are still here, otherwise they(Hindus) would have pushed us away from here.
AAMRA: Yes, the presence of the Police gave you protection, this is fact. But all the Hindu households are closed. It means your Hindu neighbors are also in fear? As you are afraid of them?
Two young persons: We did not tell them anything attacking, but it is fact that they are aware of every attack against us. After they left their houses, bombers came here to bomb us. It is a routine we saw.
Hasina Banu and Azim Mia
We met this aged couple at platform number one of Jagaddal Station on 11 August, 2019. Riot displaced them from their rental house. Kundan Shaw, owner of the house practically used 'riot' and pushed them out. Octogenarian Azim Mia is a rickshaw paddler, now unable to work for his poor health. Here is the synopsis of our interaction with them.
Azim Mia and Hasina Banu: Being snubbed by rioters we came here. They reprimanded us with a bomb. We went to Jagaddal Police Station, but did not take any diary. We have been begging them (police) repeatedly for the last one month.
After recommendation from Mamata Banerjee's party they came here last Tuesday. They took our snapshot. Police told them to open our rental home, but they refused to budge. Landlord told the police that we are bad people. We were staying there 42 years. Nobody raised any objection against us. Now suddenly we became bad people.
Police told them to attend the Police station to discuss the matter with both parties, but they did not agree. Police asked them to show appropriate papers as they claim we are illegal. Landlady told that her husband is working at Howrah, they can't show anything now. So Sunday was settled as the landlord is available. On said day we arrived at scheduled time 11 am, but they remained absent till 2 pm. After their arrival we told police, 'we came here in actual time without taking bath or food, please call them, please do something for mutual settlement'. Police called them and asked them to show documents. They showed some papers, police told them, 'these papers are fabricated, don't show it to us'. Police told them to show court papers within three days. We two old haggard move here and there, requested everybody, neighbors, friends, foes; but returned with empty hands (At that time Hasina Banu was practically gasping and crying).
AAMRA: And after that?
Azim Mia: Someone told us that they got court paper. 'You have no chance', he also said.
AAMRA: Since then you are staying here at Jagaddal Railway station?
Hasina Banu: Hya Beta (Yes my son), kaha jayen (Where we will go)?
AAMRA: Your sons, daughters?
Hasina Banu: They are not economically sound. And probably busy with their family. No space for poor parents.
AAMRA: Before this riot have you experienced any type of problem?
Hasina Banu: Not a single day. Even we are neglected by our own children; we are not neglected by them.
AAMRA: Who they are?
Hasina Banu: They are neighbors, Hindu neighbors. But what happened this time, they turned their face from us.
Azim Mia: Ye rajniiti ki karon hua (This is for politice). BJP vs TMC means Hindu vs Muslim. We became the football of this game.
AAMRA: It is politics, you said. Nothing with religion?
Azim Mia: Nothing. I have joint pain in my knee. Who will support us?
Hasina Banu: He had to go to Hospital to take medicine. Our shelter, livelihood- we lost everything.
AAMRA: Did you not get any help from local administration?
Hasina Banu: No. Few people like you gave us some money, Eid ul Fitr is coming; we did not know how to celebrate.
This couple got more media coverage, social workers rushed to said platform number one. But their helplessness remains. Latest update of this old couple are more pathetic, after a few months they are shifted to an 8/8 room near Lalita High School, adjoining with Babu Quarter, Jagaddal by the supervision of police. Photo session is over, they are again in deep turmoil.
Reportage
A small garment shop adjoining with Jagaddal Boro Mosjid (Mosque), owner is Muhammad Ayub, rioter looted garments, amounting approximate 24000. Opposite of it, large garment shops of Agarwal remained untouched.
Irfan Communication Center converted to BJP Party Office. At Manik Pir area, Muhammad Javed's house was captured by BJP, now it is their Party Office.
Some of the family members from Hindu community who are injured or whose own person was dead alleged that Muslim miscreants came here with police uniform. We identified them with their 'chappal', they told me.
Other Interactions
On 11 August, 2019 we started to walk from the station along the Ghoshpara Road to reach near the entrance of Tina-Gudam slum. We were waiting for another team member to arrive near the new police station. A middle aged lady, Jaychan Bibi was selling pigeons and cigarettes. She asked "Are you going to collect some data from us?"
AAMRA: Why did you ask? You want to tell us something?
Jaychan Bibi: They have looted everything, nothing is left
AAMRA: What happened?
Jaychan Bibi: My daughter-in-law was alone. She fled and they looted everything.
AAMRA: When did it happen?
Jaychan Bibi: The day after election (Actually the day after result was declared, 24.05.2019)
AAMRA: Do you know who did this?
Jaychan Bibi: I was not there. My daughter-in-law fled out of fear. Nothing has been restored till now.
[At this moment a gentleman arrived. He introduced himself as her son and gave a copy of the FIR he has lodged in the Police Station]
AAMRA: Where did you stay?
Jaychan Bibi: Come with us, I will show you.
AAMRA: What have you lost in the looting?
Jaychan Bibi: It happened in the night. Refrigerator, Television and all the boxes we had.
As we were walking down, we met a person named Kapil Jadav. He was a cattle raiser and was with his cattles as they were grazing. One of his calves has died in a bombing.
Kapil Jadav: See, cow is like our children, you understand that! Now who can compensate for the loss of my cow?
Rajak: Did the government do anything?
Kapil Jadav: How much the government can do? What am I supposed to do with Rs. 5000/-?
Rajak: Anyone came to you after the incident?
Kapil Jadav: Yes, Mr. Arjun Singhh and his son Pavan Singh, both had come.
Rajak: Did you lodge any police complaint?
Kapil Jadav: What is the point? Arjun Singhh also told me to lodge a police complaint. But by lodging the complaint and taking Rs. 5000/- I don't want to earn a bad name. I will do it in my own way.
AAMRA: Did anyone from the state government come and visit you?
Kapil Jadav: No one came from the State government.
AAMRA: How many cows have you lost?
Kapil Jadav: Two cows and two calves.
AAMRA: When did this happen?
Kapil Jadav: On 21st. You know 19th was the election here (Assembly bi-election). After that it happened. It happened in the broad daylight. Around 8:30 in the morning.
AAMRA: Why didn't you lodge a complaint?
Kapil Jadav: What is the point? They don't even complain. Instead, they pick us up and harass us in the police station.
Exploring Tina Gudam
We reached Tina Gudam colony, colony of the jute mill labourers. This slum-like colony was badly affected by communal violence. There was a large jute ware house made out of iron sheet (popularly known as Tin), which acquired the name Tina Gudam, Gudam stands for the warehouse. We found out that APDR members were preparing a list of riot affected families, some of our team mates joined in this initiative. It was aimed at helping the kids with the study materials so that they can quickly resume their studies. Since the Eid celebration was next day a small common place was being decked by local boys. We saw that the same place is used for keeping the Tajiya is also decked with Jai-Shree- Ram cut outs. As we were talking with people openly it became clear that they have a prominent cohabitation. From here we reached the Kankinara Jute mill connecting slums. We need to understand that all these slums are created by people occupying nearby open places of the jute mill quarters.
We met with Sayeda Khatun, a paper gatherer (after collecting papers from street, vat etc, she used to sell it to the waste paper wholesaler), a resident of Tina Gudam. Miscreants looted her savings which she saved from the short income from that laborious work for the purpose of daughter's marriage. That happened on the night of 19 June, 2019. After a two days gap, on 21 June, 2019 miscreants came back again and this time they robbed the television set, fan etc. Poor Sayeda Khatun does not returned her home, that incident
We are informed, "Even a 'red-light' area (brothel) was also created." Our team mate and local activist, Vijay Rajak told, 'Later on, the situation was changed as the jute was no longer profitable. The owners started to exploit the labourers. Even we have seen that if someone died inside the mill, they used to drag the body out of the mill so that his family loses his right for compensation. They are making retired persons work at miniscule wages. The labour unrest is also a major problem now."
Exploring Darma Line
Among riot-affected colonies the worst affected has been the Muslim settlement at Darma line. Here 32 Muslim household were looted and destroyed. Details of the Darma Line pillage are disclosed by two youths in the last paragraph of this report.
House Number-24, 5 Number Railway Siding
24 Hindu households reside here in 32 rooms. It is a prototype of destruction like in the Darma line and Tina Gudam. This locality is under number 8 ward of Bhatpara Municipality, which is a Muslim dominated ward. Following the easy equation that Hindu means BJP voter, TMC candidate Madan Mitra and his goons targeted them. We are informed that under the leadership of TMC councilor, Maksud Alam, Hindu households are destroyed and looted.
Almost 15 students lost their books, copy books etc. Nisha Mahato, a college student despite economic hardship, got admission in Barrackpore Surendranath College. The riot has destroyed her dream like Tamanna Parvin of Darma Line. Here we represent the loss of two families as they stated.
Amar Shaw got approximately Rs. 200,000/- after his retirement from Bhatpara Reliance Jute Mill. After retirement he started a tea shop in front of house number 24. He can also do some electrical repairing works which enables him to earn a little more. "But this riot has made me a beggar"- he told me.
Amar Shaw continued:
"We settled the marriage of my younger daughter, Meena Kumari Shaw. So I withdrew one lakh from the Bank. Rioter looted this amount and all the gold ornaments, utensils for Chhat Puja, one of the religious festivals of Hindi Speaking Hindus, and all other utensils of daily use. They have taken the electric fan too, which I was supposed to repair and give back to one of the customers. My tea shop was also looted."
He pauses and we asked him about the compensation if any:
"I got instant help from the police, they gave me Rs 3000/-. From the State Government we got Rs 2,50,000/-. We are thankful to the Government. We are poor labourers. We have nothing to do with politics. We are living with deep anxiety. My wife lost her life, on 21 May, 2019 due to cardiac failure. Only option I have for the marriage of my daughter is to sell my tea shop."
Opposite to house number 24, a mobile phone shop owned by Dharmendra Prasad was also looted.
But what was the background of violence in 'Tina Gudam', 'Darma Line' and 'House number 24' ? We know that these are outcomes of a combination of deep-rooted reasons and fuelling events. The Bhatpara Assembly by-election became a war of two recently rival political parties, viz. TMC and BJP in West Bengal. TMC selected Madan Mitra as their electoral candidate against Pawan Sing, the son of Arjun Singhh. The seat got vacant because Arjun Singh was victorious in Parliamentary election in Barrackpore constituency and he had to resign from his MLA position. . For Madan Mitra it was his 'waterloo'. He had to win this election to save his political career. Pawan Singh had to maintain his political legacy. Finally, Arjun Singh had to prove that he is the 'ultimate hero' for Bhatpara. In this situation BJP aimed at consolidating the Hindu votes. For TMC, it was a lost game, so they attempted to portray themselves as the protectors of the Muslims. Clearly, it was an attempt to counter the arms and muscle power of Arjun Singhh. He was used by TMC even in the last Panchayat election in 2018. The poor, marginal labourers of Bhatpara had no option but to see the battle being a part of its collateral damage.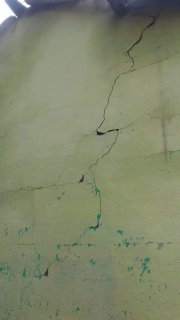 A crack in the wall due to intense bombing
Conversation (and journey) with Bijay Rajak, an activist
Rajak: Although I am Hindu by birth but I have participated in the Namaz with my Muslim friends at Kankinara Masjid. Lateron, I was unable to conceal my laughter. I was unable to do such practices with complete silence and seriousness. You know the kids, right! We used to do exercise then nearby. This Mosque's (the mosque adjacent to the jute mill) Maulabi used to love me. He used to give me jackfruit from the Mosque's land. The relationship was like this.
AAMRA: When did this situation start to change?
RAJAK: See, this riot has nothing to do with Hindu or Muslim, this is a result of criminalization of politics.
AAMRA: Why do we find criminals here?
RAJAK: You know the factory owners, shareholders have a covert understanding with the local dons. These 'dons' actually allocate work among the labourers and get a percentage of money from both the labourers and owners. The owners can get cheap labour and labourers can get some work to earn a wage. It is like a win-win situation. The extortion money is quite large and for this reason we have goons everywhere. They are actually the middlemen.
Since Mr. Rajak has grown up here he knows a lot about the place. There are two large grounds one is Tina Gudam ground and the second one is Pani Tanki (Named after water tank, water – paani) ground. He showed the ground and said "you can even find a few bombs here hidden for future use!" Later when we interact with a person who called himself 'professional bomber', he discloses a lot. (Interview with him is added here in this report)
We were walking with Vijay Rajak to meet with different people and continued the discussion. Sometimes local people took part with our chats, here like on the Jute Mill Union. These unions were never under the ruling party, opined a contractual worker, Ram Kumar in front of a trade union office, which was closed then. Vijay continued, it has always been like this, even during the heyday of Left Front politics. Sometimes, the ruling left captured the union but that was a capture only, not any conversion or spontaneity. Ram Kumar also added, 'but reality is nobody, no union struggles for our interest, we are deprived from all sections'.
We continued our walk; here we stop to take tea from a tea shop. Vijay was going on historiography. Here tea vendors and other people took part. Vijay added, 'there is a hidden disgust among the local BJP people because Mr. Arjun Singhh has now joined BJP. Both the owners and labourers are unhappy with this decision. I have even heard people directly saying "Why are you taking him? He will destroy everything." BJP responded that "What he has done earlier, he cannot repeat here, BJP has its checks and balances." Now tea vendor joined, 'but the situation was not changed, now Bhatpara means riot, fire, bombing'
AAMRA- This bad name hurts you, is it?
Tea vendor- Why not? We feel ashamed, even our relatives from other parts of West Bengal laugh with us, 'Bhatpara means Vatpara, vat of bombs'.
AAMRA- In your shop people used to come from all faith, have you noticed any change after this riot?
Tea vendor- Division, division and division, they divided us to rule us, Vijayji can give you details.
Vijay Rajak puts emphasis on the nature of religion based polarization. He argued that since the conflict both BJP and TMC is consolidating their support base according to religion. BJP with the Hindus and TMC with the Muslims, this is local mathematics. This is enhancing the social fissure. If someone is Hindu, he has to join BJP and same with the Muslims. They have to join TMC. Otherwise they cannot survive. TMC is using police in a very wrong way. There is no doubt that the police are torturing the local Hindus. "If you go to the Darma line, you will see that they are constructing houses by using the iron sheets used in transporting edible oil. No one can stay inside such construction. If you are doing something do it properly! Actually they want to keep this disturbed condition alive!"
AAMRA: Tell us, how much arms are in stock here?
Rajak: During the conflict one of the boundary walls of my house is broken down because of repeated bombing. If BJP hurls two bombs then TMC in response hurls at least eight. It happened at our home. I know they are the goons, but my family members are looking for Hindu and Muslim divide among such goons. I know they are plain and simple goons. I have seen till late night around 4:00 to 5:00 am that the conflict and violence continued. I was seeing that at one place the conflict is taking up the streets and police are purposefully patrolling at another end where there is no conflict. No one can have faith in the police any more. They are asking uncle what to do. We have to arrange for something (to counter the problem). I am trying to convince them that it is not needed. They are younger, and they are not listening to me. They are collecting and storing arms. I went to a household. They do not have any men in their household. I said are not you afraid? She said she has stored a couple of bombs in her roof. If they come and try to break the front door they will be able to put up some resistance.
AAMRA: How do they perceive the 'others"? As goons or as Hindus and Muslims?
Rajak: No, they do perceive the Hindu-Muslin division. This has not happened overnight. Arjun Singhh used to use Muslim goons quite effectively. During his association with TMC he was so close to the Muslims that he earned the nickname of Arjun Khan. Ward No. 8 here represents a Muslim area. This represents a place which the common Hindus usually avoid. I can tell you there is a dangerous degree of criminalization in this area. Even kids hurl bombs here. The fate of the Municipality election depends who has the control over ward no. 8. But in the Assembly or Parliamentary election you really do not have much of a dependency on them. Sometimes police show a figure of surrendered goons to the media. Who surrenders? These people surrender, only come back and start over again. If Arjun Singhh was given a ticket, nothing would have happened. Local BJP workers do not like Arjun Singhh. Even there are people who wrote letters to the BJP office not to give candidature tickets to him. Frankly, TMC has played the Muslim 'card' for quite some time now, but Modi is showing them that Hindu 'card' is much bigger!
AAMRA: This area was always a problem zone. Earlier there were conflicts between TMC and CPIM? Do you remember then? Has there been similar collection and deposition of bombs then?
Rajak: Earlier the conflicts were localized and much smaller. CPIM used to control these problems by using their party machinery especially through the Local Committees, if they wanted to. TMC doesn't have such machinery or people.
AAMRA: To whom did the Bengali Hindus voted for?
Rajak: Many people have voted for BJP here. Starting from different kinds of substance abuse to the extortion money of the factory, there is no shortage of illegal money here. None of these corrupt personnel has any problem with Arjun Singhh. Even many Muslims would have happily joined him if the party in which he joined was not BJP. Arjun Singhh was happily sharing everything with the goons and feeding every mouth. Problem started with BJP and its Hindutva ideology. There is no shortage of personnel to start a conflict. The problem is, many started to think that the Muslims are overdoing things. But they were overdoing things for very long, but now they are making the Hindus think along this line.
We left the tea shop. We are on the way to meet victim's houses, people who lost their lives. We continued our discussion with Vijay Rajak. He opined that the post-election conflict and violence is not completely ameliorated. This could not be pacified primarily because of the continuation of violence, one after another. When there is a bombing in a masjid, immediately there is violence in a nearby temple, common people are distancing themselves from one another. The kind of Hindu-Muslim divide they have created will not disappear overnight. Capturing the area is going on. TMC is using administration and professional goons to capture different areas. This is a clear case of using fear psychosis to extend political control. We know BJP politics. They are rioters, but most of the people cannot understand that TMC too can do this kind of politics.
While we walked past several settlements, flags were marking their community. For example in Muslim areas there were no flags, but in each of the Hindu predominated areas there were saffron flags attached. This kind of distribution of flags made it clear which area we were passing through.
Victims' Testimonies
One comes to know what has happened. People usually collect information from media and political parties, but that information remains partial. In the area where people are highly polarized and where violence can erupt anytime, it was difficult to talk with anybody, and particularly to those who lost their family members. We planned to talk with the deceased's family despite different reasons for their death.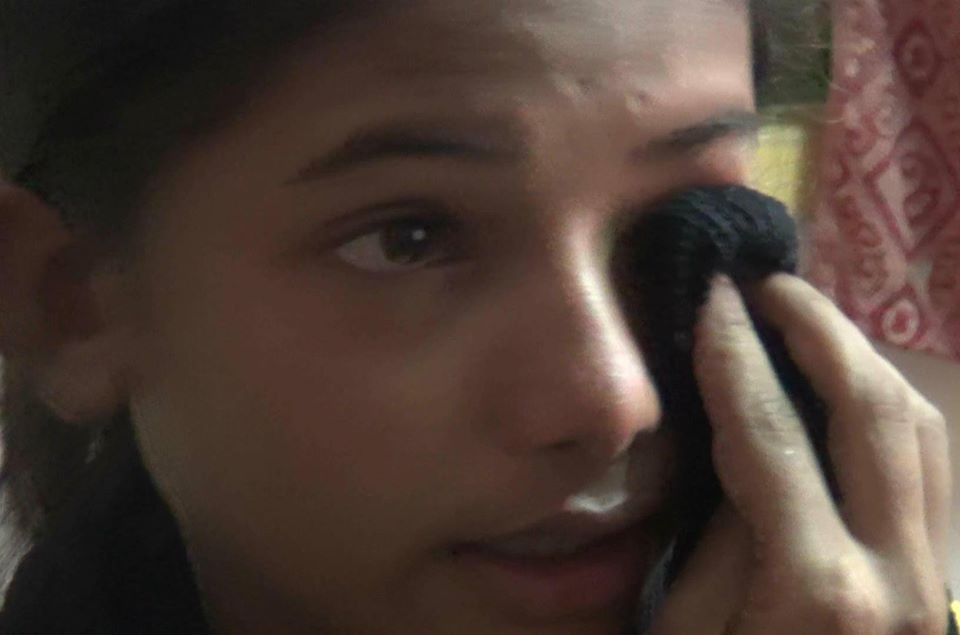 The face of a trauma: A riot victim during a conversation.
Conversation with deceased Md. Halim's wife and her youngest son
When we appeared at their door they were inside of their home. It was a lonely afternoon. Rubi Parvin, widow of deceased Md. Halim and their younger son Tabrej Alam were introduced to us by Kamaruddin. Only two persons on behalf of AAMRA talked with them.
AAMRA: This is precisely the reason we come and ask questions. That time we did not come because we knew that was not the right time to ask questions. It's important that one understands the pain of losing your near ones. Anyways, can you let us know what happened on that day?
Rubi: This is happening for quite some time now. Always four or five people will come. They will charge bombs, and threaten us. On 23rd they set fire in one of the homes. We could not identify them because they were concealing their faces under black cloth. However, the situation improved as the festive season was over. We usually sit outside the home, or we stay inside since the situation was never completely peaceful. On that day we were sitting outside. My husband has a heart disease and he needed some open air. So, me, two kids, and my nephew were sitting there. Suddenly someone threw a bomb. There was fire, smoke and a huge sound. I have never experienced something like that ever in my life. I do not know who was there to charge the bomb. However, it is clear that someone did that from a close proximity but I could see him. My husband was hit on his head and he fell down. That moment I could not even see if my kids are alright! I was also injured but I didn't feel at that moment. With thick smoke, kids came out of the room to find that their father had fallen. I immediately ran to pull him, only to see that his head was splitted into three or perhaps four pieces. I lost my consciousness. People came to rescue us and when I regained consciousness I came to know that my husband had lost around 2 to 3 grams of flesh. This is what we know. I was admitted to the hospital for a couple of days. I was admitted on the 12th at Apollo. Kids were admitted to the National Medical College Hospital. The elder one was injured on his stomach and on his leg. My younger son has lost his eyesight.
AAMRA: When did your husband die?
Rubi: Immediately, on the spot.
AAMRA: Incidents such as this have ever happened before?
Rubi: It happens regularly. Goons throw bombs from that crossing. They wear vests and half pants. They usually charge bombs from a distance. We always rush back at our homes immediately. They usually charge twice a day. We could never find out who they were, from where they come. They always wear a black cloth to conceal their identity, and we cannot really find out who they actually are. They usually come at around 10:00 – 10:30 in the night.
AAMRA: did they come by motorcycle?
Rubi: No, they come by walking just like common people . Always come from that field. Hindus of this place follow an unwritten rule of abandoning the place within 7:00pm. A few families of Muslims used to spend some time outside the home, but we cannot do this anymore.
AAMRA: Now the police are there, it seems.
Rubi: Police have been here since that day. Otherwise police used to come after a bomb is charged. If someday bombing is not done, they used to come and pick up people at random. They used to tell us to go inside. We used to follow their instructions. However, since that incident 10 – 12 police personnel are posted permanently.
AAMRA: Is it a fact that despite police picketing the bombing is continuing?
Rubi: We are getting the news that bombing is going on, but it is not happening here. I came back here only the day after yesterday. I was not here for 10 days.
AAMRA: Where did you go?
Rubi: I went to stay at my brother's place along with the kids.
AAMRA: Now that security is here, do you feel safe?
Rubi: How can we stay back here? My husband has died, kids are not ready to stay back because of trauma.
AAMRA: Your elder son has got a job now, right?
Rubi: Yes.
AAMRA: Where did he get the job?
Rubi: Somewhere in Kolkata. I am yet to see. I don't know what type of job it is. I have just been discharged and I have to go to Apollo and my younger son has to go to Disha eye Hospital for treatment.
AAMRA: Which standard does he study now?
Rubi: Class eight
AAMRA: What is your name dear?
Tabrej: Tabrej Alam
AAMRA: What is the name of your school?
Tabrej: Anglo Indian High School (in a low voice)
AAMRA: Did you go to school or it is still closed?
Tabrej: Its now open (a little clear voice)
AAMRA: Did you go?
Tabrej: No (in a very low voice), but I want to go.
AAMRA: He must be admitted to some school (looking at his mother)
Rubi: They are saying they will help me admit him to a school but nothing has been done yet. We will not come back to this place. We will put up somewhere else. Our home is on the main road, so we can stay with the kids alone here.
AAMRA: How long are you staying here?
Rubi: For very long. At least 15 – 16 years. My husband builds a home here.
AAMRA: Have you seen Hindu-Muslim riot here before?
Rubi: Never ever. This is the first time. My husband never participated in politics. He was a retired person. He had a small shop. Party politics has been here for quite some time now, but something like this has never happened before. He was a heart patient. We are treating him since 2000. On that day he came back from the hospital. We came from Bidhannagar Hospital after a doctor's visit. He was telling the doctor that "doctor saab, when the bombing goes on I feel tense and uncomfortable". I remember the doctor was saying to stay safe. We came back around 4:00 in the afternoon and the event happened around 10:30 in the night.
AAMRA: How do the kids respond to that incident now? We cannot even imagine.
Rubi: They are constantly thinking about that incident. This incident is not going to go away so quickly. When I was admitted in the hospital for 8 – 10 days I could not hear anything through my ears. They could not hear anything. They didn't even drink water for a couple of days.
Md. Mustaq
Md. Mustaq was the second victim of the 10 June, 2019 attack. We can't meet his family. They left Baruipara when we went there. Imtiag Ali, son of deceased Mustaq, returned from Dubai, talked with Sandip Sinha Roy, our friend and team member-
Here tension started after the election. To create a fearful atmosphere every bomb was thrown. Wearing black musk in the face group of people threatened us, 'go back to Pakistan'. Why will we go there? This is also our land.
He also said at present a new plan for building construction was restricted. He suspects that this murder is a plan to create a 'Muslim free' Baruipara, to make big building.
Rajesh Shaw
Rajesh Shaw had a gun shot on his stomach. His one arm was chopped off (some say he lost his hand because of a missed bombing, which accidentally blew his hand away). He was taken to the hospital but he could not survive.
He used to stay inside a narrow alleyway at one quarter of Shramik Bastee (labourer's colony). He was unmarried. His married brother and sister-in-law are staying there. His brother is a permanent jute mill worker, but Rajesh Shaw was a contractual labourer. When we reached there his sister-in-law was there. She was hesitant initially, but because her neighbours were inspiring her, she started to open up. During the discussion, Rajesh Shaw's sister's son was also present. We came to know that Rajsh Shaw's parents had died years ago.
AAMRA: Which state do you originally belong to?
Rajesh Shaw's Sister-in-law: We don't remember that we are here since our birth.
AAMRA: No, we want to know your history of migration, where did your previous generation live?
Rajesh Shaw's Sister-in-law: Some villages in Bihar, we don't recall the name of the district.
Vijay Rajak: They do not want to disclose such identity and they want to put an emphasis on the fact that they belong to this state.
AAMRA: Please tell us about that day.
Sister-in-law: The riot started after 19th May. The kind of Bomb blasting was going on, no common people will go out. Many Hindu households in Naya Bazar were looted. The goons of Kamarhati under the leadership of Madan Mitra (TMC candidate against BJP) started bombing again on 22nd. They came in police uniform. Everyone started to flee. People even started to run from their houses. Many entered the mill to save their life. Rajesh had a bullet injury around 12:00 in the night. People were carrying him on their shoulder and were trying to escape the situation. The goons even started shooting and bombing at them. They left Rajesh and started to run. When they see Rajesh being kept at a corner they chopped his hand off by a Bhojali (Short sword). Police took him to the hospital.
AAMRA: Where did they find him?
Sister-in-law: See, they found him outside the Mosque. He was hit near the mill gate. It was around 12:00 in the night. Every single man of this 'line basti'(slum) took shelter inside the mill. Many people couldn't enter. He was one of them. Before he could enter the guard closed the gate. He lost a lot of blood. It is very clear that they aimed at killing him. He has also given a statement that he was killed by the Kamarhati goons. They were in police uniform. But in the morning around 7:00 police informed us that Rajesh Sau got killed as a bomb he attempted to throw blew away his hand. We know (believe) that the police has changed the statement. You can ask anyone, he was quite a simple gentleman.
AAMRA: Did you get a copy of the postmortem report? Is it written that he died because of a bomb explosion?
Sister-in-law: Yes, we got a copy, but we know the report was prepared according to police instruction.
AAMRA: How did you know that the police had changed the statement?
Sister-in-law: Some of my friends were there. Even there are video footages available with press media that he was completely conscious while being taken away to the hospital.
AAMRA: Goons from Kamarhati and the Police were together? Are you sure?
Sister-in-law: yes, they were together. Police were with them.
AAMRA: All of them from Kamarhati?
Sister-in-law: Of course there were insiders involved. Otherwise, how could they identify our location? No one from outside can actually manage to enter, identify and go out of these maze-like alleyways.
AAMRA: Yes, true, we can understand that.
Sister-in-law: Let me tell you. There was a poster of Shri Narendra Modi outside of our wall. I don't know who pasted it. I think this is why they have targeted us. They kicked on our main entrance. If they could enter I am sure they would have captured us all (Rajes Shaw's brother, sister-in-law, their child and his sister's son). We were pushing with all our strength from the inside.
AAMRA: Are you BJP supporters?
Sister-in-law: See, we are people struggling to meet daily needs. We work and earn our bread.
AAMRA: No no, let us clarify; being a BJP supporter is of course not a crime.
Sister-in-law: See, I casted my vote for the betterment of my country. I never thought that something like this would happen to us.
AAMRA: What is the name of this place?
Sister-in-law: Sadar line
AAMRA: What is the Hindu-Muslim percentage of this place? Do you know that?
Sister-in-law: This area is a Hindu area. There is Darma line nearby, which is a Muslim area.
AAMRA: They used to come to your place and you also go to their place regularly, right?
Sister-in-law: Yes, we go to each other's place.
AAMRA: Can you tell us who made the identification on that day?
Sister-in-law: Local people.
AAMRA: Who are the locals?
Sister-in-law: Local Muslims. Police was there with them
AAMRA: What do you think, tension will be mounted again?
Sister-in-law: See, we do not want any trouble. But the police don't want us to live peacefully. They come in the night and only pick us up. Even they came yesterday night. About 30 police personnel. We, the local women gheraoed them. They came and picked a few boys and promised us that they will release them in the morning at 10:00. But they are yet to do so.
AAMRA: Who was controlling the police at that time? Is it the Election Commission?
Sister-in-law: Yes, probably!
AAMRA: Yes, because we were told from the Muslim locality that the police under Election Commission has tortured them.
Sister-in-law: Sir, no matter whom the police force worked for, they have tortured us.
AAMRA: When Arjun Singhh was a TMC candidate, whom did you cast your vote for?
Sister-in-law: We used to vote TMC. But, sir change is needed. Earlier CPIM was there. People wanted to change, so we had a change. Now, again we are thinking of a change… We changed for the better. They have become worse than CPIM. Mamata is so atrocious that people are going against her.
During this conversation a few neighbours entered her room. One of them, Mantu Singh said that he was also there inside the mill.
Rajak: We have heard that they entered inside the mill to beat people up. Tell us about it.
Sister-in-law: Yes, they forcibly entered the mill. The gatekeeper didn't open the gate so they started pushing him to such an extent that he had no choice than to open the gate. If he would have kept the gate locked they would have smashed it.
Mantu Singh: that day all of us went inside the mill gate by 10:00 in the night. They came around 1:00 in the night. Muslims were teaming up with police. They beat up the gatekeeper to such an extent that he had his hand swelled. The gatekeeper switched off the light. They ordered them to turn on the lights. The gatekeeper told them that the people in the power house have left and he doesn't know the switch. Someone from the gang said, the powerhouse has 24 hours standby staff. Now, this information is only available among the mill people. Police asked the gatekeeper to switch on the lights. He did that. We started to run for our life. Those who could run could save themselves. The rest were beaten up mercilessly (others in the crowd supported this statement.) Administration and goons were together. The goons were also wearing police uniform. At least 600 to 700 people took shelter there.
AAMRA: Let us say something. We have seen that two Muslims were also killed. Many Muslim family's houses are looted. It's not that only Hindus were affected.
Everyone from the crowd: Yes, sir. Both sides have suffered.
AAMRA: Something like this has never happened before. Even Muslims are also saying that there were local people who spearheaded the conflict. What is your take on this?
Everyone from the crowd: Yes, we are staying here for generations. We participate in their Eid, we construct the pandals. Now they have poisoned our relationship. We are yet to resume normalcy.
AAMRA: Who are these locals? Are they from the party?
Sister-in-law: That I don't know!
AAMRA: No, I mean to say, you people are from the locality. Do you know them?
Sister-in-law: The situation so polarized that now Hindu means BJP and Muslim means TMC. Someone wearing a skull cap is TMC! They came here and targeted us because our house has a poster of Narendra Modi. We went for my sister's marriage, how can we know who has stuck that poster?
Rajak: The mill remained open?
Sister-in-law: The owner kept it open, but no labourer turned up. Work was stopped for about 7 days.
AAMRA: We have a puzzle. You people have been fighting together for different issues against the owner. You are staying together for so long. Yet, a riot of this magnitude could take place. How could this happen?
Everyone: There is no impact of trade union on our daily life.
AAMRA: But both Hindus and Muslims work in the mill together. What is the condition now? You people have talking terms with them?
Sister-in-law: Yes, it's not that they do not talk with each other. We always talk to the educated people. Many Miyas (meaning Muslim) work in our department. We have a good relationship. We do not have any relationship with the rioters. But for the rest, we even eat together. There is no difference inside the mill.
AAMRA: Anyone from the government came to help you out after this incident?
Sister-in-law: They said that they will give Rs. 10 lakhs and a government service to someone from the family. However, nothing has happened so far.
AAMRA: Anyone from the state government came to meet you?
Sister-in-law: No, not a single person, not for a single day.
AAMRA: We went to Md. Halim's home. His son has got a job from the state government. Nothing like this happened with you?
Sister-in-law: No, this is how they are dividing between the Hindu and Muslim. They are doing for the Muslims only.
AAMRA: Similarly, Arjun Singhh didn't go and meet the Muslims.
Sister-in-law: Sir, let it be. How can we know what they are up to? They belong to the power group.
Rajak: They will come and play dirty political games and common people will die. They will make bread of the fire, will sit and eat together and will go!
Ram Babu aka Rohit Shaw
Teenaged Ram Babu died on Kachhari road. He had a bullet injury. He was about 17 – 18 years old. According to his aunty (father's brother's wife), Munita Sau, his father passed away and mother is mentally challenged. She took away the dead body. She complained that after his injury he was unattended for about 40 minutes.
AAMRA: Can you tell us about that day?
Munita Shaw: We stay together. We took him to the hospital. The doctors declared him dead. Police did the postmortem and handed his body to us in the evening.
AAMRA: What was he doing there?
Munita Shaw: The bombing started around 10 in the morning in Bhatpara. I went to drop my daughter to her school. He said that he will bring Kachuri for breakfast. He used to sell phuchka. He needed to buy a few items for that too. I went to the school; Ram Babu went to buy those items. As I reached the crossing I was informed that the school is declared as closed. It was closed because of the bombing. I came back. I was crossing at one side of the road, he was crossing another, meanwhile he got that bullet… not one, but five.
AAMRA: bullet from the police?
Munita Shaw: Yes. Bombing was going on at one side; police were firing at the other side. I was running to get him, Police stopped me. They told me if I go I might get a bullet injury as well. A Punjabi person sells Singara there. He stopped me. After a while the police came. I pleaded with them to take Ram Babu to hospital. They took him.
AAMRA: What did police say to stop you?
Munita Shaw: They said, don't come or we will shoot. I could only go there after 20 to 30 minutes. They were shooting meaninglessly. There is a juice seller nearby, he also received one. As I was taking him to the hospital, they were shooting. In front of me they fired 4 to 5 rounds.
AAMRA: Which means they were shooting down innocent people?
Munita Shaw: No, they (rioter) were hurling bombs at each other. But on the street police were also firing to stop the mob, but they were firing on innocent people. People, who were buying Kachuri or drinking juice were fired at.
AAMRA: Anyone from the administration came to your house after his death?
Munita Shaw: Many people came. Ahluwaliya came from Delhi, Arjun Singhh came and many others also came. I don't know everyone.
AAMRA: SDO or BDO came?
Munita Shaw: Yes they have come.
AAMRA: They have extended any help?
Munita Shaw: They said, see, who has died has died. We cannot return him. We can give 10 lakhs rupees and a government job, so that you can run the family in a decent way.
AAMRA: Have you got anything till date?
Munita Shaw: They have paid Rs. 2.5 lakhs and a temporary work at the Municipality. Ram Babu's elder brother has joined there.
AAMRA: How many brothers and sisters did he have?
Munita Shaw: Three sisters and two brothers.
AAMRA: How long are you staying here in West Bengal?
Munita Shaw: Yes, I was born here. I am married here too.
AAMRA: He used to sell phuchka only, or used to work in some shop as well?
Munita Shaw: He used to sell phuchka only, but for about a month he started to work in a shop. Since there was a riot for ten days, he stopped selling phuchka. We told him not to go out.
AAMRA: Have you seen this sort of riot ever before?
Munita Shaw: No, never here.
AAMRA: Where did you stay before marriage?
Munita Shaw: Hazinagar.
AAMRA: We remember Hajinagar has faced a riot in 2017.
Munita Shaw: Yes, it happened there. But this for the first time we are witnessing Riot in Kankinara.
AAMRA: You have a shop to stitch the clothing. You are an entrepreneur.
Munita Shaw: What to do, we have to feed the kids. We had an electrical goods shop. We could not continue that business. Ram Babu used to earn, he is no more!
AAMRA: Will there be riot again?
Munita Shaw: How can we tell? Now we feel the Hindu-Muslim unity is there. But, you know politics. What kind of games they can play!
AAMRA: Who is compensating? State Government or the Central government?
Munita Shaw: State government, I mean Arjun Singhh!
AAMRA: No, then might be from the center.
Munita Shaw: The money came from Arjun Singhh's account.
AAMRA: Are you afraid of staying here?
Munita Shaw: Even if there is a common sound we become afraid that bombing might start again. Kids do not eat properly. Even if there is a small sound, they start crying saying "Mammy, they will bomb again!" If you were staying here you would have been afraid too.
AAMRA: Do you continue to have relationships with local Muslims?
Munita Shaw: Yes, why not! Now that Eid is nearby, I am sewing clothes for them. Can we do business if we constantly judge people as being Muslim or Hindu?
Someone in the shop: The problem started during the election. It was basically the conflict between two leaders, a political conflict. Later on they pushed the Hindu-Muslim issue. Nowadays we are extremely busy in our daily life, who has the time to do active politics?
After the conversation was over, we met with Munita Shaw's daughters. They are studying and at the same time helping her mother to run the shop. Her elder daughter studies in a college.
We were walking to meet Dharambir Shaw's family, another deceased person of riot. On our way we crossed Shaw Samaj Trust, where local women took shelter during the conflict. Many people stayed inside Kankinara High school.
Dharambir Shaw
We had a talk with Krishna Shaw, Dharambir's elder brother. They have phuchka as their family business. We were talking inside the phuchka manufacturing unit. Initially he showed his irritation to talk with 'media persons', but after clarification from our side he showed his modest behavior. He was unwilling to introduce Dharambir's widow with us.
AAMRA: Everyone here sells phuchka?
Krishna Shaw: 5-6 families do so. But there are members within the family who work in the government sector, or in the jute mill. However, our family business is selling phuchka. We belong to the Other Backward Classes.
AAMRA: How old was he?
Krishna Shaw: He was 41
AAMRA: What happened on that day?
Krishna Shaw: How many times do I need to say the same story again? What is the point of saying? They need a job, otherwise how can their family survive? (He showed prominent sign of irritation)
AAMRA: How many family members are there?
Krishna Shaw: A son, a daughter and Dharambir's wife.
AAMRA: Have you got any help?
Krishna Shaw: Yes, Arjin Singh has helped. He has been given a job in the casual worker section in Bhatpara Municipality. He has also arranged for the education of the kids in Kendriya Vidyalaya. No one has done anything more. I was told that the family will get Rs. 10 lakhs, of which only 2.5 lakhs is received so far. Only the media makes visits repeatedly and gives false assurance. People just come and go, they do not do anything.
AAMRA: Did he die on the spot?
Krishna Shaw: He went to bring juice for his son.
(That boy was standing at the time)
AAMRA: What is your name?
Boy: Sujan, and my sister is Natasa.
AAMRA: Which school?
Boy: Kankinara High school
AAMRA: Yes, tell us what happened next (towards Krishna Shaw)
Krishna Shaw: I got the news that he was injured. We were frying phuchka. We ran to reach Bhatpara State General Hospital. We took him to Apollo hospital, Kolkata, but we could not save him. He had a bullet stuck in his stomach.
AAMRA: Did he have any chance for survival?
Rajak: They didn't allow them to take the body initially.
Krishna Shaw: See, I really do not know. When I reached, I found that four to five people were carrying him towards the hospital.
AAMRA: What did the police say about firing?
Rajak: Police claimed that they were hurling bombs and they asked them to stop. Since, they didn't stop they fired.
Krishna Shaw: Can this happen? Police said something and since they disobeyed they fired. If my child is not listening to me should I shoot?
AAMRA: When did this happen?
Krishna Shaw: On the same day the new police station was inaugurated. It was 20th June. What more can I say brother. I don't feel good. We are facing all the problems.
AAMRA: Yes, quite natural. We can understand that.
Krishna Shaw: During election they will come and make big promises, but at the time of crisis they will not come.
AAMRA: Police came?
Krishna Shaw: Yes, they did. But what will they do?
AAMRA: Aren't people angry at the police force?
Krishna Shaw: Yes, people are angry with the police.
AAMRA: Police do the patrolling?
Krishna Shaw: Initially they used to come, for now they have stopped coming.
AAMRA: Do you think that tension will mount?
Krishna Shaw: How can we say that? We want everyone to live peacefully. Our sales have also fallen down significantly.
AAMRA: Do you recall any conflict of this magnitude?
Krishna Shaw: Earlier it was between political parties, now it is Hindu vs Muslim. It was not there earlier.
AAMRA: Do you go to the Muslim area? Do you feel scared going there?
Krishna Shaw: Yes, we go! They also come. Can you really stay like that? But, you know there is a different feeling now. There is a scary feeling deep inside our mind. I am Hindu they are Muslims… but we really do not want to harm each other.
AAMRA: Did you find this kind of problem earlier too?
Krishna Shaw: No, it started with the election. It started with the party conflict.
AAMRA: We have heard that there were outsiders and insiders as well. Do you have any idea who they were?
Krishna Shaw: No, we have heard that they came in police uniform and beat common people up. They were wearing police uniforms but didn't have the boots, but slippers. These kinds of things prove that they were not police. It is a political issue. You know we Hindus don't even have a knife at home. If some guests arrive, we often borrow knives from our neighbours!
Rajak: See, for Qurbani Muslims need a Chapati, these people, I mean the Hindus do not have them. He is trying to say that.
AAMRA: Do you think that Hindus are weak?
Krishna Shaw: No, I have not felt that. Now we are prepared. Muslims stay nearby. This kind of thing never happened before.
AAMRA: What happened to alter this dynamic?
Krishna Shaw: See, we don't have any internal problem. The problem has been imposed by outside people.
AAMRA: Now, the two communities are comfortable with each other?
Krishna Shaw: See, once something is broken, it never gets repaired completely. Things are changing gradually. Tomorrow they have Qurbani Eid, after a couple of days we have the Rakhsa Bandhan festival. No one wants a conflict. A conflict earns a dividend to the political parties. There is a section of people who always want to loot things. They are always pushing for some kind of trouble. See, I have lost my brother, that kid has lost his father. The person who loses knows the impact. My brother's dreams remain unfulfilled.
AAMRA: Did you see party cadres or goons dressed in police uniform?
Krishna Shaw: No, I was not there, I have heard it.
AAMRA: You were talking on preparedness, Hindus are now prepared. What type of preparation have you done?
Krishna Shaw: They cannot harm us now. I cannot say more than it.
Prabhu Shaw
Prabhu Shaw came to spend the holiday from Delhi. He has three daughters. He was killed in a police fire. His wife Shyamali Sau was there and we talked to her. Her four daughters, viz., Sanjana, Ranjana, Vaishnabi and Varsha were there when we had the following conversation.
AAMRA: Please tell us about the day of the incident?
Shyamali Shaw: A riot was going on, he was inside the room. Suddenly he ran and got a bullet injury. He tried to run seeing the police force.
AAMRA: Since he was at home, why did he try to run?
Shyamali Shaw: He was not inside the room, but standing nearby. He reached at the backside alleyway. Then he was running through a roof, and suddenly a bullet struck on his foot. He jumped on another roof. It was made of asbestos and hence it broke down. He fell inside the house. Police fired on his head and chest.
AAMRA: Did you lodge a complaint to the police?
Shyamali Shaw: Yes, we have complained. Nothing has happened till date. He died on 12th July. On the 13th the police handed over his body to us. It happened in broad daylight.
AAMRA: What was his occupation?
Shyamali Shaw: We stay in Delhi. He used to work there. We came here for the holiday. He used to work as a boring worker.
AAMRA: have you ever felt that something like this can happen?
Shyamali Shaw: No, I have never felt that something like this might happen to us
AAMRA: You have received the death certificate?
Shyamali Shaw: No, we have submitted the document to the municipality to get the death certificate.
AAMRA: Why did he try to run?
Shyamali Shaw: Actually, he was standing. Suddenly, everyone started to run, he too tried to run.
AAMRA: Do you think that he was targeted?
Shyamali Shaw: How can I know? You can actually find out.
AAMRA: Was he associated with any particular political party?
Shyamali Shaw: No.
AAMRA: Any one from the administration came to meet you?
Shyamali Shaw: No
AAMRA: Arjun Singhh came?
Shyamali Shaw: No, but he sent us some help.
AAMRA: Have you got the ten lakhs rupees as compensation?
Shyamali Shaw: No, we have not received anything like that
Rajak: We have heard that they will extend help, but till now they have not got any.
AAMRA: Is it because they used to stay away?
Rajak: Can be.
For Vijay Rajak, most of the people killed are not the rioters. Especially, if you look, none of these people have any past history of being involved in crime. Now, everything is becoming communalized. Many troubles have taken place at places where a Hindu area ends and a Muslim area begins, like that of a border. Madan Mitra actually brought goons, and this has made things even worse.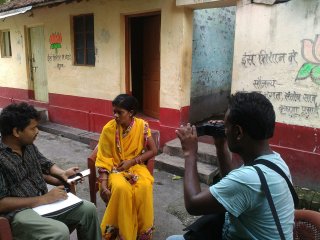 Photographed during a conversation with Prabhu Shaw's wife
Lala Chowdhury:
We visited the most recent victim of the conflict, Lala Chowdhury. He had a puchka stall at Naihati railway station. He was unmarried. They were three brothers, two of them died within three months. His mother Kajal Chowdhury and father Birju Chowdhury were there in their home. Lala Chowdhury's little brother died because of his notorious drinking habit which probably damaged his lever. They stay inside a small room which gets flooded whenever there is rain.
AAMRA: When did this happen?
Birju Chowdhury: on 2nd July. He went to open his shop at Naihati. Sometimes, he stays back there. But that happens rarely. On that day he didn't come back. We thought he might have stayed back. I work in the jute mill. We were worried. Around 1:00 am we went to bed and thought that he might have stayed back for some reason. On the next day his mother, my wife went to Naihati station. The shop owner adjacent to his stall said "aunty he left yesterday… also told that he actually has left a bit early."
AAMRA: Didn't he call up?
Birju Chowdhury: We don't have a phone. I told him not to take a short-cut which he usually takes. Since the riot started, we specifically told him to avoid that short-cut road which is adjacent to the railway track beside the temple of goddess Shani, near Baria patti. What to do, it was his bad luck. He was coming by that road, I am sure they must have caught him on his way back
AAMRA: That area…
Kajal Chowdhury: That is a Muslim area. His body was found there but the head was found somewhere else. The head was found in Hasnabad. Then it went to Barasat (She started cry and we stopped conversation, a heavy feeling engulfed all of us)
AAMRA: Which means the head was chopped off from the body?
Rajak: The killer actually wrapped the head in a newspaper and kept it in a basket. The basket was kept on a train boggy.
Birju Chowdhury: The train went to the Car shed(garage) and then to Hasnabad and finally at Barasat. When I went to identify the body, two police officers held me saying "Uncle you have to be strong', I was like "What more to see, my son is missing." They took me to Barasat. I could identify my son by seeing his feet. Nothing to see. I was roaming around for six and half hours… I am sure they have chopped off his head by using a machine.
Rajak: Not a single drop of blood was found… they actually have cleaned everything.
AAMRA: What did the police say? Hope not that he died of a railway accident?
Birju Chowdhury: No no, there is no way one can say that…
[Kajal Chowdhury was sobbing, and it was very difficult for us to continue the conversation at that moment, Bijay Rajak continued the conversation]
Rajak: What was chopped off?
Birju Chowdhury: They detached his head below the neck. Police were saying that they had tortured him before killing. I was sure that this chopping off cannot be done by anyone other than the Muslims… My son died because of communal reasons. Everyone was saying that whoever has done that is a Muslim.
AAMRA: How do you know that?
Birju Chowdhury: The kind of precision they have shown while cutting his head is available only with the professional butchers. It cannot be done by Hindus. There is a butcher's den nearby.
Rajak: I have heard that they have chopped off his private parts too? Is it true?
Birju Chowdhury: Yes, they had chopped off everything… There was nothing left in his private parts, but there were no other cut marks in any part of his body.
Rajak: Where did you find the body?
Birju Chowdhury: Beside the railway track, there is an open field. The body was found there.
AAMRA: How could they keep the head on a train? Does a train stop there?
Birju Chowdhury: Yes, train stops at the station. There is a school nearby. There is also a place where you can find people taking drugs.
AAMRA: Did you file any FIR?
Birju Chowdhury: Yes, we have, but the police have done nothing. Police have filed an FIR spontaneously.
AAMRA: Did he have any kind of enmity with anyone?
Birju Chowdhury: No, you ask anyone how Lala was. Naihati market was even closed for a day because of his death. I used to beat him up but he never protested. There is a water source nearby. He used to take bath there. He used to go there when everyone was done… the only time he used to go out when he had to bring the tamarind for Phuchka.
AAMRA: Anyone from the government came to meet you?
Birju Chowdhury: Pavan Singh came.
AAMRA: What did he say?
Birju Chowdhury: See, he was not involved with any kind of political parties. He was busy in his own business. He used to buy Phuchka. We used to cook peas and potatoes for him. He was killed by the Muslims…, the murder of my son is an effect of the kind of communal tension going on.
AAMRA: Hindus have also killed the Muslims.
Birju Chowdhury: Yes they have bombed them. Police are arresting the Muslims and Mamata Banerjee is calling the police and instructing them to release them. Police itself has said this. Ajay Thakur has also said that. I said to the police that if you want you can actually clean them within two hours. Biswa Hindu Parishad can also do that. They are not allowing anyone to clean this area.
Rajak: No, that will be illegal.
Birju Chowdhury: Manoj Varma came, he was a good officer, but he was transferred.
AAMRA: Did you get something from the government?
Birju Chowdhury: No, nothing yet. No one from the State government has come accepting the police. Pavan Singh came, that's it. Now, we only have our youngest son. He works in the jute mill as a casual worker.
AAMRA: Was he married?
Birju Chowdhury: No, he was not married. He said that I should let my daughters marry first then he can go for marriage. They have been married to good families in Bardhaman. Police wanted to interrogate them as well. I have told them strictly not to do that. I was very angry. Why should they interrogate them?
AAMRA: How did this conflict start?
Birju Chowdhury: It started with Ram Navami. It escalated when Madan Mitra came here. He went through this road (showing the adjacent main road of his house). He was beaten up by the ladies from a school. From then the problem started. He has anger on this place since then,
AAMRA: Why did the ladies beat him?
Birju Chowdhury: He used slang language. It happened on the 19th.
AAMRA: You just talked about Biswa Hindu Parishad, they can clean them? How is it possible?
Birju Chowdhury: Possible, just give them a chance.
#Issues: Lost childhood
Interaction with the girl children was in a group, in a shelter they preferred. On behalf of AAMRA, our psychologists were interacting with them. They were basically between 8-16 years old. They stopped many times, some were oblivious and some were silent, hushed by the incident they faced. Here is a summarized version.
Child 1: We were not at home. We are now homeless. Our Nani (maternal grandmother) stays nearby. Since she was unwell, we went there. Then the bombing started. We didn't go back to our home. We were afraid to come out. Next morning we came to know that people have fled from their homes and taken refuge in the nearby mosque. We stay at the Garba line (labour's colony).
Child 2: I went to my Nani's house at Baruipara. My mother had to cast her vote. Since, bombing started on the day of the election, we stayed back. Then, we came to know that our homes have been looted. People told us not to go there. Since, then as our homes are ransacked we are staying at our Nani's place.
AAMRA: Didn't you go back to your house? What is the situation there now?
Child 2: They have looted everything. They didn't even spare our clothes; even our new clothes which we bought for the Eid festival are also taken away or torn down.
Child 1: My new clothes are also been torn down.
AAMRA: Have you not seen anyone? So who has seen them?
Child 2: A few ladies were there.
Child 1: At our 'line' two people stayed back. When the hooligans came back for the second time and knocked at the door they didn't open it. Then, they forcibly entered the room. That person also had a baby and his brother on the spot. When they entered the little girl shouted "You people know me, no?" The hooligans then used abusive language and she left her home crying. On that day I was also in a very bad condition. When I was informed that our home is destroyed and looted I felt like crying out loud. (Sobbing) everything is finished.
AAMRA: Do you think that this kind of thing can happen again?
Child 1: We don't know Sir. Last year a similar incident happened on Ram Navami. In the morning we were brushing our teeth and a howling noise started to mount. We quickly went inside the room. We were very afraid. My little brother was also there. We were afraid about him more. They came and started vandalizing everything. Our mother pushed us under the bed. It stopped within ten minutes.
Police came to Kankinara Hindi High School. Arjun Singhh also came. We went out to find that they have destroyed everything and thrown it outside. Then we went inside the middle room where all the women gathered together.
Child 2: We left for our homeland through the road which connects the local mosque. Everyone left the place only to come back about three months later. But this time the situation is worse than earlier and we don't think we can actually stay here anymore. Our doors and windows are broken too.
AAMRA: Did you go inside the home?
Child 2: Yes. It was ransacked. This incident threw us in torment. People went to see the police.
AAMRA: Are you people attending school now?
Child 2: No, but will go from tomorrow.
AAMRA: Did you all go to the same school?
Child 2: No, we two are Urdu Medium students of Kankinara High School and the other one is at Hindi Medium at Kankinara High School.
AAMRA: I am sure there are Hindu students in your school too. How many of you are Hindu and Muslims in the school?
Child 2: Our school has about 50 Muslim and 100 Hindu students.
AAMRA: Did you go to the school after this incident?
Child 1 No, how can we go. We do not have school bags, books or exercise books.
Child 3: No me too. We have no school bags etc.
Child 2: Yes, I went to school and got two books and exercise books too. Teachers have told us to attend school.
AAMRA: You met with the Hindu kids?
Child 2: Yesterday, I met one; I asked if the school is open. She didn't respond and left.
AAMRA: Did you people play with Hindu kids before this incident?
Child 1: Yes. You know there is a playground nearby. We used to play together, both Hindu and Muslim kids. Just the day before this incident, Gopal Raut came and sit at the nearby club. He used to get tea and refreshment from our family. My mother used to be busy, so I and my grandmother used to give the service. Just the day before he had water from our refrigerator and on the next day our refrigerator was broken.
AAMRA: These are the attackers? No one from outside?
Child 1 and Child 3: No.
Child 2: We were not there, but many people have seen it. Particularly elders.
AAMRA: What are the opinions of the elders?
Child 2: Elders are tense and we are too. I have to appear for the Board examination this year, so I am a little more tense. We are staying at our Nani's home, but how long will they allow us to stay there? Home is home. We need a new home and that needs money. We are travelling by train. Everyone is staying at different places. Someone in Sodepur, some in Khardah, some in Jagaddal. It also requires money.
AAMRA: Are you being threatened while travelling?
Child 1: Yes, once! We went to our home when the Hindu young-adults were saying we have already looted their homes, this time we will 'loot them.' They are staying nearby.
AAMRA: You people have played with them? Have you ever felt that they are Hindus and we are Muslims like this?
Almost all: Not, before, we girls were playing different games. But now we feel like this.
Child 1: I don't think this is happening because of the political clashes. TMC and BJP, its up to them. But why should they believe that just because we are Muslims we are TMC supporters?
AAMRA: Where is your native place?
Child 4: Our family is planning to shift at Titagarh. We don't want to stay here any more.
AAMRA: You want to leave this place? Leave home?
Child 4: Not sure, but we have to think along the line.
AAMRA: What if you end up staying at a place where Hindus stay as well?
Child 2: We can only know when to go. We don't believe that every Hindu is bad or for that matter every Muslim is bad!
AAMRA: These kinds of incidents are happening at many places, what do you think? Why are these happening?
Child 1: Don't know why these are happening. We have not entered inside their head to know whatever they are doing, why they are doing it like that. But, this is something new, earlier something like happened and the army (paramilitary) was called for and everything was normalized. We repaired our homes and stayed peacefully. We never thought that something like this would happen again. This time it's really difficult for us to even come back and stay.
AAMRA: Do you think that Hindus do not want you to stay here?
Child 1 and 2: Yes, they do not want us to stay here.
Child 1: Before the election a few boys from Gopal Raut's team came here for postering in favour of BJP. They gave everyone a poster. Before the election they came with a machine with a red button, and asked one of the ladies to press on the button no. 2. She said what if I do not press the button no. 2. They said, just wait for the result on the 23rd, we will make everyone leave this place.
Child 2: Gopal Raut came to our homes and asked my mother to write No.2 on the paper. My mother said no. Gopal Raut threatened us that he will not spare us after 23rd.
Child 1: They asked us to chant Jai Shree Ram.
Child 2: They have written Jai Shree Ram at our wall after breaking it down. They have also written BJP.
AAMRA: Do you think that it happened just because of the election and that everything will be normalized once the election is over?
Child 2: In the same place there are Hindu houses as well. They didn't do anything to them. Why did they do this to us only? Why have they written Jai Shree Ram at our wall? Why did they ask us to sign on No. 2? How would we know that this has happened just because of Hindu-Muslim conflict or for BJP? What do you think? How should we read the message? This is clear that they are asking us to vote for BJP, or demanding an explanation why we vote for TMC? Our constitution allows us to observe our rituals and practice our religion. Don't you think that this is going against the constitution?
(After a halt of few seconds, crying and moaning)
Child 2 (Continued): They have looted everything at 'Darma line'. They have thrown away all the clothing. They have even torn down and defamed our holy Quran Sharif. We felt very bad! They have looted our home, that is even alright, but why should they launch an attack on our religion and faith? This is an insult to our religion. Just like you worship Ram or Ganesha, the Quran is like that to us. Why would they insult our religion?
AAMRA: Today they are attacking your faith, would you break down Ganesha's idol tomorrow?
Child 2: No, we are not going to do anything like that. We know how it feels if one sees his /her faith is getting insulted. Whatever is happening with us today, we don't want it to happen with them tomorrow.
AAMRA: Did you talk to Hindus after this incident?
Child 2: Some of them were saying "this is bad, how awful it is to see such things happen to you? But, when the looting was going on their women came and took away our cosmetics and utensils. We have two witnesses of the incident. Initially they were misbehaving with us, but when 'fauzi' (armed forces) being posted they are not in a position to say anything now.
Child 2: If we attempt to go back they will look at us in a team, they will stare at us from a corner, and they will start laughing at us. Last time we four went there a woman was threatening us.
Child 3: We are not afraid anymore. Earlier, people used to drive us off. Let them try that now, we will see how they can drive us off now.
Child 2: We are even afraid of going back to our own places
Child 3: Why should we fear going back to our own place, that is our home, it's not their home! This is also our land, not only of them.
#Issues: Exhausted youths
Two youth faces of Bhatpara riot, displaced, uneasy; facing all kinds of mayhem opined their experiences. Tamanna Parvin is a student of M.Com, preparing herself for competitive examinations. Shahabuddin Mansuri is a student of MBA. We talked with them on 28 July, 2019.
AAMRA: What do you see and listen?
Tamanna: We are from Darma Line. We stayed at our line quarter. We didn't know which party they were in. Suddenly on morning 6 am, 20 May a group of roughly fifty persons with weapons and pistols in hand, covered their faces by 'naqab' came there. We were sleeping on that time, they roused us from sleep and called us harshly, 'leave this place or face the consequences'. Initially we did not understand who are they, Hindu or Muslim?
But later we were informed that only Muslim houses were attacked in Darma Line and Tina Gudam. But in Baruipara, houses of both communities were attacked. We were staying with no problem. On 14 May probably some conflicts occurred for election. We are common people; we are not involved with any violence. But it was fact Muslim's houses were attacked selectively.
AAMRA: Have you any experience from your childhood?
Tamanna: Not for a single day. I have been there for 7 years; my grandfather told us that they did not see this type of violence. Politics is there, political clash is there, but communal violence in this form is new. We are staying in one place, drinking and eating together, enjoying together. But please go now, they took everything. Not a single teaspoon they left for us.
AAMRA: Hindu neighbors are now talking with you, or not?
Tamanna: What is the option, we have to talk with them.
AAMRA: What is their version?
Tamanna: 'We did not do that. We do not know them. We were sleeping at that time. They all are outsiders, how can we talk with them?' But my question is, if they attacked every houses nothing we have to say, when flood will come everybody have to face losses, why they choose only Muslim houses?
AAMRA: If they all were outsiders, then how they identify Muslim houses?
Tamanna: Exactly. In our line there are 32 houses, all are Muslim households. In front of our line, all are Hindu households. It is also a fact in Tina Gudam, Hindu and Muslim residents are there. These are labor colonies, not our own home, but it became like our home.
AAMRA: Women were humiliated or not?
Tamanna: No. They threatened us to leave immediately. They looted our goods, not our life. Once this line was made by 'darma'(wattle), only the worker's residence was there, who were working in the Jute Mill. In a single room four to five workers had to stay. Later after the population grew, people came from native villages and this colony became overpopulated. You can notice some kinds of development there, even some people installed Air-condition machines. Gas oven, sewing machine, and mobile set is available in every house. They looted everything.
AAMRA: Did you see them looting?
Tamanna: How is it possible? They threw bombs, we all run away from our houses. We took shelter at Nayabazar. Today this place is also terrorized.
AAMRA: You did not go to the Police Station?
Tamanna: Yes, we went there. But they told us, 'now bombing and shooting is going on in every place, how can we manage? They even told us we have no 'order' to move.
AAMRA: Did you listen to any slogan during the time of plundering?
Tamanna: Not that day, but we saw a picture of our abandoned houses, on the wall they wrote their slogan, Hindu slogan.
AAMRA: It is not possible that all of a sudden a large scale of displacement, plundering can happen. As a conscious citizen have you guessed any type of conspiracy?
Tamanna: No, not at all. But we have bitter experience with party based political violence. Here TMC means Muslim and BJP means Hindu, this type of division was engrafted. We did not guess that they harm mass people; their conflict will be restricted within party level.
AAMRA: Did your elders tell anything to TMC leaders?
Shahabuddin: Yes we guess that they can create trouble. Leaders assured us that they will depute security guards. But probably they cannot speculate that trouble may come within line.
Tamanna: As we all left for their threatening, we can't witness, but a mother with her child were hindered in their house, they saw everything.
Shahabuddin: Last night we got some whispering, we listened to the sound of bombing from everywhere. We are suggested to shift to a mosque at night; some of us went there but not everybody. Ramadan was continuing, some of us returned home at dawn. Those people, who will fast, took food. Azan was called.
AAMRA: You eat Sheheri at your home?
Tamanna: Yes. We just went to bed. And then they started bombing, huge bombing. We are still afraid to go there.
AAMRA: Are your houses sealed now?
Shahabuddin: Yes, it was sealed by the company. We are told that repairing will be done. We want to stay outside, not there. But for rest people, it is the hard reality to return back. Now we are staying at a Mosque, but now this is not a secured place. They even threw bombs at Mosques.
AAMRA: Yes we talked with Imam of Chota Mosjid (One of the Mosques of Bhatpara).
Shahabuddin: You can see marks of bombs in the Mosque. That was Friday, they were attacked with bombs. It was the third time in this period. Force was deployed there, but after withdrawal of force, bombing was started again. There are three Mosques near Tina Gudam, Boro Masjid, Chota Mosjid and Khulla Masjid. They attacked Khulla Masjid three times.
AAMRA: How do you continue your study (to Shahabuddin)?
Shahabuddin: I cannot continue my class. But we boys can stay outside somehow, but for women, it is tough. But what we can do, life is above all. When we requested police they refused us, but now they are telling us to return. Five police personnel are posted now, but how long will they stay there? Is it possible to stay in our old residence with the support of the police force? Who will give us guarantee? We lost our relation, lost our neighbors too.
AAMRA: Your neighboring Hindus, what are their remarks now?
Shahabuddin: Now repairing work is going on. When we went there to see the work, some of them told us, come back again. No such incident will happen. All of them are outsiders, they will not come again. Some people also said, don't keep many goods here.
AAMRA: Nobody gave you confidence?
Tamanna: Everybody is not the same. Some of them alerted us before the incident happened. It is a fact that they did not come to protect our goods, but it is also a fact that some of them felt miserable. But above all how can we stay there like before? We have to cross their area when we have to go outside.
Shahabuddin: And now a new problem we are facing from the Company. They are now sealing our residences.
AAMRA: Why? What is the role of Trade Unions in this tragic period?
Tamanna: Gopal Rao is the culprit. He is the source of all trouble. Mill owners are not a factor, all is controlled by him. Arjun Singh is his boss. He and his goons were those persons who shouted 'Jai Shriram' slogan when Mamatadidi(Chief Minister) came here. People lodged complaints against him.
Shahabuddin: From the State Government we got Rs 6,300 per household. They repaired our quarters. But from Mill we got nothing. Almost every family has a worker in Jute Mill. But they are selective, when they seal our quarter.
AAMRA: Selection on religious identity? Your quarters are sealed because you are Muslim, is it?
Shahabuddin: Yes Sir. It may be our quarter was allotted in the name of my grandfather, Tamanna's brother is a worker in Mill, but now he is in native village. But it should not be a criterion for sealing. If it is, then it should be applicable for all. There are 32 Muslim households in that line, they had already sealed 15 quarters till date.
Tamanna: Party, Mill everybody divided us. Before this riot, we did not face any problem like this. Even there was no chance to think that we are different. The situation is now aggravated so far that if they (Hindu) want to talk with us they are threatened. They are also in fear.
Shahabuddin: We want home shelter. How long will we stay at a Mosque or at a relative's house?
AAMRA: How many lines are here? Total 1400 households are there, we know that.
Shahabuddin: Probably 30-40 lines. 30 or 50 households in every line.
AAMRA: What are the names of lines, which were affected?
Shahabuddin: 13 number, 6 number, our line 40 number, Tina Gudam, Sardar Line. At least 70 families are outside of their quarter.
AAMRA: Any future planning?
Tamanna: No planning. Three months have gone, we are homeless. Nobody comes to us, nobody asks us, how are we? I was preparing myself for competitive examinations. Rioters looted everything, even they burnt my books. Now we are staying at my maternal grandmother's house. I have no garment; I got it from my cousin (showing her garment). In the end, money was accumulated from Zakat at the Mosque. We got 3-4 thousands from it. Now we are depending on help. Practically we are on the road (crying).
Post riot dynamics:
We cannot find anything better than what happened when we reached Darma lane in May 2020. It was about ten months since we paid any visit to Bhatpara. It was difficult to locate the exact place and when we asked an about 30 year old man, he said "You want to go to those Miyan (Muslim in derogatory sense) slum... they are not there. We have thrown them out of the place. We have bombed them away.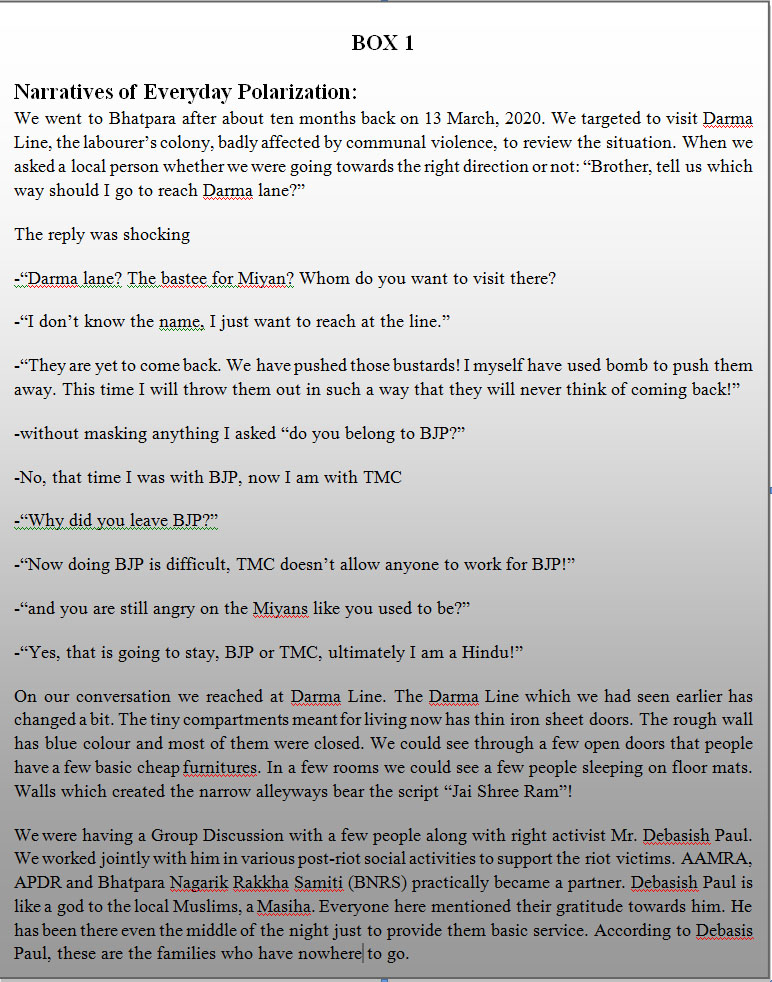 This time we will make them flee to save their life." We asked him "Are you a BJP worker?" His reply was equally straight. "I was with BJP but now I am with TMC, these people do not allow us to work for BJP. But we still hold our strong disgust with the Miyans. Whatever party I work for, I am a Hindu!"
In our inclusive field study in a period of one year we got some new findings which are an indication that the gap between two communities broadened more than before. Communal violence can erupt in any time for any pretext.
Muslims are prohibited-
Some Muslim workers of different Jute Mills are depriving from getting job on regular basis. In our repeated visit, youths belong to Muslim labour family disclose their bitter experience. Mehtab Alam (name changed) from ward number 13 of Bhatpara Municipality's statement-
We are informed that Company (Kankinara Jute Mill) is going to recruit some posts like accountant (knowing Tally, GST), computer data entry operator etc. But when we made contact, they refused us by telling us that there are no such vacancies. But we got information that recruitment has done. They recruited non-Muslim youths. It is fact that there is no official announcement on it, but it is the hidden fact that all the Jute Mills are restricted them to give new job for Muslim.
Religio-Politically biased compensatory steps-
Only Rs 25000 was given to each victim as relief from the Government of West Bengal. But we got people's grievances on inequality in distribution of relief, compensation and jobs. Shyamoli Shaw, widow of Prabhu Shaw who was shot dead by the police in a said encounter got nothing (we added our interaction with her in 'victim's testimony' section).
'Job for victim's family' shows another form of discrimination and political, religio-political game. Arjun Singh and his son's presence and support for almost every Hindu victim are one side of the coin. Another side shows TMC's support to Muslim victims. BJP captured Bhatpara Municipality as soon as Arjun Singh shifted from TMC to BJP. Temporary job for elder brother of deceased Ram Babu Shaw in Bhatpara Municipality and state Government service for the elder son of Md. Halim shows division in policy.
Major problems:
Through a Group Discussion we could unearth some of the major problems that these people are facing. Their problems are documented as below:
School:
During the loot none of the kids have education related equipment left. Starting from books and identity cards to their school dress, everything is lost. Many families could not send their children to school for about eight to ten months. Since an examination is approaching they have started attending the school. A few organizations have taken initiative to provide some basic aids like books and exercise books. Almost everyone couldn't pay the school fees. Paying back the fees is nearly impossible for them. A few families even took loan to pay for the fees.
Electricity bills:
A bill amounting for ten months is pending. Because of their repeated request the electricity departments didn't stop the connection, but paying the instalments for ten month is a huge burden. The longer they keep it unpaid the greater the fine is!
LPG connection:
During the loot nearly every family has lost their cylinders and none has the capacity to get a new cylinder. They are using wood scraps as firewood. Some of them even couldn't afford that, they depend on the collected leaves and woods. In a cramped slum, using such firewood entails a considerable risk. Needless to mention that Kerosene at Rs. 70/ – to 80/ - is a luxury to them.
Compensation:
Immediately after the incident there were many promises and none of them have kept it. The Office of the Block Development Officer has distributed Rs. 25000/- to about 100 families among the 200 affected. Even after submitting all the documents the rest 100 families are yet to get the compensation.
Mr. Debasis Paul mentions that Police Officers of the Kankinara Police Station have been quite casual in dealing with the issue and completing the investigation. Those who got the compensation had to get it through a painstaking process. Those who are still left out I am doubtful if they can get the compensation ever! These families blame the fact that they do not have proper documentation needed to get the compensation.
Health related issues:
No one here can get health care in exchange for money. Several NGOs have organized free medical camps. It is seen that for each of such camps they needed about Rs. 2500/- to 3000/-. Because of fund shortage the camp can no longer be organized for the last couple of months.
Local people have seen important leaders like Gopal Rawat leading the riot. Consequently they can no longer depend on anyone. That time Gopal Rawat was with BJP, at present he is with TMC. It is alleged that in order to escape from a number of cases lodged against him he has changed the camp. No has stood beside them. If they go with any problem to Gopal Rawat he simply ignores it. Celebrities like actress and film director Ms. Aparna Sen, theatre personality, Kaushik Sen and activist Teesta Shitalabad came to meet them, but their own counselor Mr. Maqsud Alam has never tried to know how they are living. TMC board has made this Maqsud Vice Chairman of the Municipality just to keep hold on the local Muslim electorate. Firhad Hakim, Minister, Government of West Bengal came once, that's it.
All of them reported that if they go out of this place they are teased by the outsiders. Even when the go and fetch water they are being teased. Muslim women are being threatened "last time we have looted goods, this time we will 'loot' (rape) you." Even kids are being told "now we will kill you". Even they say "do hazaar unnish aadha finish/ do hazar bees pura finish"(You are half-finished in 2019 and in 2020 we will finish you completely). "We don't reply!" They mentioned that they have requested repeatedly for police protection but nothing happened. Rather, the police told us not to go out frequently. On the day of Holi festival they have submitted a mass petition. Police provided protection on 9th and 10th March, that too for the day. There was no protection during the night.
Hints in the Hinterland
All sorts of hindrances stood in the way of making this report. We got information from various sources, we can't disclose their name, designation etc; it is against our professional ethics. The hints we got are alarming, indications we gauge are clear, 'polarization is complete and chance of riot is in any time'.
Manufacturing Riot to grab land
We can't ignore the conspiracy to grab land by manufacturing riot. Because the largely affected ward number 8 of Bhatpara Municipality is the hub of this industrial area. Headquarter of Bhatpara Municipality, Bhatpara Police Station, Big markets and big business houses are situated here. Some sections of Jute labourers get quarters from their grandfather, who is no more today. Some others got quarters from retired labour. Riot and mass displacement of Muslim household gave an opportunity for the Mill owner to vacate those quarters. Mill owner now took a strategy by capturing this type of quarters; they targeted abandoned quarters of Muslim labourers in a systematic way.
Tamanna Parvin and Shahabuddin Monsuri, two young faces of riot victims also hinted the capturing of the quarters of Muslim settlers in some pointed version. They suspect conspiracy of Mill owner with Hindutva forces. In our fact-finding we also got an anxious statement from Imtiaj Ali, son of deceased Mustaq. Imtiaj mentioned that a large scale planning of 'Muslim free' Bhatpara is going to materialize.
Jute Mill owner-Miscreant-Party nexus
Owners of Jute Mill always are in favour of the ruling party. Local miscreants are the frontline force of political parties. Booth capturing, rapid bombing became synonymous with Bhatpara. 'We saw animosity among political parties, but here all are partners of the wine-party; cocktail party, sponsored by owners', told a veteran trade unionist. Their atrocities against common labourers are a common feature. Mill owner and trade union did not protest against any illegal activities. Violating the labour law, here all Mill owners are habituated to unpaid their portion of the Provident Fund and Gratuity. Their hobnobbing with the ruling party is based on 'give and take' policy.
Criminalization of Politics and Hindutva
From 2016 to 2020, our incessant field study on Bhatpara and its adjoining area gave us some incisive information on this demography. Our fact-finding (Conflict area study-4) on communal violence at Hazinagar, Naihati in the year 2016, the adjoining area of Bhatpara gave us few notices like this.
'TMC at daylight but RSS or Jamat at Night' '
All roads go to Rome', so all Ram Navami rallies gave incentives to BJP.
Rioter and victims, all are TMC supporters in first stage, and in the secondary stage Muslim means TMC and Hindu means BJP.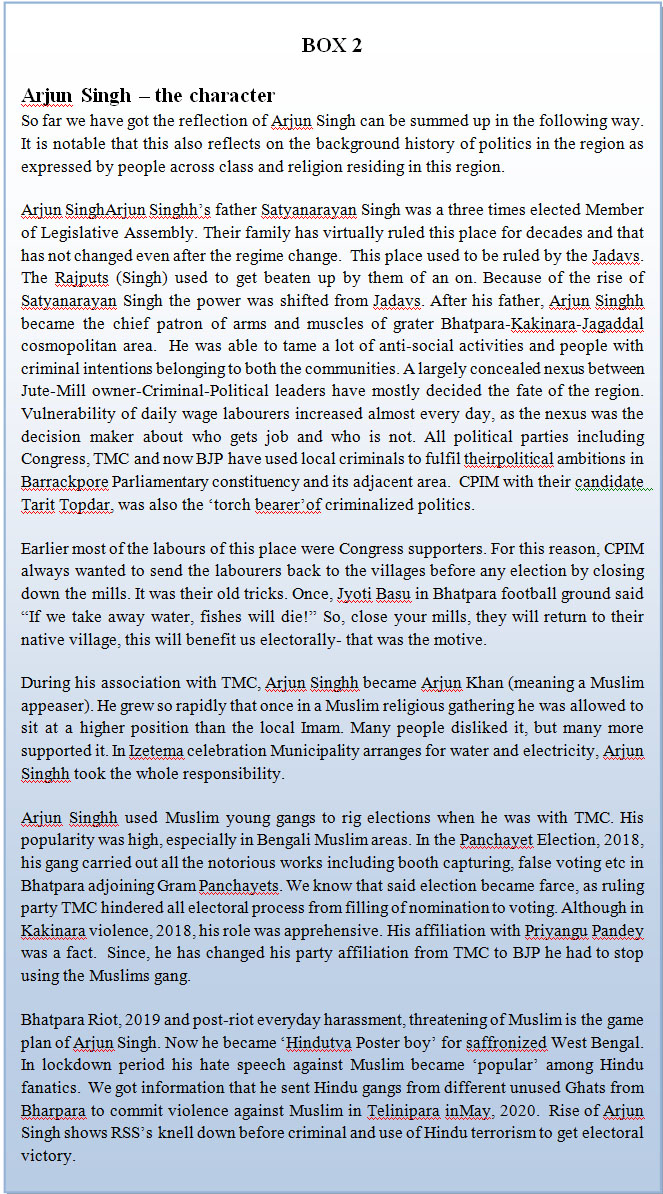 At Barrackpore Subdivision criminals always played a pivotal role in power politics. From politicization of criminals to criminalization of politics we noticed in the last decade, but now it is communalization of politics and crime.
Instead of conclusions:
Bhatpara communal riot is a complex, multi-layered and historically specific phenomena, hence, we are not in a position to make any conclusive comment on it. However, it is important to reflect on a few important dimensions of conflict.
a. There is a deep-seated communal sentiment nurtured over the years. The magnitude and continuation of conflict make it clear that local people have actively participated in the riot.
b. It is needless to mention that one of the most prominent epicentres of identity-politics vis-a-vis riot is now Bhatpara-Kankinara area. People are clearly pointing fingers to the TMC-BJP conflict along the identity fault lines. It has a lot to do with Arjun Singh's BJP affiliation and TMC's selection of Madan Mitra who allegedly used goons from the Kamarhati area- his stronghold.
c. The political control here has less to do with deliberations and conversations and more to do with arms, muscles and conflicts. These conflicts could ultimately consolidate the Hindu Majority electorates even at places like Tina Gudam where Hindus and Muslims apparently shared the same common space for keeping Tazia and placing Hindu Idols.
d. It is difficult to comprehend what makes people hate each other while they share much of the common fates including the mega-toilets, bathing place, or the same factory shed as they work together. However, over the years of criminalisation of politics, nexus between mill 'management' and labour contractor, extreme urban form of poverty are symptoms of what resulted afterwards.
e. Through a long term process of constructing "Hindu khatre mein hain", there has been a percolation of fear psychosis among the majority community who didn't shy away to openly express hatred towards the Muslim others. Statements like Muslims possess choppers for qurbani, or the vivid description of decapitated body of Lala Chowdhury with an added emphasis that this must have been done by some Muslim because they are expert butchers reflect such constructs.
f. There are several unresolved issues like how Rajesh Shaw did lose his hand? Why did people in large numbers enter inside the jute mill to take shelter late in the night as allegedly TMC launched an attack? Whether the goons were actually wearing police uniforms? And so on. It is reasonably clear that even after our several years long study, we could only penetrate the outer layer of the complex and multilayer chaotic case of Bhatpara.
Bhatpara has been central to AAMRA's activities for quite some time now. We have been reaching out to people from different spheres like researchers, activists, noted intellectuals, psychologists, lawyers. We have been fortunate enough to get several feedbacks from them over the years. Needless to mention, restoration of peace is one of the major concerns, in doing so we can however look at the legal dimensions of the issue. We believe that a Judicial Commission should be constituted by a sitting Judge of Calcutta High Court to enquire about the communal riot at Bhatpara and its adjacent areas with specific references. Local administration should encourage registering all the offences which appeared to be cognizable in nature. More FIRs are needed so that an independent investigation agency can probe the complaints in accordance with law. To minimize tension in the locality, round the clock police patrolling should be introduced in communally tensed areas particularly the areas where minority community has strong presence. The entire Bhatpara area should be searched by police thoroughly and all arms, weapons, explosive substances and the allied materials etc. should be confiscated.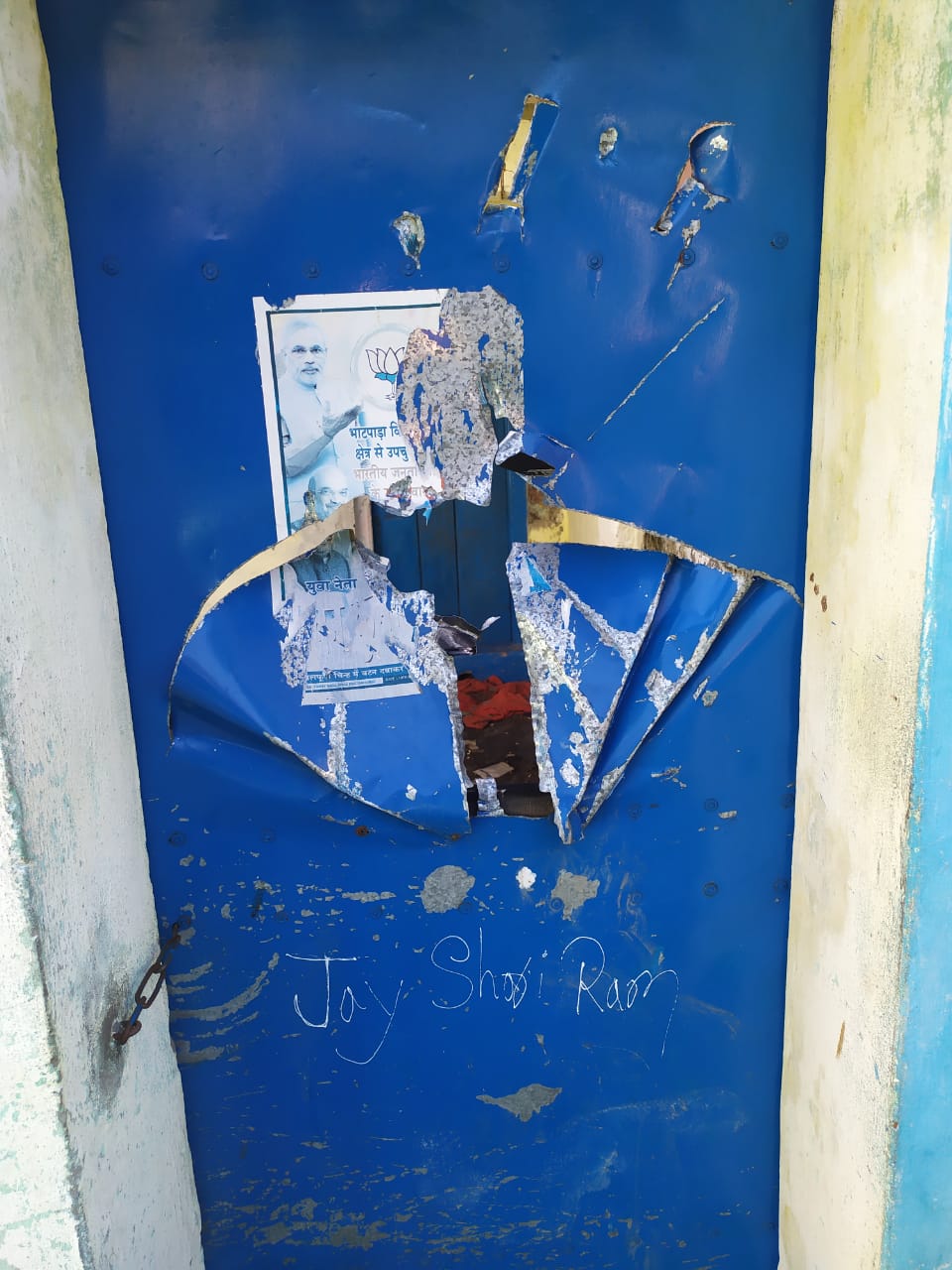 The broken door of a house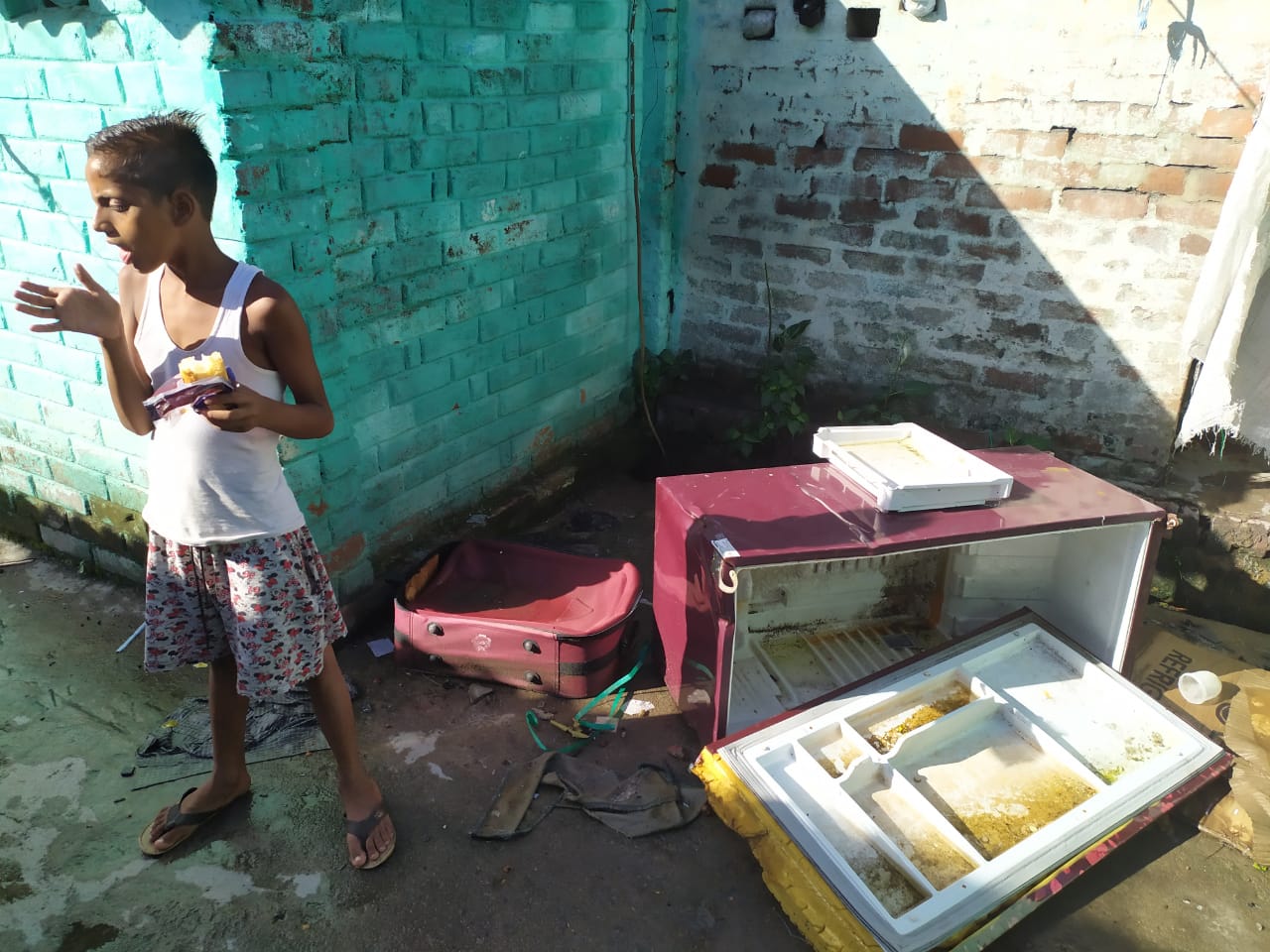 A vandalised home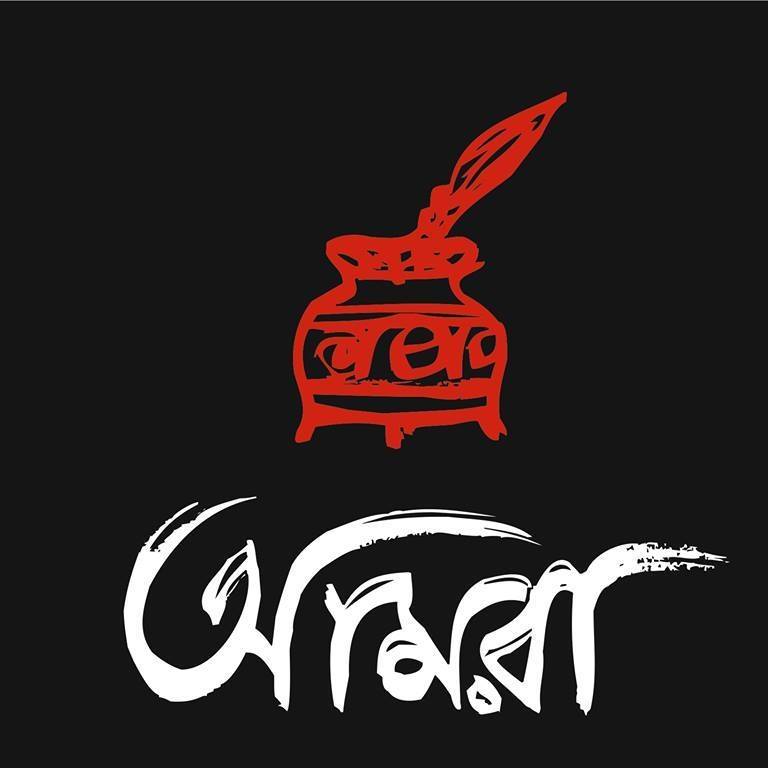 আমরা: এক সচেতন প্রয়াস
AAMRA is an amalgamation of multidisciplinary team of researchers and activists erstwhile worked as an assemblage of movement, research and activism. Popular abbreviation of AAMRA is, An Assemblage of Movement Research and Appraisal.