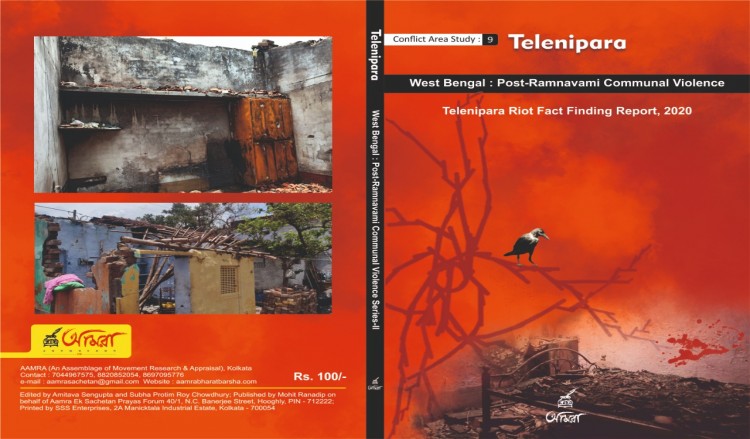 Fact Finding Report on Telinipara Communal Violence (2020)
The communal violence in Telinipara in Hooghly district of West Bengal occurred amidst the raging pandemic during the lockdown in early May 2020. We can call this violence as, 'Communalism in the time of Pandemic'. Everyone knows there were unrest, conflict and communal violence. But what actually happened in Telinipara? What triggered the violence and what is its immediate and far-reaching effect? This is the second report by AAMRA— a study group on Conflict and Coexistence, of their series of report on post-Ramnavami riots in West Bengal.
Fact Finding Report on Telinipara Communal Violence, 2020
By AAMRA Ek Sachetan Prayas Forum
Date of Publication: 2nd October, 2020
Team Members: Amitava Sengupta, Faruque Ul Islam, Subha Protim Roy Chowdhury, Ipsita Chakraborty, Subhankar Sengupta, Saurajit Pramanick, Saumen Ghosh, Rajesh Naskar
Associates: Sheikh Ajmal, Abhishek Mukherjee, Subhankar Mukherjee
Edited by: Amitava Sengupta and Subha Protim Roy Chowdhury
Published by – Mohit Randip
Email – aamrasachetan@gmail.com
Website – aamrabharatbarsha.com
Phone no. – 7044967575, 8697095776, 8820852054
Introduction and perspective
AAMRA (An Assemblage of Movement Research and Appraisal) is a study group on Conflict and Coexistence. We have been visiting various places in West Bengal, rocked by communal conflict and violence, during the last four years (2016-2020), to study and to understand the nature and cause of the communal conflict. In the last three years, we have conducted extensive field research on communal conflicts in Bhatpara in North 24 Parganas district of West Bengal. The fact finding report on Bhatpara has already been published. Telinipara is the second report in the series of conflict study.
Bhadreswar, on the west bank of the river Ganges, is a notable town, of the Hooghly district in West Bengal. The town is historically significant in various aspects – in art, in literature, in culture, its demographic, in its history of subjugation and struggle for freedom. Telinipara is a large area of ​​this town. The area is mixed and densely populated. Bhadreswar Municipality was established on 1 April 1879. Electricity came to Bhadreswar in 1942. Sudhir Kumar Mitra's book 'History of Hooghly District and Banga Samaj-2' published in 1948 contains some fragments of life in Bhadreswar at that time. A few excerpts from the book are given below:
Bhadreswar Municipality is divided into five wards. Ward number one is Bhadreswar, ward number two is Gourhati, ward number three is Telinipara and ward number four and five is Mankundu.
Outbreaks of diseases occur often at places other than the Bhadreswar mill area as they are not kept very clean. The major road in this municipality is the Grand Trunk Road. All the branch roads along this road are narrow and dusty. The road mileage is 13.6 miles. Of these, 9.75 miles are unpaved roads. Pedestrians will benefit if the unpaved roads are maintained properly and made walkable. The dirty sewers on both sides of these roads are a disgrace to the municipality. Outbreaks of gastroenterological diseases happen frequently in these areas due to poor sanitation and sewage drainage systems.
As the municipality does not have its own 'water works', there is shortage of drinking water everywhere except in the mill area. The water supply system consisting of 80 tube wells seems insignificant. It is the duty of the Mill authority to assist the municipality in supplying drinking water to the people. The tradition of this ancient historically and culturally rich town will be maintained if the municipality follows a specific plan of action.
— (page 565, History of Hooghly District and Bangasamaj-2, Sudhir Kumar Mitra, 1948)
Hooghly district has a long history of people coming in from different parts of the country in need of livelihood at different times. There is a history of European colonists coming for trade and establishing empires. From the book we know –
Among the European merchants, the Portuguese were the first to arrive in this country to trade. From then on, the places on the bank of river Ganga in this district were inhabited by white traders. The dominance of the Englishmen in Hooghly, the Portuguese in Bandel, the Greeks in Rishra, the Germans in Bhadreswar, the Australians in Konnagar, the Dutch in Chuchura and the Danes in Srirampur was particularly significant.
— (page-845, History of Hooghly District and Bangasamaj-1, Sudhir Kumar Mitra, 1948)
Hindi and Urdu speaking people who migrated to work in Chatkals (Jute Mills) and other industries came mainly during the period of British rule. There are a large number of Hindi and Urdu speaking people in the mixed population of Telinipara. Besides, there are people of Oriya, Telugu and other languages living within Bhadreswar municipality area.
Champdani town is adjacent to Telenipara. Here also resides, mainly workers, who toils in jute mills and various other factories. It is known from history that riots have taken place at different times in these two towns — Telinipara and Champdani. After the demolition of Babri Masjid in 1992, the people here had faced the heat of the fire of communal violence. In almost every communal incident, the Hindi-versus-Urdu equation has come to the forefront. But the specialty of this year's violence in Telinipara was its expanse, both In terms of area and population affected by it. There are allegations that Bengalis were also involved in the communal violence that recently rocked Telinipara (May 12 violence). There are allegations of organized rioting in a well-planned manner by bringing in rioters from outside.
(A)
The Gondalpara Incident
Both banks of the Hooghly River (especially the Barrackpore and Chandannagar subdivision areas) have recently become centers of communal violence in West Bengal. There is a mention of post-Ramnavami violence in Chandannagar in our published report, 'Communal Violence, 2018: West Bengal'. Like in 2016, this time too, Urdibazar in Chandannagar Municipality, became one of the main centers of communal strife. The propaganda of 'Nizamuddin-Corona Jihad-Beware of Muslims' was also circulating here through various social media platforms. On the other side of the Ganges, especially in Bhatpara, the propaganda took a huge shape. In April 2020, communal tensions began in ward number 12 and 13 of Bhadreswar municipality and in ward 25 of Chandannagar municipality. The Telenipara riots had not taken place by then.
On April 19, 2020, the residents of Gondalpara Chatkal area woke up amidst the possibility of a communal riot. At 3.30 pm, someone broke open the lock of the Malapara Mosque and entered the mosque premises, the furniture inside the mosque were broken and the Quran vandalized. The locals grabbed the miscreant, beat him up, and later handed him over to the police. On April 20, the Rapid Action Force was deployed there.
We talked with Rajesh Jaiswal, the elected Councillor of Forward Block party from Ward 25 (near Gondalpara). Rajesh Jaiswal is himself a resident of Gondalpara. He said, 'You know, Chandannagar municipality has been dissolved. Here the hooliganism of Trinamool Congress has put an end to all democratic space. Even before the 2019 parliamentary elections, the political scenario of Chunchura, Chandannagar, Bhadreswar had started to change, the change was huge. The BJP leadership used propaganda, communal polarization and violence as strategies. Their target then was to capture the Hooghly Lok Sabha constituency. The same political strategy is still continuing.'
"Gondalpara jute Mill has been closed since 2016. Slums teeming with unemployed laborers have now become breeding grounds for communal forces," opined a trade union leader, speaking on condition of anonymity. He said, the April 19 incident was the beginning of a big conspiracy. When we went to the area adjacent to the mosque, many people said, 'I don't know who came to the mosque that night. The police did not reveal his name or identity. Mubasar Ali, who was sitting near the mosque, said, "The man might have a mental disorder. Maybe that's why he was used.'
(B)
Communal propaganda regarding Corona and the social media
From hundreds of WhatsApp groups, messages like 'Muslims are spreading Corona', 'Many Muslims returning from Nizamuddin's Marqaz are here in Telinipara', ' In Urdibazar of Chandannagar there is a massive outbreak of corona among Muslims', 'The Muslims are not following any rules, so Corona is spreading', were spread. Most of these groups are controlled by Hindutva groups. Besides, the 'volunteers' of Hindutva mentality have voluntarily shouldered the 'responsibility' of spreading those messages. The names of some of the WhatsApp groups are 'Corona se Bacho', 'Beware of Muslim', 'Ram ka naam lo', etc.
The use of Facebook has been relatively low due to its lack of 'privacy'. The exception was the Locket Chatterjee BJP MP from Hooghly. The essence of BJP MP's posts at different times on her Facebook page is nothing but 'hatred towards the Muslims'. We give below the summary of some of her posts-
1) May 13, 2020 Facebook post – Police are giving opportunity to a particular religious community to indulge in terrorism, vandalism, looting, arson and hooliganism.
2) May 12, 2020 Facebook post – The day before tomorrow, people of the X community came with swords, came with various weapons and attacked, set on fire. Two gold shops were looted and then a lot of things were looted. … I have been getting phone calls from 11 noon today, Chandannagar and Telenipara are burning. Fire and Bomb. You have all seen how black smoke has risen. Phones kept coming from all around how the houses of Hindus were looted. Set on fire. Women are calling, 'Didi we probably won't be able to save anything of ours. If I hear such a situation then how will I feel?
3) May 12, 2020 Facebook post – There are barricades all around, but why can't a small area be brought under control? The police are doing so much good work why can't the police do it here? Because there is an instruction from above, 'Police, don't touch them until I tell you'. Why did I say 'them'? Recently, many among 'them' in Chandannagar have been found corona positive. Many have returned from Ajmer, there are TMC Councillors from minority communities. They have been found to be corona positive. Since it was found, people around them have been told to go in quarantine. They won't test, they won't go in quarantine. They got into trouble with the police. They won't go anywhere, they'll just spread. When people are fighting corona, their purpose is to spread corona. When the police administration set up barricades to stop the spread, when the people of the area put up barricades, since there are many corona cases in this neighborhood, 'they' attacked the innocent peace-loving people to vent their anger.
On May 10, the shops of the Hindus were attacked, a community did that, but the administration did not do nothing. The Trinamool government has put them up on its head. They will get the result in hand in hand.
It is to be noted that this MP later herself announced that she has tested positive for the virus.
(C)
Just after the riots
On May 10, 2020, several shops were attacked on the Ferry Ghat Street in Telinipara, where the Hindu Mohalla begins. Looting and arson in about 20 shops was reported. The first part of our investigation is in this context.
On May 11, 2020, a fact-finding team of Aamra – Ek Sacheton Prayas first tried to go to Telenipara. But the police stopped them after Chamdani. We spoke to some of the affected Hindu shopkeepers at the Palta Ghat in Champdani. Champdani municipality is next to Bhadreswar.
On May 19, 2020, one of our members went to the riot-hit area of ​​Telenipara on a bicycle. FG (Ferry Ghat) Street and the adjoining market were quite crowded. People were busy shopping for the upcoming Eid. The member told us that he felt Muslim youths were watching the 'outsider'. At the end of the market, there is an intersection, from there the Hindu area starts. A little further is the Telinipara Ferry Ghat. The Rapid Action Force Jawans were not letting anyone go there. A little before the turn, on the left, is a Muslim neighborhood with row after row of houses in slums. An old woman in her seventies was sitting in the doorway of a small house. The member would talk to her, Hamida Banu (name changed). She spoke in Hindi or Urdu.
AAMRA: Assalam Aleikum Nani.
Hamida: Salam beta.
AAMRA: Does this road lead to Nehru School?
Hamida: Where are you going?
AAMRA: Will definitely not go to school. I will go to Telenipara Ghat, can I go this way?
Hamida: It is difficult to go through this road. Go down FG Street.
AAMRA: The police are not allowing people to go that way.
Hamida: I don't know, son, the situation is tense.
AAMRA: Still? It's been so long since the trouble first started?
Hamida: The situation has deteriorated after the arrival of the political leaders.
AAMRA: Which leaders are you talking about?
Hamida: Leaders like Locket Chatterjee, our MP.
AAMRA: What had happened on that day?
Hamida: The situation has turned complex before Ramjan. They were accusing us of spreading corona.
AAMRA: They mean the Hindus?
Hamida: Not all Hindus, some scoundrels.
AAMRA: And what happened after the start of Ramjan? Ramjan started on April 25.
Hamida: There are scoundrels on both sides.
Just at this moment someone came out from inside the house. The conversation stops. Our member addresses him, but the person does not respond. He looked at Nani angrily, Nani paused for a moment, then started with some hesitation. Thinking that this conversation might get her in trouble we decided to stop.
AAMRA: Thank you Nani. We have to go. What happened that the Hindus and Muslims living together burnt each other's shops and houses!
Hamida: This is politics, ugly politics.
AAMRA: Many shops here have been burned and looted.
Hamida: Yes, Hindu shops have been looted here. Muslim ones were looted in other areas.
AAMRA: Yes, we saw on GT Road.
Hamida: There has been looting here too, and arson. There has been looting and arson there too.
AAMRA: We heard that the owner of the shop looted on GT Road lives in Telinipara.
Hamida: Yes we were looted and here we are the looters.
AAMRA: Hindu shops were looted here, you are saying that the looters are also the ones who were looted?
Hamida: Yes, that's right. Here Muslims have looted Hindu shops, Hindus did the same elsewhere. It means the same thing, doesn't it?
(D)
Fire of hatred and the ashes left behind
On September 4, 2020, a letter was sent to the Hooghly district magistrate, on behalf of 'AAMRA' asking the administration among other things how many houses had been demolished, how many houses had been set on fire, how many families had been looted in the communal conflicts. No reply has come so far. In the course of our investigation, the joint team of AAMRA and local friends has repeatedly faced the fire of communal hatred and the ashes left behind by the violence in its aftermath. Here are a few fragments.
The vandalised mazar of SatyaPir
Satya Pir or Satyanarayana worship is one of the popular folk beliefs and practices originating from Bengal that symbolizes syncretism of Hindu and Muslim religions and cultures. Both Hindus and Muslims gathering at Satyapir's mazar at different places, offering Shinni (a typical prashad made during SatyaNarayan Puja) and taking vows still carry the syncretic tradition of coexistence. We know that this tradition can be seen in different parts of the Indian subcontinent. Khadem (caretakers of a mazar, serving as custodians of the mazar) earn their livelihood from fairs held during annual Urus (the death anniversary of the Pir or the Sufi saint) that take place around such mazars. The common people go to the mazar of the Pir with the belief that they will get cure from diseases, get to solve family or social problems, and the Khadem earns by selling them tabeez or maduli (amulet), jol pora (holy water), etc. Qawwali and Fakiri songs are performed at the mazar. The SatyaPir Thaan at Bhadreswar on GT Road is one such mazar. Due to the cosmopolitan character of the area, there are plenty of Urdu, Hindi, Oriya, Telugu and Bengali speaking people residing here. Satyapir's mazar became a common revered place of worship for all — Hindus, Muslims and Christians alike. On June 12, 2020, Hindutva rioters attacked the mazar. The structure made of brick-sand-surki was completely destroyed and pulled down. In reality, the symbol of religious and cultural coexistence was destroyed.
Satya Pir's mazar is located at Babubazar in Telinipara next to GT Road in Bhadreswar. This 200 year old mazar was founded by Haji Badr Uddin Saheb. It was a simple ordinary structure made of mud, not so majestic, till a few decades ago. Local people told us that 30-35 years ago, Radheshyam Ghosh, a local resident, who owns a famous sweet shop at College Street in Kolkata, Dhakeswari Sweets, got 'Swapnadesh' (a divine order in dream) and he rebuilt the mazar. His name is written on the gate. He is now old and sick, and can't visit the shrine.
We talked to different people to understand how much damage the riots on 12th May have done not only to the mazar but also to the social fabric of coexistence. We talked to Abdul Mallick, the present Khadem of the mazar. Before him, his father Sheikh Jumma Mallick was the Khadem and after his death Abdul Mallick continued to look after the mazar. He seemed very excited at the beginning of the conversation. "What is the use of talking about all these things now, what was bound to happen to me has already happened, I am still being harassed" — this was his expression. We tried to understand his excitement, his anxiety. He continued with his daily 'business' while talking to us. Capitalizing on the people's conventional 'belief' in the miracle power of the shrine, he was giving 'amulets' to some and 'garlands' to others. Who was taking them? Common people, from all communities and all languages.
AAMRA: Were you present at the shrine when it was being vandalised?
Khadem: I left at twelve o'clock. We arrive at nine in the morning and leave at twelve. I come again at five in the evening and leave at half past seven or eight. In between people come and I 'dust' their bodies, offer them 'holy water', give jaundice-garland to those who had jaundice. This is the door that they broke down and I have put in a new one (showing us the door while talking).
AAMRA: Did you get the news when it was happening?
Khadem: I got the news then. People who live nearby here informed me. Look, your shrine is being vandalized here, your car has been set on fire, and everything is being looted and taken away on shoulders.
AAMRA: Well, local people do come there?
Khadem: The local people did it. It has nothing to do with faith, it is party politics. My vehicles have been taken to the police station, they are still not returning them. They say there is a police case. I have the blue book, I have all the documents. I just don't have the vehicle insurance. OK, I didn't get the insurance, but why isn't the police returning the vehicles to me? Have I filed a case in anyone's name? I haven't filed any police case.
AAMRA: Such a religious place was attacked …?
Khadem: They are regretting it now. What is there to regret now? When they could not stop it that day!
AAMRA: No one came forward and tried to stop it?
Khadem: No, no one did such a thing. Everyone saved his own life, says we saw it happening. Who will come? There were so many people who came and attacked, if one or two people had tried to stop them, they would have been beaten up. If I was present that day, they would have even killed me. Can anyone stop them? Now many things can be said or maintain silence. Everyone knows who did it.
AAMRA: You are blaming politics. But it didn't happen so long, why now?
Khadem: As I said for politics. There was politics before, but it wasn't like this.
AAMRA: Do you think people can live together again? Again everyone will come to this mazar, to Uras?
Khadim: Yes, they will come.
AAMRA: How old is this mazar?
Khadem: Perhaps two hundred years old, maybe more. Haji Badar Uddin Sahib established this Pirtala. Everyone knows it as Satya Pirtala. That revered mazar was demolished, Shame!
AAMRA: Have you received any money for its reconstruction? What damage has been done to the mazar?
Khadem: I went to the municipality. They are saying that we are giving eight to some, ten to some. So many have lost so much. I told them that if I am given ten, I will not take it, it will do nothing for me. Then the vice chairman called me and gave me twenty thousand rupees. So I was able to buy this beam. I have rebuilt the front wall. But it is not possible for me alone to do this renovation of the mazar. All the money I had inside the iron cabinet was looted. The cabinet was broken. Nothing inside the cabinet was left. See this is the picture of the cabinet. Inside the box there were brass items, there were copper scales and weights. Inside the mazar there were big flower vases, there were lights made of Belgian glass, they broke everything. They broke the front shutter lock too. See they tried to open the shutter from above. They took away everything that was inside. They couldn't break the shutter completely. If they had succeeded, more things would have been looted. It's my son's shop. His name is Sheikh Abdul Mallick. Everything inside the house was taken outside and set on fire. Took away all the tables and chairs.
AAMRA: When is the Urus here?
Khadem: On second Saturday in the month of Falgun. People from both the two communities come. Hindus come more in number.
In front of the broken temple
A temple in the Rajabazar area adjacent to the Victoria Jute Mill was vandalized. Several local Hindu families expressed outrage over allegedly putting underwear on the idol. On June 16, 2020, during our fact finding, the families took our team members to the temple site and showed the signs of damage. Standing beside a few completely burnt down houses, a woman from a Jaiswal family demanded adequate compensation for the damaged temple also. The temple was reportedly attacked on May 10. When asked if anyone had been arrested in connection with this incident, the woman said, "No, no arrests have been made." We couldn't talk to her any further on this matter.
(E)
Face-to-face with tears and sufferings
In fact, just after the first episode of violence, a fact-finding team of AAMRA went to Telinipara. The first visit was on May 11, 2020 and the last visited on September 20, 2020. In more than four months, our team talked to different people at least 18 times. Despite this, we were not able to reach all the victims of the riots, this is our failure. Despite our efforts, many did not open their mouth before us, we could not prove our credibility to them, this too is our lacking. Many people talked to our team but they did not want to reveal their names, we respect their decision. Here are glimpses of the reality we faced.
Those who lost a lot in the riots
Anita Kumari Paswan
We talked to her on June 3, 2020, at 11 o'clock in the morning. At that time, work was going on to repair a burnt Hindu slum. Pannalal Sahu, BJP councillor from Ward No. 13, was supervising the reconstruction work.
Anita – Listen, I'm talking about what happened here. At around 11 in the morning, while we were cooking, they started hurling bottles from above, (pointing to a four-storey house behind). The bottles were filled with petrol. On seeing this, all of us, from young to old, we just started running away. We could not save anything. There was 40,000 rupees in cash in my house from the Mandi (agricultural market). It burnt in the fire. Look at the condition of my sewing machine, look at all the things in my house, everything is burnt … no one is giving us anything … we had three rooms … How much did I get! 5,000 rupees after a lot of pleading. Father suffered a leg injury while fetching food from the school. Where will we go now, provide treatment to father or rebuild the house? (Crying)
AAMRA: Who caused this damage?
Anita: I don't know them by face. Bombs were thrown from Selim's house. At that time, we ran away and saved ourselves rather than wait to see their faces. Now I can't dare to say anyone's name.
AAMRA: Why did all this happen? Was there any tension in the neighbourhood? Did you feel anything?
Anita: I couldn't understand anything, why it happened all of a sudden. If we had any inkling we would have removed the household items or not? I am now 22-24 years old, and have never seen such conflict since I was a child. Look at all these important documents, brass utensils for Chat Puja, all burnt. Who will give compensation for so many things?
Asma Firdaus
AAMRA: Tell us what happened on that day?
Asma: Hey, the entire house was set on fire.
AAMRA: Were they local people?
Asma: How do I know? Their faces were all tied up in saffron cloth.
AAMRA: How many were there?
Asma: (Shows a house with her finger) All were standing there. 10-12 people attacked my house. There were many things in the house. Things for my daughter's wedding.
AAMRA: What does your husband do?
Asma: My husband is a Maulana. We have a readymade garments business. My eldest daughter is an engineer. She works at Infosys. Her name is Arju Firdaus.
Sarwari Bibi, Line No. 3, Paikpara
We have become like street beggars. Not even a glass or a bowl is left. Everything we had was set on fire or looted from the house. Our door was closed. We were inside. The fire was set after we got out and fled.
The house was gutted completely. We have just started rebuilding it. It was like a flat field. Now we have only old clothes donated to us to wear. This house, the next one besides it, all the houses were burnt. I got only 8000 rupees as compensation from the government. The incident happened on 12th. Fire was set around half past where I am.
I am repairing the house with my own money. What happens with the government's 8,000 rupees? At present we have no money. We don't even have a plate and bowl. How will we eat rice? I am wearing these old clothes donated by other people. We fled empty handed. We are living in a school during this period. What can we do! Not even a glass left for breakfast.
Now I have started repairing the house, so I come here during the day time. I will leave again at night. How can we stay here? There is no electricity. No lights, no fan. Eating, drinking everything now is at school. It is not possible to stay here at present. I wonder how we will live.
We wrote an application. We gave a list of things that have been damaged. But it didn't work. They didn't accept the application. Said these will not be received here.
All these boys helped us. Latif's son. They all came at night and took us out. MD Arman and Nayeem Bhai were present. They are civic police. Imam Uddin and Arman — they were in front. They led all of us out from here to safety. After we got out of here the rioters came and burnt the houses. Otherwise we would have died in the house.
I got married in 1970. 53-54 years have passed. I have never seen anything like this. It happened once in 2001. But it was not like this. We haven't seen such a thing.
Salma Bibi (name changed)
AAMRA: Will you say something?
Salma Bibi: I had just come out after taking a bath. Two-three bombs went off in Telinipara. The police were standing there. The police were welcoming them … come in brother!
They had everything in their hands — Pistols, bombs. There was nothing in our house that could resist. My brothers couldn't stop them.
AAMRA: From where did the people come from?
Salma Bibi: Hindus came from all over. They came from Malapara, Tina Bazar, Urdibazar. Arjun Singh organised this thing.
AAMRA: We also heard that Arjun Singh's men had entered…
Salma Bibi: Yes, they entered after crossing the river, in the darkness of the night. They came from Srirampur also. He brought about 150 people.
AAMRA: Have you suffered any losses?
Salma Bibi: Yes, I suffered. Tell me, where can we go with these small children?
She then took us to see her damaged house. She began to talk again
There is no place to even sit, no shelter for my kids. We were staying in a school, there was a lot of chaos there. So we left.
A woman from Salahuddin's Family (in an alley beside the meat shop on GT Road)
I have been here for many years, things like this have never happened. This is the first time … even neighbours didn't come to help us on that day. At half past twelve, I was about to take a bath after cooking was done; my son-in-law came and said there was a fire. We screamed run, run, scaled the boundary wall and fled to save us. The children are terrified since that day, they don't want to stay here anymore. They have gone to their grandmother's home. One of them is a 5-6 year old child, the other one is just a 6 month old baby.
AAMRA: The child is probably very scared?
Woman: Yes, he saw everything, he can understand. If we bring him here, he says if we stay here, it will happen again. He wakes up crying in his sleep, and screams, take me away from here, I will not stay here. His father tries to calm him down. He says "I will give you a mobile phone, I will buy you this and that." But the child kept saying, "No, I will not take anything, just take me from here". He also has school exams in front of him, but all his books are ruined. What will he do!
AAMRA: Which Exams will he give?
Female: Higher Secondary.
AAMRA: Which child is this?
Woman: This is our other child, he is the elder one. Admit card, previous exams results – everything is burnt. He studies in Gandhi School. The school gave them rice, even that rice was burnt.
AAMRA: Were you physically assaulted by anyone?
Woman: No, four people came and were kicking on the door, the door was closed, they could not break in. Their faces were all covered. Later (after we fled) the fire brigade, the police were all informed, but no one came. Finally the people from that house in front came in and poured water over the fire.
AAMRA: The people from the front house? Are they Muslims or Hindus?
Women: No, they are neither Hindus nor Muslims. They are Bengalis. We were wondering where to go. That Bengali Babu took all of us out from here, they even doused the fire by pouring water.
AAMRA: You are all saying that nothing of this sort has ever happened here before?
Woman: That's what I am saying, it has never happened. It was happening in other areas, suddenly they found out that there are two Muslim houses here … lets burn them. I have been here since my grandfather's time, we were living together. They come to our weddings. We went to theirs. We go to their shops, they come to ours to buy things. It was going on like this but … then how this happened…
She brought a child near her and said: "They have not been eating lunch since they came here, just asking one thing – how did mother get burnt, what has happened…
AAMRA: It (violence) can happen again, what do you think?
Woman: It has happened once. People are scared of it happening again. People don't know what you have in mind, what I have in mind.
AAMRA: Well, have Corona spread here?
Woman: Here, not a single case has been found so far.
Jhuma Jaiswal
Jhuma Jaiswal, 35, spoke to us standing in front of a completely gutted house in slum No. 1, within 100 meters from the gate of the Victoria Jute Mill.
Jhuma Jaiswal: My husband's name is Vijay Jaiswal. He is not at home now, he has gone to bring talli (tiles) for repairing the house. On that day around 11 am, bombing was going on. We heard there will be more trouble. Police were present. Police have fully supported them. At least the police who were present here. Ladies were in front and the gents (men) were hurling bombs from behind the ladies. Police were not saying anything to them but when one of us tried to stop them the police were saying 'move away, move away'.
AAMRA: Was this a fight between Political Parties?
Jhuma Jaiswal: No, it's not between parties, it started because of Corona. They (Muslims) will not test, will not undergo treatment, they will only spread the virus. They are reluctant to go for treatment. This violence hasn't happened only this year, it took place three years ago also. At that time only my house was set on fire. This time they burnt down about 27-32 homes. Their target is to do this thing again and again so that the Hindu families living here become scared and leave this place. They want to drive us away and take control of the vacant area up till the market.
AAMRA: Your house is burnt, where are you staying now? You seem to be in trouble?
Jhuma Jaiswal: We are in trouble. What can be done! We stayed at a relief camp in Shastri School till now, now even the school is telling us to make our own arrangement. How long will they look after us? No one can allow us to live forever.
Salauddin Ansari
Salauddin's house and shop is on GT Road in Bhadreswar. On 12 May, organized Hindu rioters looted his shop. The essence of our conversation with him.
Salauddin: My name is Salauddin Ansari. Living in Bengal for a few generations. But suddenly everything turned upside down. The riots started here on 12 May 2020, at 12:45 am. To save his life he locked himself in this house. They were looting. There were so many things in the shop, they looted everything and fled. They set the shop on fire before leaving. They were also kicking on the door of this house, my son and I somehow managed to hold them on. There was a gas cylinder in the house, they saw that cylinder and ran away from fear of the cylinder exploding in the fire.
Aamra: How many people had come?
Salauddin: There were lots of people. To save our lives we ran away to home and locked ourselves in.
Aamra: Was there any familiar face?. Anyone local?
Salauddin: No, we couldn't see. We had shut the house.
AAMRA: How many Muslim houses are there in this area?
Salauddin: There is only one Muslim family in this area. Our family. And there is another meat shop. Their home is in Telinipara.
AAMRA: Yes, on Ferry Ghat Street.
Salauddin: And there is a bicycle shop. That shop was also vandalized. But it was not set on fire. The shop belongs to a Bengali. The shutter of the meat shop was broken.
We have a mazar here. It was vandalized too. The Khadem of the mazar had a car — Splendor. It was set on fire on the road. There was a M80 vehicle, it was also damaged. The chest box in the mazar was broken.
AAMRA: Mazar of which Pir?
Salauddin: Satya Pir's mazar.
AAMRA: The mazar of Satya Pir. But everyone used to come there. Even Hindus go there?
Salauddin: Everyone comes there. People from all communities — Hindus, Muslims, Madrasis, Oriyas — all.
AAMRA: They selectively attacked that mazar. Was this attack anticipated?
Salauddin: No, there was no idea. I've been living here for so long, for generations, but this has never happened before. So many big riots had happened before. The riots in 1992 were terrible. But riots never took place in this area. We were all 'same'.
AAMRA: Now you have become the 'other' again?
Salauddin Ansari remained silent for a while. Did not answer.
AAMRA: How long have you been here?
Salauddin: From British period. For four generations. My father used to work in Chatkal at Bhadreswar Jute Mill.
AAMRA: Anyone work there now?
Salauddin: My younger brother, Nizamuddin do. The daily wage was 340 rupees, now it has increased a little, it has become 390 rupees.
AAMRA: How many members are there in your family?
Salauddin: We are four brothers. Four wives of four brothers. Three sons and two daughters.
AAMRA: Did the political party leaders come after the looting? Anyone from the administration?
Salauddin: Yes, we were helped. Our party also helped.
AAMRA: What do you mean by 'our' party?
Salauddin: I mean the party has helped our family. People in the neighbourhood also helped us.
AAMRA: Who are the neighbours?
Salauddin: The house next to ours, other people in the neighbourhood.
AAMRA: Are they Hindu?
Salauddin: They are Hindus. They helped us as human beings.
AAMRA: Did any slogans were raised during the attack?
Salauddin: No, slogans were not raised here. There was a lot of commotion. I was teaching my son at home. Suddenly, pelting of bricks and stones began. We came out here from the room (showing the room). There was fire all over. My shop was burned down.
AAMRA: Did the attackers have weapons in their hands?
Salauddin: We haven't seen. When there was a lot of commotion, we locked ourselves in the room with the children. We haven't seen those people.
AAMRA: Who owns the bicycle shop?
Salauddin: – Me.
AAMRA: Which things got burnt?
Salauddin: All the spare parts in the cycle shop were looted. Everything else was set on fire. They plundered as much as they could. All rubber products were burnt.
AAMRA: They didn't come inside to attack?
Salauddin: They came inside. Entered the inside room, broke open the locker in the room, looted all the jewellery, watches and mobile phones. I thought the phone was burnt. I called on my mobile two days after the riot, it rang. But now it is switched off. I went to lodge a complaint in the police station, but the police are not taking any complaint.
All documents we had were burnt, the police station said they should be written as missing. When I wrote that, they said you have to mention the document number. Tell me how do we get the number? My son will appear for class 12 exams next month, he has no documents for the exam.
AAMRA: But things were burned and looted, it can be seen with naked eyes, still police are not taking the FIR?
Salauddin: No FIR is being taken, saying to lodge complaint by mentioning names. We have not seen anyone, how can we name someone?
AAMRA: Have you given a written application?
Salauddin: Yes, we have visited the police station many times. It must be at least ten times. But they didn't take the application. I wrote all the documents were burnt. They said it cannot be written that they were burnt, it must be said that they were lost. I agreed. Then they said you have to give the number of Admit card, registration number. Do we remember those numbers? I went to his school, the teacher said, the school is now on holidays, he asked me to come when it reopens.
AAMRA: You said the political leaders came to visit you. Did anyone from the police come to investigate? Or the BDO, SDO to see your condition?
Salauddin: No one came.
AAMRA: Have you received any compensation?
Salauddin: The municipality gave eight thousand rupees in the name of financial assistance. Didn't give anything else.
AAMRA: The money they gave means they acknowledge that you have suffered damages, but still they are not taking the complaint?
Salauddin: No, they are not accepting the complaint. The CN channel wrote about me, it was also shown on TV, but the administration is not listening to anything. There has been news reports on this riot and our condition.
AAMRA: In whose name is the bicycle shop, is it in your name?
Salauddin: Yes, in my name. I have a trade license. Next to it there is another bicycle shop, he lives in Telenipara, the name of the shop is Star Bicycle, owned by a Muslim. The owner of the meat shop, next to it, also lives in Telinipara.
AAMRA: You said this a while ago that they did not loot a Bengali's shop?
Salauddin: No, it was also vandalised, took out the bicycles and burned everything.
AAMRA: The fact that they did not attack the shops of Hindus or Bengalis – there are many in the vicinity, it means they knew which shop belonged to whom. Someone might have identified the shops to them?
Salauddin: How can we say? If we had seen them we could say who identified the shops.
AAMRA: Did you go to lodge a complaint only to the police station?
Salauddin: The councillor wrote all the papers. The chairman of the municipality made a phone call. They said go and get the number (of the lost documents) from the chairman, you vote for the chairman. I told all this to the chairman, asked him to tell me what to do next? He said, all the new police officers have come, what can I do?
AAMRA: According to your estimate, what's the amount of the damage suffered by you?
Salauddin: There were eighty thousand rupees in the shop, my wife had twenty two thousand, a total of one lakh two thousand. And the value of the goods was about two to two and a half lakh rupees. Household items were looted, watches, earrings.
AAMRA: The police station didn't take your FIR, you told us. Did you go somewhere else? Such as SDO or BDO office or the District Magistrate? Or the higher authorities of the police?
Salauddin: No, where can I go if it is not being taken here!
Ghulam Sarwar, Pakija FG Street
AAMRA: What had happened that day?
Ghulam: There was trouble at night, the main thing is, a man here was told he has Corona, the trouble was linked with Corona. The man was already sick during the lockdown. There is a health center here in Segun Bagan. People came from the health center to test his throat. Maybe there was some 'disturbance' in his body.
After 2-4 days, the test report came. What's his name … Yes, 'Asif', 56 years old … Everything was done … Then General Saheb from our outpost came, maybe he got a message or some papers or something, that he needs to be hospitalized for Corona … for quarantine, he has to be kept for as long as the virus is. So the people took him as told.
Rumour spread that there has been Corona in Segun Bagan area … in 3-4 days. Telinipara outposts did a good job here, the markets were getting overcrowded. There is an open field (to his left) vegetable market was told to move and set up there, and we have a place called Nehru School on ML Lane. That place was divided to set up a vegetable market there. The people were told to maintain distance between stalls. People went to sell vegetables there … That area is Hindu neighbourhood. There is a water tap there. Beyond our wall (to his right), is the Hindu neighbourhood and all the Muslim neighbourhoods are here. A poor Muslim man went there to fetch water from the tap… they said we won't give you water, you all have Corona … the trouble started from this exchange of words, they came and threw away the vegetables from the stalls. There is a Madrasi line before the Telinipara Jute Mill. A commotion happened there. That the Muslims have corona …. We will not take anything from them, we will not give anything to them. After all these troubles … The Hindus intensified the conflict more at night. Large numbers of Muslim have gathered too. But they … they charged a lot of things … if I say that …. Everyone knows what will happen… and after that, people came from there … they attacked from all four sides, saying Muslims have corona, Muslims are beating us … but that didn't happen.
AAMRA: But Muslims too have gathered, you said…
Ghulam: We were gathered at one place … people were coming from all sides and cornering us. Charging at us … That day 300-400 people came from outside. There was rumour that 300-400 people have come from the other side, they were Arjun Singh's (BJP leader) men. Many people said that. Those men came from there and fought, fired shots, hurled bombs, destroyed my house … at least I suffered a loss of 4-5 lakh rupees. They entered my house and destroyed many marriage-articles of my two sister-in-laws. Two of my own cars were burned down … my sister had a baby in her womb, a delivery case … so we faced the bricks to save her. There are still scars on my face (he showed his face). The scars need medical attention … but I am not going … I'm afraid to go out … if something happens. Two days later, I took my sister to Chandannagar Hospital, she delivered a boy.
From then onwards everything was fine, there was peace. Then the trouble started again on Tuesday. It started at 11 o'clock and lasted for about four or five hours. At least 30-40 people came, hurled bombs on the house, fired gun shots, pelted stones.
We have a health center here near Sharmin Doctor's chamber. The police came and stood there at night, we said, 'Sir, Look over there, they're burning the house', we went to talk to them … pointing their guns at us and the police said, 'You go there'.
We came back … here. 30-40 people came and set fire to the house, with guns in their hands, smoking marijuana, , setting fire to this house and at night fled to the other side (of the river). After that, I don't know if the news of the attack reached the top level, because the police attacked them and they all fled. Some were caught while the other escaped. Most of them had come from outside. The name of this place is Tantipara, and over there is Gondalpara. There is Talenipara, Madrasi Line and Bhadreshwar. People came from all around, at least 300-400 people came from outside to kill us.
AAMRA: Now which are the places you are avoiding … We mean you are going to?
Ghulam: Going to the market, but there is danger to our lives.
AAMRA: At which places fear is more?
Ghulam: There is fear all around. We are going cautiously, going to bring things from outside. Travelling mainly on motorcycles, we are not walking much at present.
AAMRA: Are you going towards Goalapara?
Ghulam: We are not going to Goalapara. The attack was from that side. My sister who gave birth to a child, her father-in-law and brother-in-law were dragged from the flat, beaten up and taken away by the police. They said, 'we work in a rifle factory'. But the police didn't listen, they dragged and took them away. A lot of people have been arrested, there was a lot of damage to the flat. The rioters had come from there on hand-boats, which are used for fishing. Black coloured boats. Some were caught, bombs were found with them.
AAMRA: What are the allegations against them (his relatives)?
Ghulam: That they are involved in the riots? All false accusations.
AAMRA: Do you think, now peace will be established or something will happen again?
Ghulam: Now I see there is peace for the last 4-5 days, but it is difficult to say what will happen when no one knows … When bombs are being exploded it means they must be getting ready for something. It is difficult to say now, when something will happen.
AAMRA: Have you received any compensation?
Ghulam: Oh … I have a person over there, through him an application has been submitted at our municipality, at the police station … my brother-in-law too went, maybe he got something. In fact this is my brother-in-law's house. My own house is over there, near the Segun Bagan mosque. That house is being built; the work has stopped during the lockdown, so I am staying here with the whole family. Nothing has survived in the house. People are giving clothes, we are wearing. I've been wearing this genji and lungi since yesterday. I don't even have money to buy anything. One of the sisters had Rs 1-1.5 lakhs in cash, and the sister-in-law had a gold necklace. They looted everything. Nothing is left. You take pictures of this house, take videos; there is nothing left in this house.
Details of injured people
How many people were injured in this riot? We didn't get any answer from the administration. The local people made many allegations but they were unable to present any injured person before us or let us talk to their families. Naturally, the actual data has been lost in the debate over the numbers of injured and who first started the attack. In our investigation, we get to know about two persons who were injured.
On May 10, 2020, at 7 pm, the rioters belonging to the Hindutva organization came raising slogans between lines no. 9 and line no. 10 of Bhadreshwar SN Jute Mill. Counter slogans and panic-screaming can also be heard from amongst the Muslims. Some videos of this incident have been circulating on social media (We have not checked the authenticity of the videos). We heard about an incident of attack on the Muslim Workers Colony on this same evening from the Muslim women staying in the relief camp at Haji Muhammad Mohsin Girls School. We heard it from the civic police also.
Muhammad Azad and Manzur Alam were grievously injured in the attack. They were admitted to Ankur Hospital (a hospital run by Bhadreswar Municipality) in a bloody condition. Muhammad Azad's head was cracked and there were cuts on his fingers. Manjur Alam's hand was broken. When we went to their quarters on June 10, no family member was present there. Both of them were still in hospital. We talked to their neighbours. This is what they told us –
We never thought this thing would happen. The children could not sleep for many nights out of panic. Manzur has two daughters and two sons. Azad also has two children. Imagine their (the children) condition after seeing so much blood. At present they are not staying here.
They have to spend a lot of money on treatment. Over a few lakhs. The Trinamool Congress gave nothing. The municipality gave only four thousand. They are in very bad situations. Both are contract workers, they won't be able to work now.
Riot-victims Shelter Camps
Riot victims Camp – 1
Shastri Hindi High School, Gondalpara
Telenipara and Gondalpara are two adjacent towns. This Hindi medium school is in Gondalpara. The riot affected Hindus took shelter here. In all, 25 families took shelter in this school. On 3rd June, our team reached this shelter camp at around 11am in the morning. A few women were present in the camp. The others were at home. The men were at home because houses damaged in the riot were being repaired by the Municipality. We met Pannalal Shaw, 13 no. ward commissioner belonging to BJP. He told us that houses are being repaired by fund provided by the municipality and the State Government is providing relief to the camp. He also told us that the State Government will not run this camp for long. When we asked him the reason for this was that he gave a meaningful smile but didn't say anything.
The riot victims from Muslim Para, Kali Mandir etc. came here. Savitri Devi, a resident of Muslim Para, said, "I saved my life by coming to this school. Otherwise I don't know what the Muslims would have done to us?"
AAMRA: Did this happen suddenly or you had some inkling of trouble beforehand?
Savitri: No, my son. Things like this have never happened here before.
AAMRA: Why did it happen?
Savitri: They want to drive us away.
AAMRA: Why?
Savitri: Many of us live in rented houses. They can keep Muslim tenants if they can drove us away or…
AAMRA: Or?
Savitri: They can build big buildings.
Women members of our fact finding team talked separately with the women in this camp and later with the women at Fayez Ahmed Fayez Urdu High School camp. The riot affected women in both the camps talked about problems regarding undergarments, sanitary napkins and clothes. On 11 June, our team distributed those things among women in both the camps. Play toys were distributed among the children in the camps.
Riot-victims Camp – 2
Fayez Ahmed Fayez Urdu High School, Telinipara, Bhadreshwar
The riot affected Muslim families took shelter at the Fayez Ahmed Fayez Urdu High School. On 3 June, 2020, we met them for the first time. We talked to the riot victims inside a classroom in the school. We didn't ask everybody's name. The names of only those persons who willingly gave their names and consented to their names being published in the report are disclosed in the report. Others have been termed as "a person" in the transcription of the conversation we had with them.
Selim Khan: I work at Gondalpara Jute mill. The mill is closed for two years. There are about 350 people in this camp. Sixty one families from Gondalpara Gor area, twelve families from the Nehru School area, there are families from FG Street and Aagoatala. The maximum persons are from the Gondalpara Gor area, more than 250. All our houses have been burnt. The government gave us shelter in this camp, so we are here. Our only appeal to the government is to rebuild our homes. Except our lives, everything else belonging to us has been burnt into ashes.
AAMRA: When did you arrive at the camp?
Selim Khan: We came here two days after the incident happened.
AAMRA: When did the incident occur?
Selim Khan: On 12th June.
AAMRA: At what time?
Selim Khan: At noon, around 12.30.
AAMRA: Tell us what happened then?
Selim Khan: Everything happened suddenly. It started on 10th June. Around 8 at night, bricks and stones were thrown at the junction. We were all at home. It was Ramjan time. We were offering namaz inside our homes. Suddenly we saw bombs being hurled, bricks and stones being thrown. We were taken aback. People were running. But there was peace after that. Nothing happened on 11th June. Those who had run away returned back to their homes. Then, on 12th June, the trouble started again at 12.30 am. We were surrounded from four sides, and bombs, bricks and stones were thrown on our houses. We had nothing in our hands … we are never involved in any fights… it's on record. You can go and ask anybody, we are not that sort of person who creates trouble. They were bombing from all sides. Thousands of them had gathered at the factory ground armed with bombs and pistols. We ran away from homes and came to his side. After we vacated the houses, they sprinkled petrol and set everything on fire. Nothing survived.
AAMRA: For how long this went on?
Selim Khan: This loot and arson continued for eight hours in the entire Telinipara area. The police and the administration didn't come.
AAMRA: You obviously phoned the administration seeking help?
Everybody in unison: We made a lot of telephone calls. People from all places ringed them, pleading them to come and stop the arson. But they didn't come.
AAMRA: Why didn't they come? What did the Police say?
Selim Khan: The police kept saying we are coming, we are coming. They arrived after about 4 hours. Things came under control after that.
Ali: Arjun Singh, the BJP MP from Barrackpore, was seen in our Hooghly district. He along with Locket Chatterjee (the local BJP MP) infiltrated many outside persons in our area. None can do this apart from Arjun Singh. Only one or two persons were local, rest all were outsiders. All totally new faces. We can't recognise them. We informed the police a number of times. They didn't come. Maybe, the police couldn't control the situation. It was only after the force arrived at 4 pm, the violence came under control.
AAMRA: Are you and your family living at this school now?
Ali: Yes, I am staying here. My house too is in the Gondolpara Gor area.
A Person (unwilling to disclose his name): We all have come here from the same para (locality). All our homes have been burnt. Where will we live! The DM and a few organisations have set up this relief camp.
AAMRA: Is the government meeting the expenses for this camp?
Ali: Yes.
AAMRA: By government we mean the local administration, the municipality…
Selim Khan: The municipality is bearing the expenses. We are being provided meals, twice a day, by the municipality. It is being done on the order of the DM sahib.
AAMRA: Where will we get the list of exact numbers of people who are living here?
Selim Khan: There is a list. You can get it from the school authorities.
AAMRA: Telinipara or nearby Chapdani has witnessed communal tension and violence many times in the past. We want to know from all of you how is the violence this time different from the earlier ones?
Selim Khan: There are a lot of differences. We had never imagined that such incidents would happen so suddenly. We are all busy with our work. We were offering namaz or doing something else. All people are inside their homes in the lockdown. All of a sudden! How did it happen, none of us can imagine. They burnt all our houses. The violence of this intensity has never happened here earlier.
A person: All documents of our boys and girls have been burnt. I passed Madhyamik in 1990 and Higher Secondary in 1993. All my documents along with my house are burnt. Nothing has survived.
AAMRA: Have you informed the administration about those damages? Have they started working on this?
Selim Khan: The work had started. It went on for 10-12 days. Now it has stopped. It seems something has happened at the municipality. We are unable to understand anything.
AAMRA: Do you have your own houses? Or do most of you live in rented houses?
Selim Khan: All have their own houses. There are few tenants. Few of us work in Gondolpara Jute mill and few at Telinipara Jute mill. Most of us live beside the Gor.
Ali: A few works outside.
AAMRA: What do you apprehend? Is this violence temporary or it can reoccur?
A person: We are very scared. We don't know what will happen when. We are terrified.
Riot victims Camp – 3
Haji Mohammed Mohsin Urdu Primary School (Girls), Paikpara, Bhadreshwar
There are two Urdu medium primary schools here, one for boys and the other for girls, named after social reformer Haji Mohammed Mohsin, The women and children had taken shelter at the girl's school and the men at the boy's school. When we went there on 10th and 17th June, most of the men had already returned to their homes. We talked with the women at the girl's school. At that time, construction work was going on in the school. There was sand and cement everywhere. The women and children were amidst them. It was unhygienic.
Halima Bibi (name changed), aged 35 with a few children, was present in a room on the 2nd floor of the school. Food was being cooked there. She shared her experience with us.
Halima: Suddenly, they (the Hindus) attacked our para (neighbourhood)
AAMRA: When?
Halima: (asking the date from her husband standing beside her) 12 May, during evening time.
AAMRA: Then what happened?
Halima: A group came with swords in their hands. In our line (lane).
AAMRA: Where is that place?
Halima: 9 No. Line. They also attacked 10 No line. Sounds of screaming and shouting. Then bombs were thrown.
AAMRA: Your kids (looking towards them) Where were they at that time?
Halima: They were at home. Faring death we were all inside our house. At night we came to this camp. Even today, the kids are living in fear.
AAMRA: The scars of violence stays in the minds of children. What are you doing to make them forget that day?
Halima's husband: Even we can't forget. How will we make them forget!
*
Fact Finding Report on Telinipara Communal Violence (2020): Riot-Victims Shelter Camps
The communal violence in Telinipara in Hooghly district of West Bengal occurred amidst the raging pandemic during the lockdown in early May 2020. Everyone knows there was unrest, conflict and communal violence. But what actually happened in Telinipara? What triggered the violence and what are its immediate and far-reaching effects? This is the second report by Aamra— a study group on Conflict and Co-existence, of the post-RamNavami riots in West Bengal. The English version of the first report on Bhatpara was published in GroundXero in six parts. We are now publishing the full report on conflict and violence in Telinipara in parts. This is the fifth part of the fact finding report.
Fact Finding Report on Telinipara, 2020
Those who set the fire
(a) Bhatpara-Telinipara entente
The rioters were secretly brought in from Bhatpara – the other bank of the river Ganga – on the night of 11th May. They came by boat, and were given shelter in a few households on this bank. They were the principal vandals behind the riot that happened on 12th May, as was learnt in Telinipara. We have received a few videos and images from a special source (though we have not checked whether they are fabricated).
Our own investigation revealed:
Arjun Singh's battalion used a few unused Ghats in Bhatpara for crossing the river. Atpur Ferry Ghat (India Jute Mill Ghat) in ward no. 21 in the Bhatpara municipality was allegedly used as well. The men crossed the river around 2-3 AM. They carried firearms and bombs, but mostly, they were equipped with swords. A total of 8-10 trips were made across the river by boat.
A few eyewitnesses, who are now unwilling to reveal their identities, living in the region adjacent to the Bhatpara Ghat, stated that they saw groups of 8-10 young men. When some of them peeped out through their windows, they were told, "Bhitre rahiye" – a half Hindi, half Bengali expression.
We identified a house in Telinipara, where the alleged rioters took shelter at night. It is right next to the river. The Hindus in Telinipara refused to talk about this. But a Muslim woman pointed it out.
(b) The face of RSS
Gopal Chandra Upadhyay is a familiar face organizing for RSS in that region. On 5th September 2020, we contacted him over the phone, asking for an appointment. He gave us one, but later informed us that since he had joined BJP, he would be busy connecting with people in the coming few weeks. Later when we tried to contact him again, he did not respond. We also failed to establish any contacts with the local BJP leadership.
Feroz Khan, Councilor, Trinamool Congress
Ever since we began to investigate the Telinipara riot for documentation, we have been trying to get in touch with Feroz Khan. But, we have not been successful. His phone was continuously found to be switched off. Finally on 5th September, 2020, we got to speak with him in his office. He had been accused of directly inciting a riot. Videos were being circulated in the social media of his provocations.
Feroz – What happened on 10th May was a ghotona (incident), but what happened later was an organized action. The first incident happened due to the coronavirus rumour.
Amra – We heard that many shops – especially those belonging to the Muslims – were attacked.
Feroz – No, you see, both communities were harmed. I won't exaggerate about the Muslim side, just because I'm a Muslim myself. Hindus suffered as well. More or less.
Amra – Why are you labeling 10th May as an 'incident'?
Feroz – You see, this was one of the places they were performing medical checkups in. The report came positive for three people – all Muslims. Imran, Nazir and the husband of the Councilor. The name of the Councilor is Reshma Khatun.
A rumour was being spread that all Muslims are carrying the virus. The Hindus were refusing to let the Muslims take water from the common area. A woman was selling packets. She wasn't being allowed to enter the Muslim area. It was the month of Roja, Iftar was going on. Thus, we were all busy. It was around that time Arjun Singh and a few others began to build the bamboo barricade. This caused a lot of disruption and the 10th May incident happened.
Amra – Were the shops belonging to the Hindus attacked on that day?
Feroz – See I belong to the minority community. People know my name here. Publicity always comes with bad publicity. Even Vidyasagar couldn't avoid it. Someone once told him that he was being bad-mouthed in a certain locality. He replied, why? I don't remember having done any philanthropic work in that area!
Amra – Were there any mill workers who tested as positive?
Feroz – Yes, the mill owners told them to take leave for two weeks.
(At this point a local resident comes to Feroz with sweets, to celebrate the construction of his house.)
Feroz – Don't interpret it as a bribe please! This man was fined for something, and I exempted him from it. Hence, the sweets.
Amra – Looks like you're quite popular here! So what's the badmouthing you were talking about?
Feroz – I was talking about Paikpara, three days before 10th May. The number of Muslim residents is quite low there. The Bihari Hindus gheraoed the common space, and we're stopping the Muslims from using the public toilets. When I reached the spot, one of them physically barred my way. I was enraged and blabbered something. I said, just because you're a majority in this area you're stopping us. We'll also stop you from using public facilities in places where we are the majority. If you are creating issues for us here, you, too, will have to face the consequences. This became a public post within 15 minutes. They just highlighted: "We will sweep you off this area in 15 minutes!"
Amra – Didn't you make that comment?
Feroz – They created it on the phone.
Amra – But many have seen you making this comment in the video.
(Feroz stays silent.)
Amra – Whatever you just admitted to saying is quite an attacking statement as well.
(Silence)
Amra – As a councilor or as a political person, do you anticipate more such violence?
Feroz – This will go on till 2021. I've been a councilor twice, first time with a Congress ticket and now with Trinamool. This will keep recurring in the entire West Bengal till 2021. It's just that this time Telinipara's name became tarnished. Wherever migrants from Bihar, UP etc. reside, such as Telinipara, Champdani, Hajinagar near Naihati, Bhatpara etc., such incidents will recur. You won't understand if you see these places now – the fire is smoldering under the ashes. It will flare up any day.
Amra – It has been alleged that some of the local Hindus and Muslims who took part in the riot were TMC members – both communities. Please comment on that.
Feroz – The first commotion was an accident. The second one was well-planned and organized.
Amra – Surely there have been FIRs. Have the names of local residents appeared?
Feroz – My name wasn't mentioned. About 50 people have been accused. Perhaps 5 have been involved and for that a thousand are being harassed.
Amra – Why so? We've heard that many innocent people, even women, have been taken to the police station by force.
Feroz – That's what the police have done. What can we say!
Amra – But the police work under your own party's government, isn't it?
Feroz – You see, they have changed sides. When an insider turns into your enemy… for example, Arjun Singh – he was in TMC, he knows everything about the party.
Amra – Even when Arjun Singh was in TMC, he was accused of inciting riots.
Feroz – Some 20 of us are sitting in this room, right? If one of us exits the room now, he would know where we all are, isn't it? First Mukul Roy went – he was a grassroot leader. Then Shubhendu Adhikari.
Amra – Is he going to the BJP? Some 'new information' seems to be coming up everyday.
Feroz – Yes, he has been given the proposal of being the CM.
Amra – We also heard Sourav Ganguly's name for that.
Feroz – Shubhendu is different. He has a mass base.
Amra – Let's go back to the point where you said it was an accident.
Feroz – It was.
Amra – Whose shops were vandalized?
Feroz – Hindu shops. Hundred percent theirs. I won't lie.
Amra – Was there a face-to-face battle?
Feroz – No, it happened sporadically.
Amra – And that tarnished your name.
Feroz – Yes.
Amra – Hasn't your party asked you about the details?
(Feroz keeps silent for a while.)
Feroz – Yes, we have sorted it out.
Those who carried water
Goala Basti (cowherds' slum) is situated close to Paikpara. It comprises of 50-60 households, belonging to the Yadavs, who came from Bihar, and are connected to the businesses that deal with cattle and milk. When the riot spread its dark fire, they stood with 'water' in their hands. They stood with the Muslim families and fearlessly faced the rioters. We spoke to them in their cattle shed –
We met Krishna Kumar Yadav, about 55 years old. He is a man with a bold outlook and a strong voice. There were also others -- Mukesh Rai, aged 60 years, Dilip Yadav, aged 41 years.
Krishna – We are living here for 40-50 years. They are like our own relatives. Like Chacha, Bhatija, Bhai-Dada… (uncle, nephew, brother). The good and bad of our communities are intertwined. They help us when we face any problem and vice versa. This is what happens when you live as neighbours for a long time.
Amra – The Hindu rioters came this way on 12th May, to attack the Muslim neighbourhood. Many Muslim families, after their houses were vandalized, took shelter in the Haji Muhammad Mohsin School; even now, some of them are living there. Please tell us about that day.
Krishna – There were many rioters who came with weapons. We, the Yadavs, faced them and didn't let them enter.
Amra – How many of you were there?
Krishna – Some 50-60 households. Many are now at our native place, unable to come back due to the lockdown. Some 150 of us live here. We guarded the Muslims of our locality, that's it.
We have been here for some 100 years – we Yadavs. Our forefathers moved here. I myself have lived here since 1965.
Amra – Have you seen such riots before? What's your experience?
Krishna – We never saw a riot as severe as this. During our fathers' time, there were small incidents. My father and his friends managed to stop them. The caste and religious based discrimination never meant a thing to us. Nor is it a factor now. We believe in humanity.
Many of us have been born and brought up here. My birth may have not taken place here, but I grew up here, I studied here. Don't I have Muslim friends? Isn't that natural? Not all humans are the same. We believe ourselves to be friends of Lord Krishna, believing in love and harmony.
Amra – If the incident recurs…?
Krishna – We will stop them again.
Mukesh – We will stop them again. If it happens without us knowing, that's a different thing. But no riot can take place when we are on the watch. Each life is valuable, everyone has children in the house.
After this conversation, we go to the adjacent Muslim locality. Sheikh Ajmal (aged 30 years) seated us below a peepal tree. A few men were already there, sitting on a cot, talking amongst themselves. We spoke to a few community leaders and elders. Below is the summary of those conversation –
"Masiha hain ye log (These people are like gods born in human form). They saved us, they saved our women's honour, our children's childhoods. Krishna calls us Chacha, we were friends with his father. My friend will pray for him from heaven, for how Krishna saved us."
Amra (to Ajmal) – But Ajmal, this news has not at all come out in the media. We have only come to know about the violence and the fire.
Ajmal – To tell you the truth, no party has helped us here. Nor has the police. In many other places the Yadavs might have joined the riot, but here it has been different.
Amra – Why?
Ajmal – I call Krishna my elder brother. He is nothing short of that. We are always helping each other. The role of the TMC Muslim leader hasn't been fair in this area. Now many are trying to show as if they are working in support of the Muslims. But there have also been provocations.
Amra – And RSS?
Ajmal – RSS is very much present here, of course. How can there be such an organized attack otherwise?
Amra – But there are other regions where the Hindu and the Muslims have lived together, have shared their past. Why haven't they shown such solidarity?
An old man – Baat Krishna aur Nabi ka nahi hain beta, baat dusra hai (It is not a question of Krishna and the Prophet, my son, the matter is something else).
Amra – What's the matter then, Nana (Grandfather)?
Old man – Baat kursi ka hai (The matter is about the electoral seat).
Everyone begins to laugh. Our laughter shines in the afternoon sun.
(4)
Police, politics, and…
What was the exact role of the police in Telinipara? This question naturally kept appearing in our fact-finding journey. The people – irrespective of religion – stated the following:
1) The riot did not 'happen', it was 'allowed to happen'. The police may not have been obviously present, but their role as a facilitator in the background has been quite apparent. The police have remained unmoved, even when the rumours about coronavirus and Muslims were being spread through social media.
2) Though the police were aware that there could be a riot any day after 10th May, they did not take any precaution. The rioters arrived from Bhatpara, the Hindutva leaders gathered their goons - could all this have happened without the police's knowledge?
3) The police refused to take FIRs, forced people to file 'missing' charges instead of 'looting' or 'setting fire'.
4) An immense number of complaints have been submitted, stating that the police intervened with a communal bias. On 10th May, the shops of Hindu shopkeepers were vandalized, set on fire to, looted. Within two days, on 12th May, there was an organized 'revenge'. According to the common people, both the scripts have been written by the police. On 10th May, the Muslim rioters were made to win, on 12th May, the Hindu rioters were – both thanks to the police, administration and politicians. We have spoken to about 400 people in Telinipara's riot-affected areas between May and September. Those who made the above complaints, have been quite direct about it. We are changing the names in order to protect their identities.
(A) Conversation with a civic police
Civic police (CP) – That day it was raining, A phone call came from Telinipara with the information that the rioters had entered the region and were beating up people. I called our IG. He said that he was going to send a police force. After a while, I called him again to inform him that the force hadn't arrived yet. He asked me if I had others with me. I am Azharuddin (name changed). He asked two of us to go there, telling us that the force was already there. We went, but there was no force. The rioters were roaming around holding open swords – destroying shops, Scorpio cars.
Amra – Where was this?
CP – Line no. 9. We saw all this, and came back. Then I called Lala Bhai, Imam Uddin and Ali, and went there again. Then the rioters started fleeing. Slowly we started taking the people out of the debris. The next day nothing happened, but the day after, once again, the situation went hostile around noon. Once again I called the IG, from near that school.
Amra – When did the commotion take place in Line no. 9?
CP – On 10th, when the riot happened here, two people were grievously injured. Then on 12th, there was another riot. That day the Muslim households were set on fire.
I called my supervisors from near Ankur Nursing Home (I was posted there that day), but they didn't do anything. I called Boro Babu (OC), but he didn't pick up.
Amra – Is the Borobabu still on duty?
CP – No, he has been transferred. His name is Nandan Panigrahi. After this, I didn't try to call anyone anymore. It was the month of Roja. Some officials came on behalf of the Chairman – we explained everything to them.
Amra – What did you tell them?
CP – That the administration has not arrived. The public has seen it all. Municipality Chairman, Vice Chairman – none of them came. The Fire Brigade building is right next to the Nursing Home. It would have taken them a minute to arrive. But, they did not come. Water was not running. But, I won't blame the employee there. He is human too, he got stuck somewhere. Later, the pump house was opened and the line began to function. This was what I had told those officials from the DM's office. I told them that neither the Chairman nor the Vice Chairman came to our area. Arrangements were made for providing shelter to the riot-affected Muslim families from Line no. 9 – Nobody came to supervise even those. Some paid a visit four days after everything was over. They took a bit of an offence when I said all this. Imam Uddin's relative's house was being used as a shelter for the riot-affected people. The Vice Chairman called him and threatened him, "You people are creating a lot of drama!" Imam's brother told him, just because he was the Vice Chairman, he couldn't say whatever came to his mind. This was reported to the DSP. Later we were called to the police station and reprimanded; they told us, being part of the administration, we should not have made such comments. I admitted that we were part of the administration, but I also emphasized that they must be just, not unfairly judgmental.
We were both transferred for raising these questions.
Amra – Where to?
CP – For now, Chandannagar.
(B) Amra fact finding team: threat, detention, and the Telinipara warriors
It was 10th June, literally a month after the communal violence in Telinipara. We had gone there to speak to the affected people. We started out from the Faiz Ahmad Faiz School. Some of the riot-affected Muslim families had taken shelter there.
It was about 1:30pm. Faruk-Ul-Islam and Shubhankar Sengupta – two members of the fact-finding team – were standing near Paqeeza in F. G. Street, Telinipara. They were trying to understand more about the riot, about the helplessness of the individuals. Suddenly the police arrived. A team of 10-12 policemen under IC Kaushik Kumar Banerjee, Bhadreswar police station, surrounded them and began to ask, "Why are you taking photos here? Why are you talking to them?" Faruk asked, "Can't we even talk to people? It's not like Section 144 has been implemented here." The IC replied, "Come with us to the police station." Faruk and Shubhankar were taken to the police station. On hearing that, Shubha Pratim Roychoudhury and Amitabha Sengupta – two other members of the team – reached the police station as well.
After waiting for one and half hours, we were summoned to the Telinipara Outpost In-Charge Atanu Maji's office. Among the present officials, there were IC Kaushik Kumar Banerjee, Bhadreswar police station and IPS Palash Chandra Dhali, DSP, Chandannagar Police Commissionerate. A so-called interrogation began. The conversation is being presented here under the name of the respective speakers.
Kaushik – How many of you were there?
Shubha Pratim – Four of us.
Kaushik – What do you mean by four? There were more people. We saw at least two more people.
Shubha Pratim – No, it was four of us. A local person was just showing us around.
Kaushik – Where were you?
Shubha Pratim and Amitabha – We came later. We were in the Faiz Ahmad Faiz Urdu High School.
Kaushik (pointing at Shubhankar) – There, two more people were with you.
Shubhankar – No, only the boy whose house we were visiting. The boy was wearing spectacles – he was showing us around.
Palash Chandra – How many members of your team were present there?
Shubhankar – Four.
Palash Chandra – All four are present here?
Shubhankar – Yes
Palash Chandra – Why are you here? Who are you?
Shubha Pratim – We are associated with a group of researchers.
Palash Chandra (asking for papers) – What proof do you have?
Shubha Pratim – We are not carrying any papers. We can send you papers by email though. We came here, as the Math teacher of the Faiz Ahmad School, informed us that there were some issues in this area. Some people are not getting enough food. Some other issues as well… If we could come…
Palash Chandra – Listen to me.
Shubha Pratim – Yes, please go ahead.
Palash Chandra – You have come here knowing what the situation is?
Shubha Pratim – Section 144 hasn't been implemented here.
Kaushik – So what?
Palash Chandra – You're such strange people!
Kaushik – You are outsiders. How do we know whether you have come to provoke people or not?
Shubha Pratim – Then you have to know what we do. There is no question of provocation.
Kaushik – Just because there is no 144, can you outsiders simply enter this area?
Shubha Pratim – We don't know how you define "outsiders." We are not outsiders. We belong here.
Kaushik – Where have you come from?
Shubha Pratim – Some of us are from Shrirampur, some from Chandannagar. Some are from other districts.
Kaushik – So none of you are from Bhadreswar or Telinipara.
Palash Chandra – What's the basis for your visit?
Shubha Pratim – As I told you, we came here as a group of researchers. We work on peace.
Palash Chandra – You can't just claim anything.
Shubha Pratim – Then you must get to know our work.
Palash Chandra – Do you have any identity card?
Shubha Pratim – Yes. (Shows the cards)
Palash – Is this an NGO?
Shubha Pratim – It is an international human rights association.
Palash Chandra – You must answer each of my questions directly.
Shubha Pratim – That's what I did.
Palash Chandra (loudly) – Just listen to me, okay? Tell us only what's asked. I don't like it.
Shubha Pratim – That's up to you. As I told you, Front Line Defender is an international association, just like Amnesty International.
Palash Chandra (After the cards are checked) – Okay. Now tell us the reason behind your visit.
Shubha Pratim – I told you. Ours is a research group. We came to this school to see how the riot has affected the people. We came here to see if we could do something to help. We have also visited the Amphan affected areas. Two of them (pointing at Faruk and Amitabha) went there to help the victims of Amphan. He (pointing at Amitabha) is a university professor.
Here too, we are trying to understand how badly people have been affected. They are being fed twice a day in the camps, but there are other needs. Many have no spare clothes, many need medicines. Some people were planning a medical camp, but it would cause people to gather, which is problematic right now. It has to be allowed by the administration. We were talking about all this.
Palash Chandra – What's the point of talking about all this? Shubha Pratim Babu, what's your purpose?
Shubha Pratim – I already told you a few times, we wish to understand their problems by talking to them. This is what we do. Such as understanding the need for the medical camp, providing salwar kameez to the women etc.
Amitabha – If you look at our reports, you will understand what we do. We do not go around provoking people.
Palash Chandra – What is the proof that you're not lying? Look you're not stupid, nor am I. This is a sensitive issue. Group theaters come here to create rumours. We have already filed 17 cases against such groups, under the charge of 'spreading of false information'. Many people have complained about it and we have taken the necessary steps. It is not an area where relief work like Amphan-affected areas can be done. It is an extremely communally sensitive area. It has remained sensitive for ages. Then you come here and claim that there is no Section 144 implemented. This is a mistake on your part. If coming here was such a non-issue, then we wouldn't have been posted here for a month.
This is why I'm asking again, why have you come here? What if you send these photos somewhere!
Amitabha – We are not a media team.
Shubha Pratim – We are already running a medical camp for the riot-affected people in Bhatpara, with the help of Durbar Mahila Samanway Committee, Kolkata. Although now it has stopped due to lockdown. We have done it with the due permission of the administration.
Palash Chandra – Look it's different here. Did it not pass your mind that there could be a need to take permission from the police station?
Shubha Pratim – Since Section 144 hasn't been implemented here, we didn't think about it.
Amitabha – If we had decided to stay relief work here, we would have come to you.
Palash Chandra – You have entered this area, but did not care to inform the police that you would like to make some inquiries. You didn't even think about it once?
Shubha Pratim – You see, when people are calling us for help…
Palash Chandra – Like I told you, we were requested by a school-teacher, who is also a social worker in this area, trying to help the affected people. Even if you don't know us, others know about us, since we work on communal harmony.
Palash Chandra – You didn't bother to inform the police! You don't know how much danger you have got yourself in. (Loudly) I'm trying to help you.
Shubha Pratim – Thanks for that.
Palash Chandra – Don't try to justify.
Shubha Pratim – No, we didn't justify ourselves. We were just doing our duty.
Palash Chandra – The 18th case will be in your name.
Shubha Pratim (smiling) – You can surely do that.
Palash Chandra – This is for your own good, and you are talking back to me! We'll file a case in your name. You've come to investigate here! You have taken photos, talked to the people! We'll show you what we can do. You know what we can do, don't you? We'll file cases.
Shubha Pratim – We have made our statement. Now it's up to you to do what you want to do.
(After sometime)
Palash Chandra – What do you think? Since you work on human rights, you can do whatever you want? You can just pick up a camera…
Kaushik – Do you have approval from NHRC?
Shubha Pratim – What's that?
Kaushik – Approval from the State Human Rights.
Shubha Pratim – We inform the NHRC if we get to know about violation of human rights.
Palash Chandra – Anybody can do that.
Shubha Pratim – That's correct.
Kaushik – Do you have any affiliation provided by the NHRC?
Shubha Pratim – There is no such affiliation. We are a registered body, we work on human rights, do field research and such. We work on peace.
Amitabha – We are a registered body.
Kaushik – You're a registered organization?
Amitabha – Of course.
Palash Chandra (in a rough voice) – If you want to get inside an area where some commotion has happened, you are supposed to ask for permission from the local authority.
Kaushik – For taking photos as well. Any person needs to take permission for that.
Shubhankar – We're not media.
Kaushik – Then why were you taking photos? Even the media needs to take permission. Why were you taking photos? What is the purpose of this video?
Shubha Pratim – Since we were talking to people, we were recording it. That's the purpose.
Shubhankar – He was showing that the shop had been vandalized. Before we could complete our shooting, you arrived.
Kaushik – We wish to see what you've shot.
Shubhankar – Sure.
Kaushik – What was the purpose of taking photos?
Shubhankar – Look, I'm a freelance photographer. I've come with this group.
Kaushik – What research?
Shubhankar – We have already explained what the research is about. We were thinking about conducting some relief work after talking to the local people. The photos were taken for the same purpose.
Kaushik – Relief for what?
Shubhankar – That too has already been mentioned. (Pointing at Shubha Pratim) He has explained.
Kaushik – What's your purpose? What do you want to do?
Amitabha – We want to conduct a medical camp.
Kaushik – How is that possible at this point?
Amitabha – Yes, if we decide to do it, we'll take permission from the administration. We also wish to provide clothes [to the riot-affected people]. We have brought some clothes.
Kaushik – For doing all of that, you'll need to take permission from the local police station. But, I'm still unable to understand why you came today.
Faruk – We have explained many times.
Kaushik – You came and spoke to just one category of people.
Shubha Pratim and Faruk – No, we wish to speak to all the people, and we have done that.
Shubha Pratim – Shastri School, where the riot…
Kaushik – A crowd was assembling because of your presence, social distancing was being violated, a social gathering was taking place. We will file a case in your name for violating lockdown.
Shubha Pratim – Please go ahead.
Palash Chandra – (At Kaushik Babu) Take their details. (At Shubha Pratim) How many cameras do you have?
Shubhankar – There are cameras, but no photos. We hadn't even started taking photos. Just when I took the camera out, you stopped us.
(The memory disk was taken out of a camera and checked by Palash Babu in a laptop.)
Shubha Pratim – Who will take our details?
(Palash Babu calls someone named Tapa loudly, and instructs him to take our cards. Then the two of them left us and went out. After a while, they both came back and began to take our details. Amitabha informed me that he taught in a college and such. After this phase was over, Kaushik Babu told us to sit outside his chamber, and wait for the local in-charge, Atanu Maji, to get back to us to provide further instructions. Atanu Maji came after another ten minutes.)
Atanu Maji: We have come to know who you are. Several phone calls came to us about you. This is a routine that we must maintain.
AAMRA: Understood. But making us wait for such a long time amounts to stopping us from doing our work. We have the right to talk to people, right?
Atanu Maji: Yes, I understand. Let me know if you need any help.
AAMRA: Thanks. May we go now?
Atanu Maji: Yes.
Next day, 11th June, 2020, we lodged a complaint against the illegal detention and threat of arrest in the Telinipara police station. We stated that the claim made by the police about the necessity to take permission for going to that area had no legal basis. We wished to continue our field research in order to understand what had happened in that area, as per our organization's policy, and we stated that we should be able to do that without any hassle or harassment. The statement also demanded that legal steps be taken against the corresponding police officers.
On 13th June, 2020, a complaint was lodged to NHRC on behalf of Amra, petitioning to penalize the accused police officers appropriately, and also demanding formal apologies from the accused police officers, to the human rights activists. NHRC accepted this letter (DIARY NUMBER- 7817/IN/2020).
…………………………………………………………………………………
Fact Finding Report on Telinipara Communal Violence (2020): Riot-Victims Shelter Camps
The communal violence in Telinipara in Hooghly district of West Bengal occurred amidst the raging pandemic during the lockdown in early May 2020. Everyone knows there were unrest, conflict and communal violence. But what had actually happened in Telinipara? What triggered the violence, and what are its immediate and far-reaching effects? This is the second report by AAMRA— a study group on Conflict and Coexistence, of their post-RamNavami riots in West Bengal. The English version of the first report on Bhatpara was published in Ground Xero in six parts. We are now publishing the full report on conflict and violence in Telinipara in parts. This is the sixth part of the fact finding report.
Fact Finding Report on Telinipara, 2020
What we had lost on the riverside.
(a) The jute mill neighbours
On behalf of Amra, Ek Socheton Proyas, we noticed a huge demographic diversity in this area: the regional Hindi-speaking (Kurmali, Bhojpuri etc.) poor communities in the area adjacent to Victoria or Gondalpara jute mill, traditionally Urdu-speaking (now Hindi-speaking) Muslims, or poor Hindi-Urdu-speaking Muslims, Hindi-speaking Goala (cow herding communities) associated with cattle sheds, both Hindus and Muslims workers engaged in tailoring or other odd non-permanent jobs. Most of them have lived here for more than three generations. Strangely enough, the locals categorize themselves as Hindus, Muslims and Bangalis. The educated, job-holding middle-class Bangla-speakers, who reside outside the working-class neighbourhoods, are termed as Bangalis. They have remained somewhat segregated from the Hindi-speaking Dalit Hindus. The understanding of the backdrop behind the riot in this area will remain incomplete if the population and cultural differences are not studied deeply.
The localities along the Hooghly river bank, such as Chandannagar, Bhadreshwar, Champdani, Rishra, Srirampur, Baidyabati etc., were politically and culturally heavily influenced by the merchants from Holland, Greece, Germany, France and Portugal, the Dinemar (merchants from Denmark became Dinemar in the local accent) and the merchants in the British East India Company. During the Muslim rule in Bengal, a large number of Non-Bengali Muslims began to live first in Bhadreswar and then other places around it. Both before and after independence, the economic power in these areas was slowly grabbed by the Sahus, Tiwaris and Agarwalas. The jute mills depended, to a large extent, on the jute farming in the undivided Nadia-Murshidabad region, and the convenience of carrying the raw material through the waterways. It was the poor and dalit communities from the neighbouring states who became employed as mill workers, and the mills in the riverbanks became surrounded by workers' slums – what is now called 'line'. In this context, it is relevant to mention that George Auckland built the first jute mill in Bengal in Champdani (in 1872, according to Omali, Hooghly District Gazetteer) or Rishra (in 1855, according to Sudhir Kumar Mitra, Hooghly Jelar Itihas O Bongosomaj, 1948). What we have heard during our fact finding is that, the four jute mills where the workers in the riot-affected area are employed are Angus, Bhadreswar, Victoria and Gondalpara.
But in our recent fact finding following the unrest, 'Amra' saw that neither the workers' unions nor the Bhadreswar municipality pay any attention to the minimum necessities in these slums. The unions are only concerned about layoff, retrenchment, wage increment, and other such economic demands. Whereas, the slum-dweller workers – irrespective of religion – keep suffering from scarcity of drinking water and severe health issues, which heavily affect their everyday lives, these issues remain unaddressed by any civic bodies. The local statistics reveal how frequently the waterborne or viral contagious diseases have spread in this area. When we spoke about renovating the Ghats for crossing the river, a few recent accidents were mentioned as well.
Few thoughts, few questions
1) The first question is, is riot a novel phenomenon in Chandannagar-Bhadreswar-Champdani? The answer is negative. A local colleague working in 'Amra' informed us that in his early youth, he had experienced 4 months of curfew due to a riot that had taken place in the area in 2005. Likewise, a retired state government employee remembered that after a riot during the United Front's rule, CM Jyoti Basu had ordered 'shoot on site'. Therefore, it is clear that there is a history of riots in the Chadannagore-Bhadreswar-Champdani area.
2) As for Telinipara, the question that needs to be asked now is this: though the riot started there, it was spread, although in a sporadic manner, to Chandannagar Urdibazar and other areas in Bhadreswar; so should this be at all called 'Telinipara danga' (Telinipara riot)? In fact, should it be called a danga (riot) at all? As a team, we have stuck to the commonly used terms. But there has been almost no direct confrontation between the two communities. Murder and sexual assault – the two universal characteristics of a riot – have not taken place. However, severe vandalization, fire, damage of property, intimidation and creating an atmosphere of fear with the purpose of mass eviction – these have indeed been the features of this commotion. We have documented the physical injuries, but have not been able to verify that 'many people have been injured'.
3) Houses and shops have been burnt selectively. The Hindu families in Rajabazar or the Muslim families in Dinemardanga are both convinced that the other community want to evict them – so the riot might commence all over again, any day. Though they have experienced somewhat similar incidents in the past, the Muslim families told us that they had not seen such well-planned and organized attacks before.
In the recent past, communal issues have increased in number in West Bengal. 'Amra' has engaged in deep investigation from Kaliachak to Dhulagarh, Basirhat to Raniganj-Asansol, or very recently in Bhatpara-Telinipara. If one tries to look for a pattern in the West Bengal riots, the recurring motif seems to be the revival of a political and politicized religion, which is not different from what has been happening in the entire nation in the past decade. 'Amra' summarizes it as 'Hindu became more Hindu, Muslim became more Muslim'. Telinipara shows a similar development. The jute mill oriented economy, along the bank of the Hooghly River, is not new to riots. Dalit Hindus and poor Muslims have lived side by side, with their 'differences', their mutual intolerance did sometimes turn into instances of unrest, but they have settled down, in due course, to the hand-to-mouth existence that they led.
This time, though, a continuous political provocation has played an important role, and 'Amra' is seeing it as accompanied by a cultural change as well. The rationale that once promoted cohabiting is losing its ground to the rationale that promotes intolerance. The oral complaints documented by 'Amra', the images of commotion and losses shared in the social media, the statements made by the political leaders – these repeatedly remind us that almost a similar incident took place a year back in Bhatpara, Naihati, on the opposite bank of the river. Outsiders carrying weapons, selectively burning and looting shops and houses, organizing attacks, setting fire, the police and fire brigade being kept at a hold through political intervention, not attempting to stop the riot, the administration itself dividing informally in various political camps – these make one worried that further unrest might be on the table before the upcoming Vidhan Sabha election.
Just as in Basirhat, the extreme Hindutva organizations were actively working among and provoking Namasudras and Paundra Kshatriyas, seeds of hatred have been planted within the Hindi-speaking Dalit Hindus in Bhatpara and Telinipara. Even during the Raniganj-Asansol fact finding, the members of both the communities pointed fingers at 'organized provocation' around Ramnavmi. They stated that they had seen the Ramnavmi celebrations and processions for years, and have indeed interpreted them as natural religious expressions, but the way the festival has changed its form in recent times, had scared them. 'Amra' has noted that loot, arson, eviction of the other community – these are becoming increasingly frequent. Making these small riots happen in various parts of the state is part of a larger organized plan.
The victims in Telinipara have told 'Amra' that after this riot, they felt, "We have lived here all these years, but perhaps we cannot go on; we may have to really leave now." Leave and go where? They do not have an answer. 'Amra' has felt that eviction is not the primary purpose behind these riots though; the long-term purpose is to convert a scared community into 'second-class citizens', who would gradually lose their voices. It is precisely this confidence that the fundamentalist religion tries to instil in its followers in an organized manner, thus drowning the unemployed youth in an addiction of riots. Many of the young men have the neo-religious songs about Ram jingling as the ringtone on their cell-phones. In Telinipara as well, this was precisely what has happened with the youth, and it has happened in an organized manner.
(b) Social (also socio-psychological) and political (also administrative) signs
1) The wall that has now come up, thus, is wide and strong. Relief camps were organized in the riot-affected Paikapara region. Many victims from both the communities came there. Several other initiatives were also taken in order to understand the feelings of the two communities, to bridge the gap. One can say that it will not be easy to demolish the wall just yet.
2) The communal unrest took place during these dark days of lockdown and pandemic. This will remain as a bloody example of how the coronavirus was used for communal purposes. The Bangla-speaking people engaging with the politics of religious polarization, the increase of communal mentality in the workers' slums, the void within trade union movements – these are the various indicators that we must note.
3) The local TMC leadership is divided between Hindus and Muslims. The Hindu leaders are campaigning in support of the Hindus and the Muslim leaders, in support of the Muslims, and hence are taking direct part in the process of dividing people in the violence. More than the formal, organization presence of RSS in the area, the social and cultural presence of Hindutva as a philosophy, has made matters far more complicated. The RSS-ized intelligence could be felt behind the organized attacks, the use of social media and such, making us feel, as if Telinipara is sitting on a time-bomb.
4) The role of the two BJP MLAs in the regions, situated on the two banks of the river Ganga, is clear beyond any suspicion. Yet, no legal steps have been taken against them. As for the accused TMC councilor, the party has not even called for an internal inquiry, rest aside anything else. No use of the laws against cyber-crimes related to hate speech on social media has been deployed. However, internet was disconnected for a fortnight in the area.
5) It is beyond any doubt that the administration allowed this 'riot' to happen. Riots have become necessary before the 2021 election, for the purpose of communal polarization. And this is the nature of the present we are living through.
6) For the last four years, the two banks of the Hooghly river (and the rest of the state) are experiencing an increasing number of religious celebrations and pujas under governmental patronage. These large scale, extremely glittery celebrations reveal the other face of the revival of a political and politicized religion. In an area, inhabited by a mixed, diverse crowd, the communities are indeed engaged in a bizarre sort of competition. It is as if, all the gunpowder has already been gathered. Just one matchstick would do the final worl.
6) The Hindi belt begins in the west of West Bengal and ends in Rajasthan. Hindutva has almost entirely polarized the society living in this immense area. In the east lies Bangladesh – the polarization project of the Shariyati Islam is almost complete there as well. Thus, West Bengal has increasingly become dotted with signs of polarization. If the society is thus won over by political and politicized religious philosophies, the battle for a more secular and democratic society might be as good as lost.
……………………………………………………………………………………………..........................................................


Annexure
1)
Aamra Ek Sachetan Prayas
Thu, Jun 11, 4:27 PM
to cp.cpc-wb, wb.homesecy
To
Date-11.06.2020
The Commissioner
Chandannagar Police Commissionerate
Chandannagar, Hooghly.
Subject: Police excess committed in Telinipara upon Human rights activists.
Dear Sir,
On behalf of AAMRA EK SACHETAN PRAYAS FORUM (an organization working on conflict resolution and civil rights), we are drawing your urgent attention and to take prompt and needful action as on the following facts as we were wrongfully restrained in police Outpost at Telinipara under Bhadreswar Police Station for several hours on 10 June, 2020 by the Officer-in-charge of the said Police station under your Commissonerate.
Since our inception of the organisation, we have been working as a research group on Conflict and peace study by way of documentation, analyzing and publishing reports and acting as peace volunteers by initiating peace process. We are also providing support and aid to the victims on humanitarian ground according to our organizational capacity.
Under the continuation of our work, we went to Telinipara on 10.6.2020 and met the victims living in the camp from both communities who were affected by recent communal violence. They took shelter in Faiz Ahmed Faiz Urdu High School, Haji Muhammad Mohosin Primary School and Gondolpara Sastri Hindi School. We met some of them and also with some individuals of the area. The people we met, by and large, requested us to provide them support like arranging Medical camps, awareness programs on health, providing garments etc. We assured them that we would try to arrange and fulfill their requirement with our resources and take help from other friendly right based organizations and also after getting permission from administration, if required. When we were discussing with one victim in his house near Pakija, FG Street, Telinipara, some Police personnel appeared there and asked two of our colleagues, Faruque Ul Islam and Suvankar Sengupta about their purpose of visit. Our colleagues replied that we were talking with the victims as they requested us, to assess their loss, damages and allied problems. Kaushik Kumar Banerjee, Inspector-in-Charge, Bhadreswar Police Station asked them why they came there and why they were taking photographs. Our fact-finding team replied that they were free to come there as there was no prohibiting order under section 144 of Cr.P.C. then, and politely informed the police that they came to the place to discharge their duties as a right based organization and to function as a social research group. But the police took our team to Telinipara Outpost at about 1.58 p.m. After getting information about such development, two other members of our organization, Subha Protim Roy Chowdhury and Amitava Sen Gupta who was at that time at Faiz Ahmed Faiz Urdu High School went to said Police Outpost. All members of our team were made to sit in the police station for One hour without any call from a deputy Police officer.
Finally, at about 3.20 pm, two police officers interrogated us. One of them was Kaushik Kumar Banerjee, IC, Bhadreswar Police Station. They accused us alleging that though section144 was not imposed there, our entry was illegal and we should have taken permission from the Police Station before entry, we were also accused of doing illegal work by talking with the people and also blamed us of instigating the people. All these allegations were without any substance and our organization went there for purely benevolent and research purposes. We repeatedly disclosed our purpose of visit and also told the police officers that it is our fundamental right to enjoy free movement anywhere within the country and to meet anyone unless prohibited by law. The second officer of the outpost told us aggressively that he could arrest us by six or more than six charges. Both officers threatened us repeatedly. They took possession of our camera and through their laptop scanned it several times by infringing out right to privacy. They noted down our names, addresses and other personal details which we shared merrily and after 40 minutes we were told that we could leave this outpost when the officer in charge of said outpost would give consent. Finally, Mr. Atanu Maji, officer in charge of Telinipara Outpost permitted us to leave the police outpost.
Entire incident was unfortunate and we visited the concerned area a number of times and the local people have confidence in our organisation. Whisking our team to the police station from the spot with mere allegation of talking to the affected people is purely against the spirit of law and gross violation of human rights. We, being the citizens of a free country, can move anywhere and can talk to any people of our choice and are eligible to probe into the problem of the people. The interference by the police officers in this manner, interrogating us and threatening us to rope in police cases, and being detained in a police outpost for hours are blatant attacks on our personal life and liberty. Our democratic state does not permit such police action.
It is an absolutely illegal demand of the police to seek permission from them for every visit to the area by our organisation. We have been conducting our research work in said area with different civil liberty groups for long and the police interference is absolutely unwarranted.
Hence, you are requested to look into the matter and take appropriate steps against the concerned police officers and ensure our organizational right to work freely in the area as a registered research group and we earnestly desire to continue our work in Telinipara and other areas.
Thanks and regards.
Mohit Ranadip
Subha Protim Roy Chowdhury
Directors, AAMRA EK SACHETAN PRAYAS FORUM
(An Assemblage of Movement Research and Appraisal)
2)
মুখ্যমন্ত্রী, পশ্চিমবঙ্গ,
নবান্ন, হাওড়া
মাননীয়া,
লকডাউন পর্বে অধিকাররক্ষাকর্মীদের ওপর আক্রমণের প্রতিকার চেয়ে দাবীসনদ
পশ্চিমবঙ্গের বিভিন্ন গণসংগঠন যারা মানুষের অধিকার আন্দোলনের সঙ্গে যুক্ত আজ সারা রাজ্যে অধিকাররক্ষাকর্মীদের ওপর লকডাউন পর্বে নেমে আসা আক্রমণের প্রেক্ষিতে নিম্নবর্ণীত দাবীসনদ পেশ করছে।পরিযায়ী শ্রমিক, আমপানে ক্ষতিগ্রস্ত, সাম্প্রদায়িক দাঙ্গায় ক্ষতিগ্রস্ত মানুষদের পাশে দাঁড়াতে, তাঁদের নায্য দাবী তুলে ধরতে গিয়ে আজ অধিকাররক্ষাকর্মীরা প্রশাসন ও শাসকদলের আক্রমণের শিকার। এখানে গত ২৩মার্চ, ২০২০ থেকে বলবৎ লকডাউন পর্ব হতে ঘটে যাওয়া মানবাধিকারকর্মীদের ওপর আক্রমণের কয়েকটি ঘটনার উল্লেখ রাখা হল।
২৩মে, ২০২০ জল ও বিদ্যুতের দাবীতে দক্ষিণ ২৪পরগণার সোনারপুর বিডিও অফিসে বিক্ষোভ দেখচ্ছিলেন স্থানীয় মানুষ। বিডিও পুলিশ ডাকেন, পুলিশ এসে বেধড়ক পেটাতে শুরু করে। উপস্থিত জনতা প্রতিরোধ করলে পুলিশি আক্রমণের তীব্রতা বৃদ্ধি পায়। র্যাপিড অ্যাকশান ফোর্সের জওয়ানরা ও পুলিশ বাড়ি বাড়ি ঢুকে মহিলাদেরও মারধর করে।মানবাধিকার সংগঠন, এপিডিআর-এরকর্মী সরোজ বসুর বাড়ি বিডিও অফিসের কাছে। তিনি এবং এলাকার অন্যান্য কয়েক জন বয়স্ক মানুষ পুলিশের মারধোরে আপত্তি জানিয়ে কথা বলতে গেলে পুলিশ তাদেরই ধরে সোনারপুর থানায় নিয়ে যায়। সেখানে মারাত্মক কয়েকটি ধারা, (যেমন ভারতীয় দণ্ডবিধির ১৮৬/৩৪১/৩২৩/৩৫৩/৩৬৭/৪২৭/৩৪ এবং ওয়েস্ট বেঙ্গল মেন্টিনেন্স অফ পাবলিক অর্ডার অ্যাক্ট, প্রিভেনশান অফ ড্যামেজ টু পাবলিক প্রোপার্টি অ্যাক্ট) দিয়ে তাঁদের (মোট১১জন) গ্রেফতার করা হয়।পরে কোর্টে তুললে কোর্ট-এর রায়ে তাঁদের ১৪ দিনের জন্য জেল হয়।গত ৫ জুন তাঁদের জামিন হয়।
গত ১০জুন, ২০২০ হুগলী জেলার তেলেনিপাড়ায় ক্ষেত্রগবেষণা এবং অধিকার সংগঠন, 'আমরা, এক সচেতন প্রয়াস'-এর চারজন সদস্যকে দুইঘণ্টার অধিক সময় ভদ্রেশ্বর থানার অধীন তেলেনিপাড়া ফাঁড়িতে আটক করে রাখা হয়। এলাকায় ১৪৪ ধারা না থাকায় তাঁরা এসেছিলেন এবং সাম্প্রতিক সাম্প্রদায়িক দাঙ্গায় ক্ষতিগ্রস্ত মানুষজনের সঙ্গে কথা বলছিলেন। দাঙ্গায় ক্ষতিগ্রস্ত মানুষজন আশ্রয় নিয়েছিলেন একাধিক সরকারি বিদ্যালয়ে, তাঁরা সেখানে গিয়েছিলেন।ভদ্রেশ্বর থানার আইসি, কৌশিক কুমার ব্যানার্জি এবং একজন আইপিএস পুলিশ আধিকারিক তাঁদের গ্রেফতারের হুমকিও দেয়।মানুষের সঙ্গে কথা বলার অধিকার নিয়েও প্রশ্ন তোলেন। 'আমরা'র পক্ষ হতে তাঁদের জানানো হয় 'এখানের মানুষ লকডাউন, দাঙ্গা এবং আমপান-ত্রিবিধ আক্রমণে ক্ষতিগ্রস্ত, আমরা তাঁদের পাশে দাঁড়াতে চাইছি'। উত্তরে উক্ত পুলিশ আধিকারিক বলেন, ত্রাণের জন্য অনুমতি নিতে হবে এবং ত্রাণ সামগ্রী থানায় জমা দিতে হবে। 'আমরা'-র পক্ষ থেকে সমস্ত ঘটনা সবিস্তারে জানিয়ে এবং নিরপেক্ষ তদন্তের দাবী জানিয়ে জাতীয় মানবাধিকার কমিশনে অভিযোগ দায়ের করা হয়।
গত ১১ জুন, ২০২০ সকালে মুর্শিদাবাদে পুলিশি জুলুমের শিকার হন অধিকাররক্ষাকর্মীরা। সমস্ত রাজনৈতিক, মানবাধিকার, সমাজকর্মীদের নিঃশর্ত মুক্তি, সোনারপুরে সরোজ বসু সহ ১১ জনের উপর থেকে সমস্ত অভিযোগ প্রত্যাহারের দাবীতে; নিভৃতবাসে আটক ব্যক্তিদের পর্যাপ্ত জল ও খাবার সরবরাহের পক্ষে জনমত গঠনের উদ্দেশ্যে এপিডিআর, বহরমপুর শাখা সভার আয়োজন করে। লকডাউন বিধি মেনে দশজন অধিকাররক্ষাকর্মী নাক মুখ চাপা দিয়ে, আন্তব্যবধান বজায় রেখে সভা শুরু হয়। টোটোতে পতাকা ও মাইকের যন্ত্র রেখে সভা হচ্ছিল বহরমপুরের কান্দি বাস স্ট্যান্ডে। মিটিং শুরুর সময় পুলিশ প্রচুর ঝামেলা করে। বলে সভা করা যাবে না। মিটিং শেষ হতেই রাস্তা থেকে টোটো 'সিজ' করে বহরমপুর থানায় নিয়ে যায় পুলিশ।সন্ধায় ছাড়ে বহু ঝামেলার পর।
২২ জুন সোমবার বিকেলে ধর্মতলার লিন্ডসে স্ট্রিটে জড়ো হন 'জনগণমন'-এর কর্মীরা; উদ্দেশ্য গান গেয়ে, আমফান বিষয়ক পথনাটক করে পথচলতি মানুষের কাছ থেকে চাঁদা তোলা।উল্লেখ্য আমফান-ত্রাণের জন্য রাস্তায় নেমে চাঁদা তোলার কর্মসূচি নিয়েছে 'জনগণমন'। লকডাউন পরবর্তী আনলক পর্বের যাবতীয় নিয়ম মেনে, শারীরিক দূরত্ব বজায় রেখেই কর্মসূচির পরিকল্পনা করা হয়। কিন্তু, সে সব শুরু করার আগেই নিউমার্কেট থানার সেকেন্ড অফিসার ত্রিদিব চট্টোপাধ্যায়ের নেতৃত্বে পুলিশ বাহিনী এসে কাজে বাধা দেয়। জানানো হয়, কলকাতা পুলিশের অনুমতি ছাড়া রাস্তায় দাঁড়িয়ে কোনও সাংস্কৃতিক কর্মকাণ্ডও চলবেনা; শারীরিক দূরত্ব বজায় রেখেও নয়। নিরুপায় হয়ে 'জনগণমন'-এর তরফে পথনাটক ও আমফান-ত্রাণের চাঁদা সংগ্রহ স্থগিত রাখার সিদ্ধান্ত নেওয়া হয়।
প্রসঙ্গত, ২২জুন, ২০২০-এই তারিখেই রাজ্যের দুই জেলায় দু'টি পৃথক ঘটনায় আমফান-ত্রাণ প্রদানকারী স্বেচ্ছাসেবীদের ওপর হামলা ও পুলিশি ধরপাকড়ের ঘটনা ঘটেছে। উঃ২৪ পরগনার দেগঙ্গায়, প্রতিবাদী ছাত্রছাত্রীদের নেতৃত্বে সেদিন বিডিও অফিসে অবস্থান করেছিল ১৩টি পঞ্চায়েতের ক্ষতিগ্রস্ত সাধারণ মানুষ। দাবি ছিল, ত্রাণ-দুর্নীতি বন্ধ করা ও একশো দিনের কাজ। বিকেলে তাঁদের ওপর ব্যাপক হামলা চলে। অভিযোগ, হামলা চালায় এলাকায় ক্ষমতাসীন তৃণমূল কংগ্রেসের মদতপুষ্ট দুষ্কৃতীরা। অভিযুক্ত শাসকদলের দুষ্কৃতিদের বিরুদ্ধে আইনানুগ ব্যবস্থানা নিয়ে উল্টে ১৪ জন আক্রান্ত ছাত্রছাত্রী-গ্রামবাসীদেরই গ্রেফতার করে পুলিশ।
দেগঙ্গার গ্রামে গ্রামে শাসকদলের নেতারা সেদিনের মিছিলে আসা মানুষজনের উপরে নানা ধরনের অত্যাচার শুরু করে।দমদম জেলে বন্দি আছেন যাঁরা তাদের সঙ্গে বাড়ির লোকজনকে দেখা করতে দেওয়া হয়নি। পুলিশ লকআপে থাকা আন্দোলনের অন্যতম সংগঠক জুবি সাহা এবং শাওনকে জেরার নামে নানা মানসিক অত্যাচার চালানো হচ্ছে।বাড়িতে রেইড করে বইপত্র ল্যাপটপ ইত্যাদি তুলে নিয়ে যাওয়া হয়েছে।২৮ জুন তাঁদের জামিন হয়।
অন্য ঘটনা পূর্বমেদিনীপুর জেলার চণ্ডীপুর থানা এলাকার। ২২ জুন ২০২০ সেখানে ত্রাণ বণ্টন করতে যায় 'আরএসএফ' ছাত্রগোষ্ঠীর ছাত্রছাত্রীরা। স্থানীয় তৃণমূল কংগ্রেস দলের পঞ্চায়েত প্রধানের সঙ্গে বিবাদ হয়। একাধিক ছাত্রকে আটক করে পুলিশ।
উপরিউক্ত ঘটনাগুলি প্রমাণ করে পশ্চিমবঙ্গে এইসময়ে অধিকারকর্মীদের কিভাবে পুলিশি হয়রানি করা হচ্ছে, হুমকি দেওয়া হচ্ছে, বেআইনি আটক করা হচ্ছে, মিথ্যা মামালায় ফাঁসানো হচ্ছে। কিভাবে রাজ্যের শাসকদলের মদতপুষ্ট দুষ্কৃতিরা বাধা দিচ্ছে ত্রাণকাজে, কিভাবে তারা পুলিশের মদত পাচ্ছে।তথ্যায়নের কাজে, ত্রাণের কাজে, ন্যায়সঙ্গত গণ আন্দোলনের জন্য এই হেনস্থা, জেল, লকআপ প্রাপ্য তাঁদের নয়।
ভারতের সংবিধান প্রদত্ত মৌলিক অধিকার রক্ষায় অধিকাররক্ষাকর্মীরা কাজ করে চলেছে।আন্তর্জাতিক মানবাধিকার ঘোষণাপত্র অনুচ্ছেদ ৯ অনুসারে কাউকেই বিধিবহির্ভূত উপায়ে গ্রেফতার, আটক করা যায়না। অনুচ্ছেদ ১৮, ১৯ এবং ২০ অনুসারে যথাক্রমে প্রত্যেক ব্যক্তির চিন্তার অধিকার, মতামতের ও মতপ্রকাশের অধিকার এবং শান্তিপূর্ণ সমাবেশের অধিকার আছে।পশ্চিমবঙ্গপুলিশ এইগুলি লঙ্ঘন করে চলেছে।একই সাথে শাসক দলের মদতপুষ্ট দুষ্কৃতিরা আইনকে অবমাননা করে নিজেরাই সমান্তরাল প্রশাসন হয়ে উঠেছে। শাসক দলের নেতারা গ্রামে গ্রামে ত্রাণ নিয়ে দুর্নীতি এবং ত্রাস চালাচ্ছে।
নিম্ন-উল্লিখিত অধিকার সংগঠনগুলির পক্ষ থেকে আমাদের দাবী-
ক) মানবাধিকার কর্মী, গণ-আন্দোলনের কর্মী, স্বেচ্ছাসেবী ত্রাণ কর্মী, গণসাংস্কৃতিক কর্মী-সহ গণতান্ত্রিক অধিকারকামী সকল সাধারণ মানুষের হয়রানি, বেআইনি আটক, গ্রেফতারের হুমকি, মিথ্যা মামলায় ফাঁসানো বন্ধ হোক।
খ) অভিযুক্ত পুলিশ আধিকারিকদের বিরুদ্ধে আইনানুগ ব্যবস্থা নেওয়া হোক।
গ)অভিযুক্ত দুষ্কৃতিদের অবিলম্বে গ্রেফতার করা হোক।
ঘ) ত্রাণ-দুর্নীতিতে যুক্ত রাজনৈতিক ব্যক্তিদের চিহ্নিত করা হোক, তাদের বিরুদ্ধে আইনানুগ পদক্ষেপ নেওয়া হোক।
ধন্যবাদ
তারিখ- ৪জুলাই, ২০২০
ধীরাজ সেনগুপ্ত, এপিডিআর
অমিতদ্যুতি কুমার, এপিডিআর
রঞ্জিত শূর, এপিডিআর
সুমন সেনগুপ্ত, সমমন, যাদবপুর
বাসুদেব ঘটক, এখন বিসংবাদ
মৌতুলি নাগ সরকার, জয়েন্ট ফোরাম এগেইন্সট করোনা ক্রাইসিস
অভিনব মাজি,জয়েন্ট ফোরাম এগেইন্সট করোনা ক্রাইসিস
তিমির বসু, প্রতিবাদের অধিকার মঞ্চ
রবিন চক্রবর্তী, প্রতিবাদের অধিকার মঞ্চ
কস্তুরি বসু, পিপুলস ফিল্ম কালেকটিভ
দ্বৈপায়ন ব্যানার্জি, পিপুলস ফিল্ম কালেকটিভ
শুভঙ্কর দাশশর্মা, জনগণমন
মণিদীপা সেনহালদার, জনগণমন
বিশ্বজিৎ দাস, জনগণমন
রাজা বিশ্বাস, জনগণমন
মোহিত রণদীপ, আমরা এক সচেতন প্রয়াস
ফারুক উল ইসলাম, আমরা এক সচেতন প্রয়াস
শুভ প্রতিম, আমরা এক সচেতন প্রয়াস
অমিতাভ সেনগুপ্ত, আমরা এক সচেতন প্রয়াস
(এই দাবী সনদ আমাদের পক্ষ হতে ৪জুলাই, ২০২০ মুখ্যমন্ত্রীর কাছে পাঠানো হয়েছে)
3)
Aamra Ek Sachetan Prayas, Fri, Sep 4, 11:48 AM
to DM-Hooghly
To
The District Magistrate
Hooghly
4 September, 2020
Respected Sir,
On behalf of AAMRA EK SACHETAN PRAYAS FORUM, a research group working on Conflict and Coexistence study is requesting your good office to provide us with the following information.
1. How many households were looted in communal violence on 10 and 12 June, 2020 at Telinipara under Police Station- Bhadreswar?
2. How many houses were burnt on 10 and 12 June, 2020 at Telinipara, Police Station- Bhadreswar?
3. How many households got compensation from the West Bengal Government on said violence?
4. How many camps were running for the shelter of riot-victims on said violence?
Thanks and regards
Mohit Ranadip
Subha Protim Roy Chowdhury
Directors, AAMRA EK SACHETAN PRAYAS FORUM.
40/1 N.C Banerjee Road, Baidyabati, Hooghly-712222.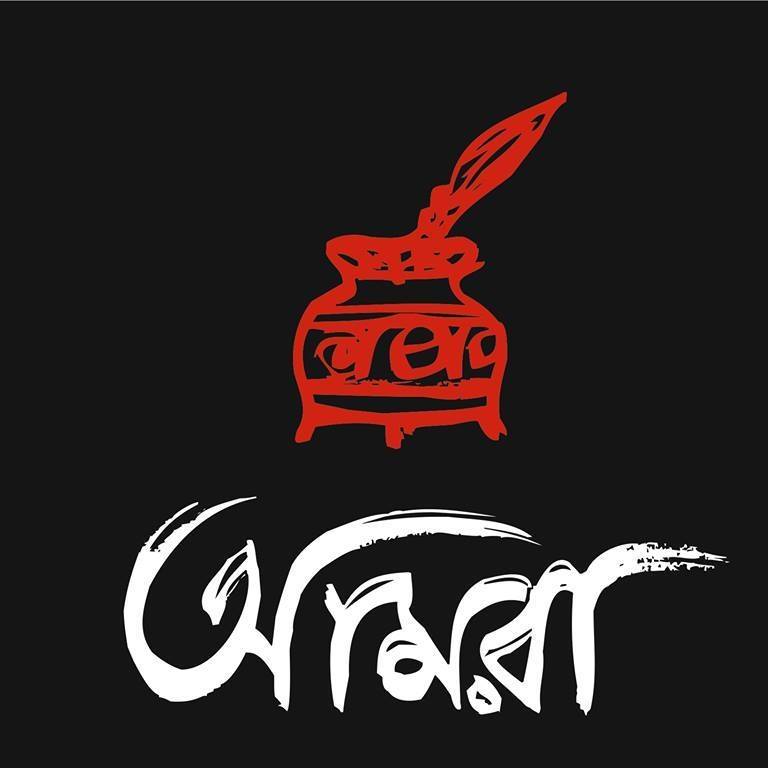 আমরা: এক সচেতন প্রয়াস
AAMRA is an amalgamation of multidisciplinary team of researchers and activists erstwhile worked as an assemblage of movement, research and activism. Popular abbreviation of AAMRA is, An Assemblage of Movement Research and Appraisal.